Interview
"Google's acquisition of Waze gave birth to 50 other Israeli unicorns"
Israel currently boasts around 10% of the world's unicorns and Waze founder and serial entrepreneur Uri Levine believes Waze has a lot to do with that
Uri Levine is convinced that Google's acquisition of Israeli mobile navigation app developer Waze for $1.1 billion in 2013 inspired a wave of local startups to aim higher than ever before. Israel currently boasts around 50 unicorns, which is 10% of the world's companies that are valued at over $1 billion, and Levine believes that Waze has a lot to do with that.

"Perhaps I was the one who raised the banner that everyone else looked to," Levine told Calcalist. "What was special about Waze was that for the first time there was an Israeli application for consumers with a brand name that everyone knew. When Chromatis was sold in 2000 (acquired by Lucent for $4.8 billion) no one knew who they were and when Mercury was bought by HP in 2006 (acquired for $4.5 billion), HP's people replaced their name signs that same day because the brand was unfamiliar. The fact that Waze remains a known brand brings pride to Israel. Google led the way with the perspective that if you are buying a successful brand you shouldn't be ruining it.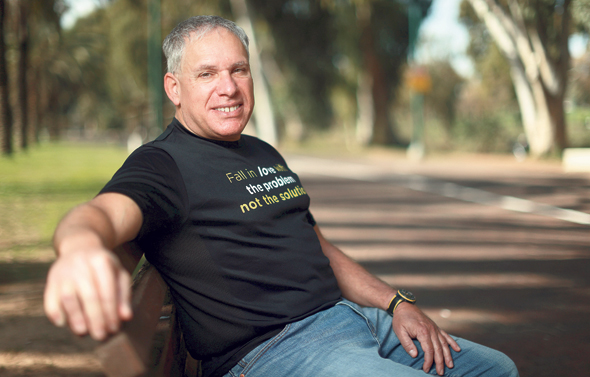 Waze founder and serial entrepreneur Uri Levine. Photo: Amit Shaal
"Even though there may be a feeling that the number of unicorns is slightly inflated, it is important to remember that money never comes easy," added Levine. "In many companies this is the actual valuation. Either their performance is very good or their dream is very big. The average age of unicorn companies is more than 10 years, which means that they have already been through the difficult stage of adapting their product to the market and marketing it. It means that most of them have a business model that works and the growth rate is equal to the return you will get on your money. When Waze was sold to Google it didn't have any income yet and the deal was based on Google's toothbrush model, which examines whether products are like a toothbrush which you will use once or twice a day. So Waze answered that description and today it also has income."
Most of the unicorns are targeting a U.S. IPO next year at valuations of $2 billion or more. If Waze was still a private company, would you rather do an IPO or be acquired?
"Not everyone is going to do an IPO. Some are just saying they are going to do one because that is what the investors wants to hear. But there are two differences. Doing an IPO and being a public company is a big headache. Not every CEO of a startup wants to also be a CEO of a public company. The second difference is that a company raises money according to a certain value, but that doesn't mean that there is someone willing to pay that valuation to buy the company."
So you are saying that the valuation is meaningless?
"Not meaningless, but it is only the basis for the next valuation if you continue to grow, and that is not always the case. At Waze we also always said that we wanted to go public, but how many people will actually say no to an acquisition offer? The companies who go public are those that don't have any buyers, or are too big or less relevant. But I believe that a big share of these companies will receive acquisition offers. When you begin the IPO process the company becomes more attractive. This year was difficult for acquisitions, so in 2021 we are going to see many M&As. The bottleneck will be released next year."
How is an entrepreneur supposed to know if they should sell or not?
"First of all you need to have someone who wants to buy. You need to make a list of 10 companies that are relevant candidates to acquire you. The value for the buyer needs to be far greater than the value for the seller. My rule of thumb is that two conditions need to be fulfilled. Firstly, the sale needs to be a life-altering event for the entrepreneur and the employees. If it won't alter your life on a personal level, like for example receiving $500,000, so don't sell. The second condition is whether this is a once in a lifetime startup or do you have more ideas. If you don't have any other ideas, you should stay. If you do, you should sell and move on. I, for example, already had one foot out of the door even before the sale of Waze because Moovit (where he serves as a board member) and FeeX (in which he is the founder and chairman) had already been founded and it was clear to me that I'm moving on to the next startup. I'm comfortable bringing a startup to a certain position and then passing it to someone else. I'm an entrepreneur far more than I am a manager. I'm an excellent manager, but only in year one."
What is better for Israel as a country, an acquisition or an IPO?
"Both are good, but M&As are probably better. What happens to those senior executives and entrepreneurs that had their company acquired? They will set up new companies. Acquisitions also set the bar for others, just as Waze did. The acquisition of Waze gave birth to 50 other unicorns, and 50 unicorns are better than one Nokia. The next generation is more important, although if Gil Shwed (Check Point co-founder and CEO) were sitting here he may have said that it is better to go public and build a big company."
What is left of Waze in Israel? Companies like Check Point, Wix, and Nice employ thousands of workers who pay taxes and help maintain additional important cycles.
"There are still hundreds of Waze employees at Google. The assumption that a successful company needs many employees is not always correct. Waze and Moovit each reached 50 million users and a valuation of over $1 billion with a little over 100 employees. After completing private funding tech companies recruit hundreds of employees because maybe that is a way to fulfill the expectations of the investors for fast growth and the first thing you can do is hire more employees. But the rule is that a salesperson in a software company needs to bring in an annual income of $1.5 million after a year on the job. If there are salespeople with several years of experience that aren't bringing that in, the company needs to either replace the employee or the business model."
With all your experience and knowledge wouldn't you be interested in taking a company to a multi-billion IPO?
"Not as a CEO, perhaps as a chairman. It was seven years between the exits I had with Waze and Moovit and I think it is going to take less time until the next one and even less until the one after that. I'm currently involved in 10 companies, half of them started from my ideas and half from ideas of entrepreneurs who came to me. I'm always on the board and always very invested. I have the Founders Kitchen investment fund, which is called that because most of the activity takes place in my kitchen."
Are there any companies on your portfolio that will reach $1 billion valuations?
"SeeTree, an agtech startup which provides growers with AI-powered intelligence on trees and tree clusters, will reach $1 billion very quickly, and as will FairFly, which allows companies to buy and sell unused plane tickets. FairFly's sales tripled during the Covid-19 pandemic because of the fact that there were so many unused plane tickets and there were significant gaps in prices. FeeX, the first company I founded after Waze, which helps save commission fees and is super successful will also be worth billions."
We are currently sitting in the offices of Fibo, will it also become a unicorn?
"Fibo, which was born out of an entrepreneurship program at IDC Herzliya, deals with one of the major market failures in Israel. There are NIS 10 billion sitting in the coffers of the Ministry of Finance which the public is entitled to in tax returns. This sum has been amassed over the past 5-6 years and grows by NIS 2-3 billion each year. This is money that belongs to the public. Competing applications like Finupp only check if you are entitled to a return, while Fibo completes the entire process for you. For the user, it should take no more than five minutes to fill out a form with personal details and sign an agreement that we will request on their behalf all the relevant forms from the Tax Authority, which is usually the main obstacle.
"80% of the employees in Israel pay more tax than they should, but 92% have never requested a return. Over the past two months we have added
3,000 new users and next year with everything that has happened this year, I expect that a million people will be entitled to tax returns. So far, Fibo has helped return several dozen millions of shekels, with an average of NIS 5,800 per client. According to the Tax Authority, Fibo is the organization that applied for the most tax returns in the past year, when the most a single client has received reached NIS 86,000. Checking whether you are entitled to a return is free and Fibo takes 12% on the actual return after it has been deposited into the client's account."
Why does the name of most of your companies begin with an F?
"The name is meaningless to the success of the company. It doesn't need to mean anything but it should be easy to pronounce. Searching on Google is phonetic so it is important that it will be easy to pronounce. In the case of Waze, we of course wanted to register it with the correct spelling - Ways. But the person who held that domain wanted $500,000 for it, which was a sum we didn't have at the time. Waze only cost $12,000."