Analysis
The winners and losers: these are the salaries Israeli techies brought home in 2020
Cyber-Jobs and ESR Group have collected some data pertaining to wages in high-tech and cyber companies during 2020. Here's what they found.
"The Coronavirus year was without a doubt one of the most challenging years in the employment market – both for employees and employers. Many companies during this period adopted mental flexibility, which helped the economy adjust to the new situation and keep working," says Hila Nagar, VP of the Cyber-jobs – ESR group. "We estimate that in 2021, alongside the long-awaited vaccine, the job market will return to be steady and stable. Supply and demand will regain balance, which will allow the economy to steadily return to normal."
According to a survey conducted by Cyber-jobs – ESR group, the more professional knowledge and experience the employee has, the less he or she is affected by changes in market trends. Junior employees find themselves out of a job with greater difficulty in finding suitable positions with similar conditions to those which they were accustomed to.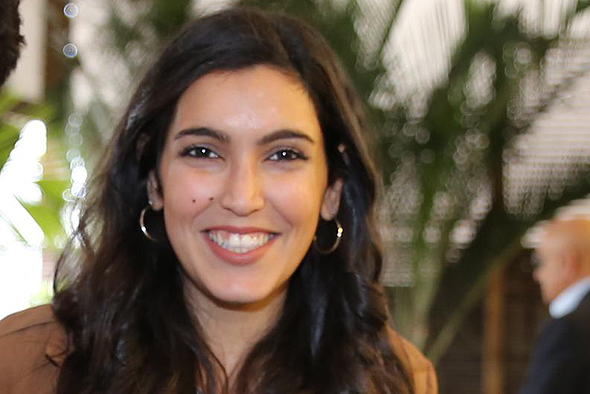 Hila Nagar, VP of the Cyber-Jobs. Photo: PR

"Covid-19 shuffled the cards. Whereas in recent years, the market was a 'candidates' market,' meaning most technological fields had relatively few applicants for a larger number of open positions. The outbreak saw the market change, and the trend was reversed and control was once again seized by the 'employers,'" says Nagar.

In terms of salaries, the survey found that on the one hand there are positions in which there have been almost no changes to previous trends, with roles such as IT specialists, senior developers, hardware development, and VR and algorithm specialists, seeing no, or very little decline. On the other hand, it seems that companies are reducing and consolidating multiple positions into one, cutting back on the department capacities, and even reducing salaries by 10-30%.

In terms of markets, the report highlighted one in particular that developed substantially this year— the medtech industry (alongside biotech and cleantech). Even government security companies identified the shift in trends and transitioned themselves when it came to development and production of respirators and other supporting products. It seems that these companies have recruited and currently are recruiting many more candidates than in previous years.

If we examine some of the data in the tables below, a System Admin with 0-2 years experience earns NIS 14,000-18,000 per month ($4,300-5,600), compared to NIS 23,000-29,000 ($7,100-9,000) per month for an employee with 6-8 years of experience.

The hardware wages seem to be higher; System Engineers have a starting salary of NIS 20,000-23,000 ($6,200-7,100), which can rise up to NIS 30,000 ($9,300) per month in six years.

The data, which can be seen in full below, is based on the more than 700 companies in the tech sector that Cyber-Jobs and ESR Group services

Hardware development is a sphere that according to survey has been stable for many years and does not seem to have been much affected by the Covid-19 crisis. Although extensive collaborations with China have diminished, companies are finding relevant markets elsewhere around the globe and opportunities are opening up. Though most of the development centers remained in their same locations, the daily work in most of them instantly transitioned to full-time work from home. There is high demand for chip engineers, Verification Engineers, signal and image processing, etc. There hasn't been any significant change in their salaries in recent years, and even this year has recorded only a very moderate decline.

The Covid-19 crisis appears to have made people in the software development sector prefer to hold on to their jobs due to uncertainty in the economy. The demand for software developers remains high, however with a significant shortage of software developing candidates.

According to Cyber-jobs – ESR group data, the areas that were previously popular, continue to be in demand while suffering from a shortage of supply and the average salary in some of these positions has even increased compared to last year. An increase in demand and greater need can be spotted for data science professions, GO developers, python developers, Java developers, DEVOPS engineers, IT engineers, and front-end developers.

Nagar noted that the recruitment process has changed on the candidates' side, as well as for the companies. "There is an increase in use of dedicated conferencing software such as Zoom, Microsoft Teams, and others. These tools have reduced the importance of physical space and allowed candidates to continue their job search even during quarantine or lockdown, but at the same time allowed companies to reach decisions and continue their working processes as usual."

Due to the growing need for work from home, many companies are focusing on candidates who are seen to possess strong work ethics and self-discipline, that have the ability to motivate themselves, which is often reflected, among other things, in maximizing their productivity from home. According to Nagar, productivity has increasingly been measured by setting targets, metrics and outputs, as there is difficulty in monitoring and supervising the day to day working process, therefore managers are required to focus more on results.

Below is a breakdown of the entire data, which is displayed as Shekels per month - the conventional local method in measuring salaries.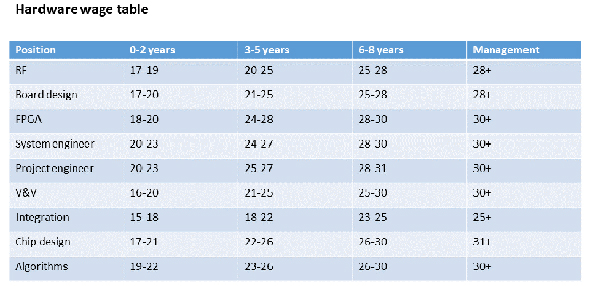 Hardware wage (click to enlarge). Photo: PR

Cyber, software and system wage (click to enlarge). Photo: PR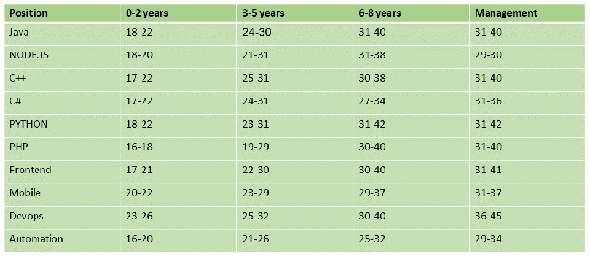 Cyber, software, and system wage (click to enlarge). Photo: PR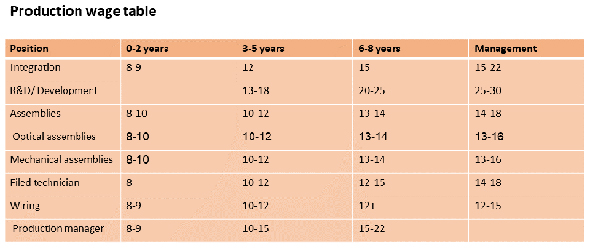 Production wage (click to enlarge). Photo: PR

The wages depend on the workplace, work environment, benefits and social conditions, and can vary from one organization to another.

The survey was produced by Cyber-jobs and the ESR Group, Placement for High-Tech and Defense Industries.