Interview
The Israeli lab where the cars of the future are being formulated
The Renault-Nissan-Mitsubishi Innovation Lab in Tel Aviv aims is to advance state-of-the-art mobility, with a main focus on vision sensors, cybersecurity, data, and AI
There were few industries that suffered a bigger blow than the auto industry during the Covid-19 pandemic. The swift and severe impact resulted in a steep drop in demand and due to the globalized nature of the sector, its entire supply chain was thrown into disarray with large scale manufacturing interruptions across Europe, the closure of assembly plants in the U.S. and an initial shortage in Chinese parts exports. However, according to Amos Schupak, Deputy Director, Operations and Business Development at the Renault-Nissan-Mitsubishi Innovation Lab Tel Aviv, these struggles only emphasized the need for innovation in which the Israeli ecosystem is regarded as a significant player.
"Israel is perceived as one of the key hubs for open innovation," Schupak told CTech. "There are only three Alliance (Renault-Nissan-Mitsubishi form the world's largest automotive alliance) labs globally. One is located in the U.S. and another one is located in China, with the third being in Israel. This shows how important the Israeli ecosystem is to the Alliance considering the two other labs are in the world's largest economies."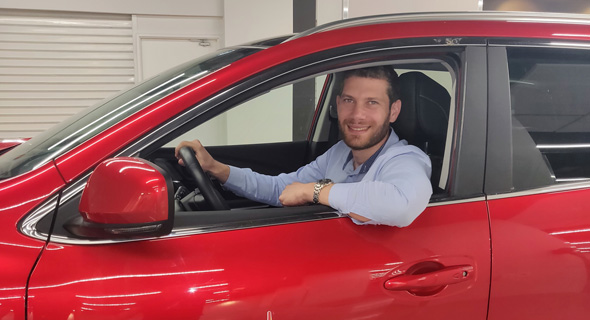 Amos Schupak, Deputy Director Operations Business Development at Renault-Nissan-Mitsubishi Innovation Lab. Photo: Courtesy
The Tel Aviv lab's aim is to advance state-of-the-art mobility, with a main focus on vision sensors, cybersecurity, data, and AI. Through collaborations with promising Israeli startups, its mission is to identify and test Israeli technologies that could be implemented in future cars and services offered by the Alliance member companies. The lab collaborates with the local innovation ecosystem through joint prototyping efforts, leading more than 30 collaborative projects with Israeli startups, to date, selected from some 500 companies with which lab executives have met. The lab is led by Etienne Barbier, a veteran Renault engineer who moved to Israel especially for the project.
Schupak, a 35-year-old with dual Israel-French citizenship, was the first Israeli employee of the lab, previously serving as the Economic Attaché at the French embassy in Israel.
He played a key role in building the lab up to its current position with its unique 1600 m2 facility located in Park Atidim in Tel Aviv which provides startups space and Alliance vehicles to run Proof of Concepts (PoC). Since February 2018, the lab has also operated under the new Technological Labs program of the Israeli Innovation Authority. The program enables it to offer advantageous funding to startups for joint activities.
On the investment side, Alliance Ventures, a strategic venture capital fund launched in 2018, targets technology and business model innovation in New Mobility, Autonomous Driving, Connected Services, EV, and Energy and Enterprise 2.0. The fund pursues strategic investments at all maturity stages, focusing mainly on series A and B, plus follow-on investments to support the startup's growth.
The fund operates globally, including in Israel, and has invested in the Israeli Maniv Mobility Fund as well directly in two Israeli startups, Upstream Security and Otonomo.
"The Alliance understands that innovation can not only come from traditional internal R&D. Of course, the Alliance has very extensive and significant R&D efforts in various centers around the world but in parallel, it is open to external innovation with the aim of getting advantages over the competition in disruptive technological innovation," explained Schupak. "The Alliance realizes that in order to fully fulfill this goal of bringing external innovation there was a need to create dedicated bodies for that. Traditional engineering teams are focusing on technical roadmaps and ongoing missions and don't always have the required resources, availability and agility to evaluate startups. So this understanding led the Alliance to create this fully dedicated lab to open innovation. Israel is seen as a top innovation hub in the world with an extremely rich and dynamic ecosystem and there is an understanding that Israel has a very high potential to contribute to the deep transformation that the industry is going through. We are moving more towards autonomous, electric and connected cars but there are also new mobility services. In these different revolutions the industry is going through, our fields of focus at the lab are very important."
Schupak broke down the different fields in which the lab in Israel is focused. "Cybersecurity, in its different environments (in-vehicle, IT and OT), is one of the specializations of Israel as perceived by the Alliance. Today cybersecurity is really a key enabler in order to secure the future of mobility as cars get more and more connected. Connectivity expands the attack surface so we have an increasing need to ensure very high protection," he said. "Israel is also seen as a key hub in sensors with a lot of technologies coming into the civilian market from the defense sector and military. This includes sensors for ADAS (Advanced Driver Assistance Systems) and autonomous driving, but also sensors for in-cabin monitoring and life on board."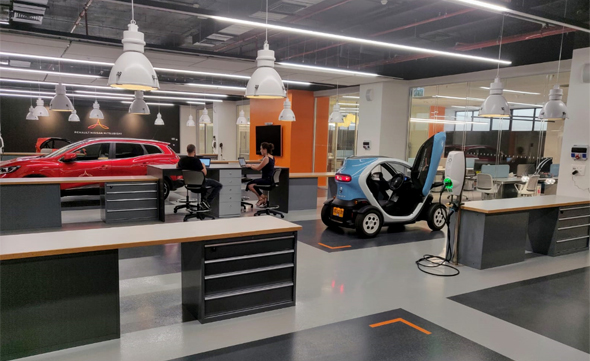 Renault-Nissan-Mitsubishi's Innovation Lab in Tel Aviv. Photo: Courtesy
Two of the cybersecurity startups that have signed a strategic partnership with the lab are Cybellum, which develops automotive risk analysis solutions to automatically detect a wide range of vulnerabilities in in-vehicle ECUs and other automotive software, and Upstream, which offers an end-to-end cybersecurity solution covering telematic servers, mobile applications, and the car itself.
Other partnerships have been agreed with the likes of Kardome, which has developed generic speech separation and noise reduction technology that facilitates a seamless voice interaction between all the passengers and the car, as well as offer a high-quality hands-free phone conversation in a typical, noisy car environment, and Apollo Power, which makes lightweight and flexible solar panels, including for car roofs.
"I think we have a unique model because we are not here to merely scout, but we also have the means to go to the PoC level directly in Israel with this local advanced engineering, our facility and the cars on which we run the PoC," said Schupak, who also had advice for any entrepreneurs interested in cooperating with OEMs (Original Equipment Manufacturer). "Startups should be ready for an open and transparent discussion with an OEM because pushing technologies into an OEM car or service requires a lot of confidence in the technology so it is about trust-building. Without trust, it will simply not happen. Therefore they need to be ready and able to explain the way the technology works and be ready to be tested seriously. They should also be ready to clearly explain the value proposition. Not only focus on the technology itself. Because at the end of the day the use of the technology and value for the customers is what matters."
Schupak called on all Israeli startups in the autotech field, particularly in the labs' main pillars of cybersecurity, vision sensors, AI and data, but also in other fields like EV, to be in touch, with the lab eager to sign more partnerships and continue to promote the local ecosystem, as well as innovation in the Alliance.
"We are here to bridge between the ecosystem and the international group and to offer opportunities for prototyping and testing your technology to prove that it is relevant to the Alliance members companies," said Schupak. "All the major MNCs (multinational corporation) today understand that even in challenging times you need to continue your innovation activities and that preparing the future is very important."