Financial analysis company TipRanks targeting $250 million offering on Tel Aviv Stock Exchange
The Israeli firm, which developed a financial accountability engine that provides a data-driven measure of accuracy for published financial advice, is hoping to raise a total of $50-60 million
TipRanks is eyeing a $250 million IPO on the Tel Aviv Stock Exchange, with a source telling Calcalist under the condition of anonymity that the financial analysis ranking company is aiming to raise a total of $50-60 million.
Founded in 2012 by Gilad Gat (CTO) and Uri Gruenbaum (CEO), TipRanks developed a platform that provides analysis and ranking based on textual information published on news sites, analyst reviews, corporate reports and more. The company's services are employed by a series of financial institutions including Santander, TD Ameritrade, Nasdaq Etrade and nearly all the banks and investment houses in Israel. TipRanks scans stocks that are traded on stock exchanges in the U.S., Canada, and the U.K.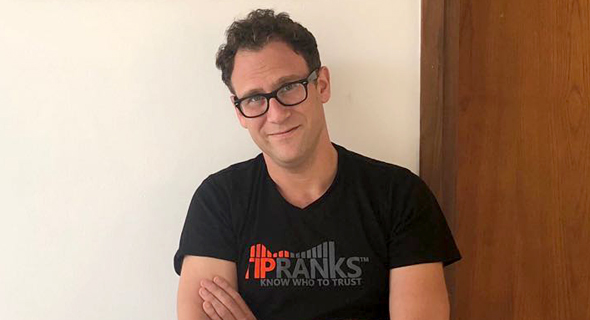 TipRanks CEO Uri Gruenbaum. Photo: Courtesy
TipRanks is estimated to have over 1.5 million users who consume their services directly from the company website and more than 20 million via banks around the world. The company employs 50 people in its Tel Aviv office. Among its investors are Poalim Capital Markets (PCM) and Capital Moneta.
TipRanks' proprietary algorithms analyze information from numerous online data sources, tracking the recommendations and transactions of over 40,000 financial experts. Individual investors can use these unique market insights to make better, data-backed investing decisions.
Singapore-based Prytek invested $12 million in TipRanks this past August through a secondary purchase of stock from the company's existing investors and founders, completing a $15 million stock purchase after investing $3 million in TipRanks in 2018.
Most of the stock in the deal was acquired from angel investors and the founders, as well as from the employees. Among the well-known angels who invested in the company is Elliot Spitzer, the former District Attorney for the State of New York, who remained on as an investor.
With that deal, Prytek's chairman, Yair Seroussi, completed a circle having first started working with TipRanks during his tenure as the chairman of Bank Hapoalim, after which dozens of other banks and investment houses started using its solution.