Israel Innovation Authority launches $25 million seed incentive program
Companies that take part in the program will be able to receive a grant worth 40% of the investment round of up to $1.1 million
2020 may have been a year of prosperity for the tech sector in general, but it was also a year in which early-stage companies encountered difficulties in raising money. The Israel Innovation Authority (IIA) has decided to combat these challenges with a new NIS 80 million ($25.1 million) program, named the Hybrid Seed Incentive Program, as well as introducing significant changes to its technological incubators incentive program.

According to Anya Eldan, VP and Head of Startup Division at the IIA, the new seed-stage program will see NIS 80 million being invested in 40 different companies. Despite the political turmoil in Israel and the crisis surrounding the approval of the country's national budget, the IIA isn't concerned about the funding of the new seed and incubator programs.

"Despite the Covid-19 crisis, 2020 was the IIA's best year when it came to its budget, which reached NIS 2.3 billion ($720 million)," Eldan told Calcalist. "The new programs are already part of the Ministry of Finance's Covid-19 allocations. We are very happy that the Budgets Department in the ministry understands the importance of the industry and therefore included it in these allocations."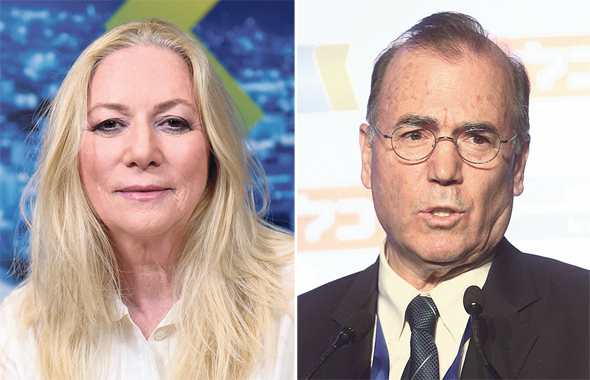 VP and Head of Startup Division at the IIA, Anya Eldan (left) and Dr. Ami Appelbaum, Chairman of the IIA. Photo: Tzvika Tishler and Yasmin Yablonko
Since 2017, there has been an average annual decrease of about 25% in the number of startups being formed in Israel, a negative trend that has intensified against the backdrop of the coronavirus crisis. The objective of this new program is to help seed-stage startups in high-risk fields attract value-added investors.
The new seed program is set to last for several years and its budget will be adjusted depending on demand and following a review at the end of this year. Companies that take part in the program will be able to receive a grant worth 40% of the investment round of up to NIS 3.5 million ($1.1 million), and 50% of the total investment round for those startups located in Israel's geographical periphery or whose founders come from populations under-represented in the high-tech industry. In parallel, venture capital funds in the investment round will receive an option to exchange shares within the scope of the grant for a period of up to three years or until significant funding is achieved.
"We are giving the investor protection via our 40% participation and every investor will have the possibility to purchase those options at their original price plus 5% interest after three years," explained Eldan.
The program will encourage entrepreneurship and the establishment of startups in high-risk fields. It comes in addition to a wide range of support and financing tools provided by the IIA for seed-stage startups in response to market failures resulting from the high risk and complexity of investing in these early-stage companies.
"The company will receive the investment immediately while the investor is only risking 60% and receives an option to increase his share in the future. We will receive a far quicker return than we do in the R&D program in which we only get a return if there are actual sales. The investor doesn't have to buy back the option, and should they choose not to, it turns into a grant that is paid back via sales," added Eldan.
"We are looking for sectors that aren't as accessible to investors as Foodtech, Bio-convergence, pharma and so on," said Eldan. "We are looking for companies that have proven their technological feasibility and what they are lacking is business feasibility. We want to encourage investors to invest at these stages and we will help late-stage investors to want to invest in seed stage companies as well. What is mainly important to us are what are regarded as high-risk investments."
In addition, the IIA is also launching a new incubator program, its fourth in total. The third program, which includes nine incubators, is currently coming to an end. Since 2013, 317 companies have gone through the incubator program, with 212 of them completing it. Some 75% of those companies are still active today. Most of the companies completed additional funding rounds, with a total sum of $723 million being raised by these startups to date.
The New Technological Incubator Program will focus on establishing and promoting startups, without geographical preference, in complex high-tech fields such as the life sciences, bio-convergence, agriculture, food, industry 4.0, sustainability, artificial intelligence (AI), quantum computing, etc. The program will provide support through grants of up to NIS 5.2 million per project from the initial concept, and will promote commercialization of groundbreaking technological knowhow originating in academia. Technological incubator operators, who will be selected following a competitive process that will begin this year, will receive a grant of up to NIS 2 million for the establishment of a central laboratory and will assist entrepreneurs in developing and testing products, assessing technological feasibility, marketing development, etc., during a concession period of up to five years with an option for a three-year extension. The first three operators are set to be selected during 2021.
"We will not invest in sectors that have money like cybersecurity," said Eldan. "We previously set up a cyber incubator in Be'er Sheva, but there is no longer any need to strengthen this sector. We are offering a concession period of just five years, and only we will have a three-year extension option. In today's market, we must retain flexibility in the sectors in which we invest."
Dr. Ami Appelbaum, Chairman of the IIA, noted that in recent years the volume of seed investments in Israel has been stagnant. Conversely, investment in later-stage rounds is on the rise. "We have also seen a significant decline in the number of new startups established each year – a decline that has been highlighted and exacerbated by the coronavirus pandemic," said Appelbaum. "New startups are the future of the Israeli innovation ecosystem, and supporting them during their early stages is critical for their progress. This reality risks causing long-term hardship, limiting the ability of our innovation ecosystem to flourish. The Hybrid Seed Incentive Program will amplify the success rate of Israeli startups, will stimulate the creation of new seed-stage startups that are so critical for the innovation ecosystem, and will encourage experienced investors to invest in early-stage startups."