Israel's Via teams up with insurance giant Sompo to battle car accidents caused by the elderly in Japan
Through an app called NORAZA the elderly in the Japanese city of Chino are able to order smart AI-based transport services
Japanese insurance giant Sompo and Israeli ridesharing company Via have launched a new transport service in Japan, which aims to decrease car accidents involving the elderly and to reduce traffic congestion.
Japan, which has a population of 128 million, is known as the country with the largest percentage of elderly people in the world, with one third of its citizens over the age of 65. Car accidents involving people aged 75 and over have climbed to new records over the past two years to 401 fatal accidents, which represent 14.4% of the total number of fatal car accidents in the country. Through an artificial intelligence (AI) based alternative, Sompo and Via are supporting a Japanese government initiative to reduce the number of accidents while providing incentives for the elderly to give up their driving license. In the Aichi Prefecture, for example, discounts are being offered for hundreds of restaurants in exchange for relinquishing the license.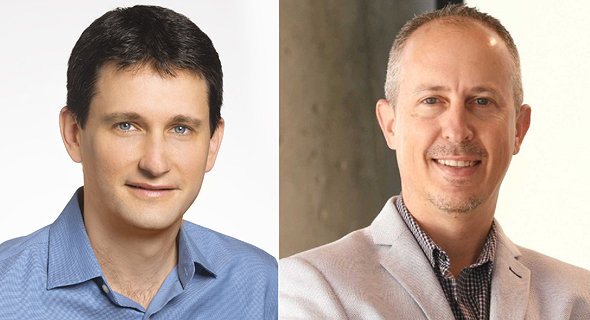 Yinon Dolev (Sompo) and Oren Shoval (Via). Photo: Fabian Koldorf and Via
As part of the project, an app called NORAZA has been launched, through which it is possible to order smart AI-based transport services, as well as order the ride through a telephone call center operated by Sompo. The project has been launched in Chino, a city with a population of 55,000, which is about two hours from Tokyo. The project will allow the elderly residents, who make up 40% of the city's population, and anyone else who wants, to travel freely and quickly, for any reason, whether for medical services, visiting care homes, leisure, or just a change of scenery.
"Reducing the number of road accidents in Japan is a national challenge and we are delighted about the launch of this project and we believe that it will help the Japanese government's efforts," said Sompo Digital Lab Israel head Yinon Dolev. "The collaboration with Via and the city of Chino is part of the expansion of Sompo's areas of focus on smart transport and smart cities."
The payment for the service in Chino will be made through a local virtual currency, which will also encourage consumers to use local businesses.
"We are excited about this collaboration with the city of Chino and with Sompo as part of the promotion of smart and innovative transport solutions throughout Japan," said Via co-founder and CTO, Oren Shoval. "Chino is a pioneer in the field of smart transport and the launching of transport on demand with the NORAZA app will serve as an example for other cities in the future."
Via's end technology is based on unique algorithms, which solve complex mathematical, computational and operational problems and match up in real time the routes of the vehicles to the needs of passengers while calculating the large number of variables such as the traffic situation, the orders from the people who are traveling and the destinations that they want to reach.
Via, which raised more than $400 million last March at a company valuation of $2.25 billion, operates in some 100 cities worldwide. The company was founded in 2012 by CEO Daniel Ramot and CTO Oren Shoval and initially provided passenger services in New York City in 2013 and has since expanded its operations to other countries. Today, the company operates systems for smart management of public transport in hundreds of cities around the world through partnerships, including in New York, Washington DC, Chicago, London, Sydney, Paris, Amsterdam, Berlin, and Tokyo.
Sompo is the second largest insurance company in Japan and has the largest chain of homes for senior living with 300 homes and 125 day-care centers. The company operates in more than 30 countries with overall annual sales of $36 billion and millions of customers in Japan and around the world. Since entering Israel in 2018, Sompo has invested more than $20 million in Israeli startups including Sensifree, Guardian, Nexar, Intuition Robotics, and Binah.ai.