"Despite the stigma, social casinos are a form of entertainment"
SciPlay, an online American social casino platform, became one of the hottest trends in gaming this past year. CEO Josh Wilson spoke about his plans to expand SciPlay's Israeli branch
Ten months ago, it seemed as if the social gaming company SciPlay's fresh initial public offering wasn't exactly a great success story. SciPlay is an American company that is based out of Las Vegas, Nevada and was founded in 1997. The company's shares were first traded on Nasdaq in May 2019 at $15.25, although their value was cut in half by March 2020 to $7.72 per share. There is no real need to discuss the events of the subsequent months, but to sum them up real quick, the first coronavirus (Covid-19) wave was also a wave that boosted the entire gaming industry, from small to large-sized companies, from social casinos to casual short games and even bestseller games with massive development budgets of millions of dollars. An 80% rise in SciPlay's market cap during the pandemic means the company still hasn't returned to its all-time highs, but it at least erased much of the drop.

In an interview with Calcalist, CEO Josh Wilson explained how the main reason for the drop in share price was a technical glitch, which seriously and swiftly damaged the company's games, and scared away more and more gamers. In the world of mobile games, where titles battle each other over every second of a player's attention, this resulted in significant damage. "Our main competition is against the Netflixs' of the world. People come to us for entertainment," Wilson said. "We changed our mentality toward that direction, and that helped us recover."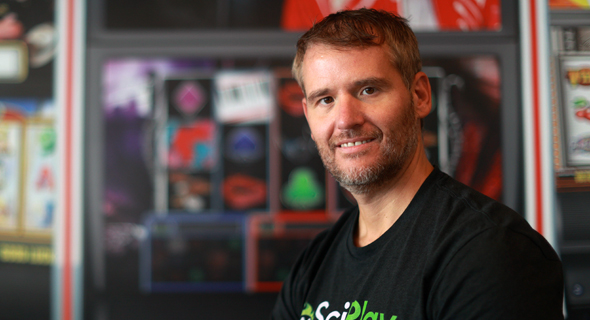 SciPlay CEO Josh Wilson. Photo: Amit Shaal

Social games are based on gambling games, mainly slot machines, but the only money players can earn is virtual, which means they can continue playing, until eventually, as always, the house wins. Although the mechanics of the game resemble gambling, the players can't earn a penny playing social casino games. As a result, the games don't fall under the strict regulations of the virtual gambling world, but many don't know what to make of social casinos. According to Wilson, the difficulty revolves around the company's price to earnings ratio, which shows the relation between the company's profits and its stock share, whether or not investors are willing to pay the price, and whether it accurately reflects the company's ability to raise its profits in the future. For SciPlay, that relation translates to $17.49 per share, which is significantly lower than nearly every other company in that arena.

What do you make of that number? Do investors don't see the potential for great growth?

"For better or worse, we were the first social casino company to be listed on the stock exchange. Our investors are still studying us. They are accustomed to working with leading mobile companies that build two or three games a year, that build the company's revenue over time. We are active in the genre that has been growing for seven years, and has expanded its profits every year. But investors are looking at revenue growth, and want to see an annual 15%-20% growth, and assume that it will be translated into profits. For us, profits are growing faster than revenues, but we are still looking to focus more on casual games in order to increase revenue growth. It's a sector that's experiencing insane growth around the world and we are on the lookout for companies to acquire," he said. According to an investors' presentation, the social casino field was valued at $6 billion in 2019, while the area of casual gaming - including social casino games - was valued at $22 billion. "We are a company with a lot of cash, but in order to remain relevant in this industry, you must spend a lot more money, budgets of millions of dollars."

SciPlay's revenues for the last quarter of 2020 - and for the entire year - will be published next month. But you can tell even from the 2020 Q3 report that the company is growing dramatically, with revenues of $151 million, which represent an increase of 30% compared to the corresponding quarter in 2019. The net profit for that quarter grew even more, by 40% reaching $35 million. Wilson estimated that the company has grown by 15% growth during this exceptional year, and predicts that it will grow by a more modest 10% over the next year. Over the course of this year, SciPlay expanded to keep up with the high growth rate of the social casino arena, and recruited 70 new employees. Wilson said he has never even met many of the new employees in person.

Wilson (43) is a gamer himself and also a fan of gambling and casinos. "I love slot machines. I'm the type of person that will spend hundreds of dollars when I visit casinos," he said sharing that in college he'd switch between spending playing Halo for hours on end and driving Las Vegas to gamble. For him as for many other Americans, who don't need to pull out their passports to go gamble like Israelis do, the link between the two worlds is only natural.

These days Wilson spends about half of his time in Israel, where 200 of the company's 500 employees are based. Although because of Covid-19 travel restrictions, this is his first visit to Israel in six months. Even though many SciPlay employees are working from home — their large offices are almost empty — it was important for him not to spend an entire year away from the Israeli branch, which is an integral part of the development, maintenance, and marketing activity of the company.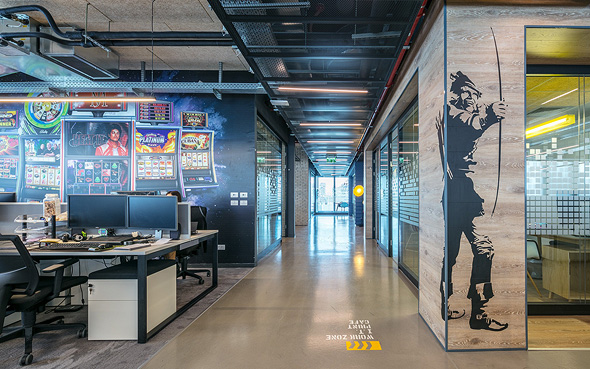 SciPlay's impressive Israeli offices. Photo: SciPlay

What will the company's activities in Israel look like in three or five years?

"I don't see a significant change. We'll continue to expand like we've done so far. This year we acquired Come2Play, and we are always looking to acquire additional companies."

That said, most of SciPlay's customers are located in North America. "Our main customers are females, between the ages of 35-65, who see mobile games as her main source of entertainment," said Wilson. Indeed, some 65% of the company's customers are women and 82% are located in North America, with an additional 8% in other English-speaking countries like Australia and England, and the rest spread out around the world.

Do you have plans to expand to additional geographic locations?

"We are absolutely working on that. The main factor that we must understand is the difference in behaviors across different markets, although even current player demographics show clear gaps between countries."

What type of gaps?

"Australians play completely different from Americans. They like taking bigger risks and earning more, while Americans prefer to earn a little over time. As a result, marketing is completely different for each group. We plan to stealthily offer our first Solitaire game during the first half of next year, which we added to our portfolio through an acquisition. I think that it will be our game with the greatest potential to become a worldwide hit. We have a few games that are designed differently depending on the culture, like slot machines with a design that is intended for Asian markets, as well as its programming - lose, lose, lose, win big. That idea would not suit the American players' mentality. We also have slot machines that are based off of Hasboro's popular Monopoly game - it's a brand that's worth a lot in the U.S. but less in other countries."

Genshin Impact is one of the hottest games this year. It's a role-playing game, which much to the surprise of Western gamers, incorporates slot machines. Does it inspire you about the potential of what social casino games can be?

"We've learned from these games, mainly role-playing ones, that every element in the game has to influence the others. Instead of someone simply operating a slot machine, the player will have to reach every area in the game to access those slot machines. We've also learned that there's room for a storyline to integrate with a social casino game, even though it's something that hasn't really happened in this arena, because the focus is still on the simple game loop, and having a storyline can also take players out of the game. I think that it's something that we'll start seeing in more games, especially in games where slot machines are part of the random mechanics of the game and aren't the core of the game. I still think that in another three or four years this will become a significant factor."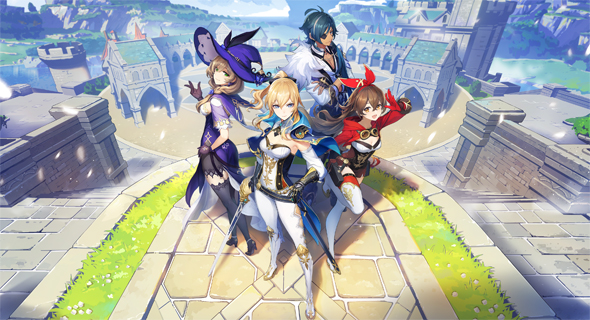 Genshin Impact was the hottest game this year which also incorporated gambling

Are you seeing many users play too often, or showing signs of addiction? Is that something that worries you?

"It's hard to define what playing too much means. We have teams that help us monitor player activity for sure. We don't want to see users put themselves in a position where they hurt themselves or their quality of life. That's bad for them, and truth be told, it's bad for us too. What we are looking for are those players whose behaviors deviate from the norm, such as a player who usually puts down $10 every week and suddenly puts down $100. We reach out to them directly, and some even tell us, 'yes, I need you to to lock me out of the game,' and we allow this of course. Some say to us 'no, I'm fine, this is how I want to play.' I would say that very few players exhibit radical behavior. Those players are a very small percentage, and most play casually."

How often do you use psychological techniques on players in casinos? Do you work with psychologists?

"We aren't a casino. We don't have psychologists or social workers in our teams. We put our feet in detectives' shoes when we approach users, and that's what guides us in all the choices we make."

What do you have to say to those who hold negative stigmas about social casinos?

"I understand the stigma. The goal of a casino is to take away as much of your money as fast as possible, because the time you're there is limited. We aren't there. We think about the game entirely differently. I want you to spend 20 minutes a day, on a daily basis, to experience the feeling of winning and losing. People who spend money on our app, do so as a form of entertainment. It isn't gambling. We don't give our players anything aside for more time. The stigma stems mainly from slot machines, but that's not who we are. We just want to build good games."