Interview
Israel's IMDT helping bring sports in 3D to your living room
The startup founded by Avi Shimon and Arnon Tadmor is collaborating with VR company Condense Reality on the development of a new system for streaming hologram-style 3D volumetric video
Avi Shimon has been a fan and season-ticket holder of Hapoel Jerusalem's basketball team for many years. However, due to his demanding tech job, he rarely manages to attend Hapoel's games at its state-of-the-art arena. It is hardly surprising then, that he was keen to get involved when he was pitched a project that would ultimately allow him to sit at home at his convenience and view games of his favorite team in 3D as if he was sitting in his seat at the arena.
Shimon is the co-founder and CEO of IMD Technologies (IMDT), which he set up in 2017 with Arnon Tadmor. The two had previously worked together at Israeli fabless semiconductor company Inuitive, where they gained expertise in all things AI and AR/VR, including deep learning, 3D imaging, computer vision, and IoT.
IMDT is bootstrapped, with Shimon and Tadmor self-funding the company initially before it began generating income by taking on projects from other companies. The company currently employs 12 people, with around half of them working out of a subsidiary in the English city of Bristol. This also led to the collaboration with virtual reality (VR) startup Condense Reality on the development of a new system for streaming hologram-style 3D volumetric video, allowing viewers to watch live sports events with a headset or even on their tabletop.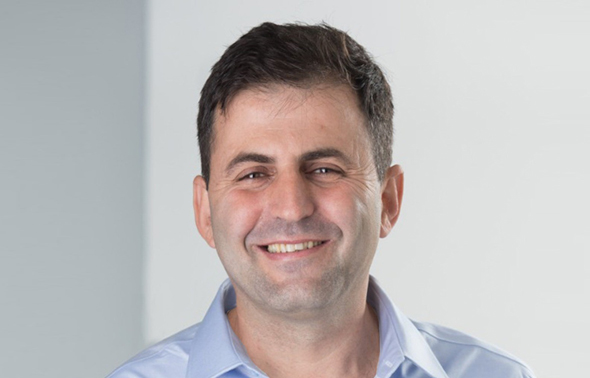 IMDT co-founder and CEO Avi Shimon. Photo: IMDT
"The reason I liked this project from the start is that I'm a Hapoel Jerusalem fan and I have a season ticket, but due to my job I hardly manage to go to the games," Shimon told CTech. "I want to have the option to watch the game from home whenever I have the time as if I'm sitting in my seat at the arena. This technology is another step towards the complete virtualization of the real world. We started in sports and media because these are sectors that can actually fund these projects and make it more than just a scientific and technological project."
Shimon broke down the project and explained its benefits relative to the competition. "Intel, for example, has a volumetric video system named True View that is installed in stadiums. But that system doesn't work in real-time. They capture the data, process it over an extended period of time, and then provide the client access via different systems. Our technology, which uses Inuative's powerful chip, knows how to collect data from many cameras that are spread throughout the stadium and we process this data in real-time, compress it in a way that doesn't harm the quality of the picture, and eventually create a 3D real-time video of the object," explained Shimon. "Condense Reality are the ones who create the final 3D image which the consumer can then view from his home with a headset or VR as if he is sitting in the stadium. There are many applications for this technology."
According to Intel, its True View volumetric video platform delivers in near real time and "enables infinite storytelling from one capture." Using the volumetric capture technology, footage is recorded from dozens of 5K Ultra HD cameras to create a virtual environment in multi-perspective 3D.
IMDT works with leading companies in agri-tech, medical fields, telecommunications, defense, and consumer products, offering both modular and full turnkey solutions.
"We set up the company as bootstrapped, initially funding it ourselves and later on doing so from income we received from projects we did for big companies. All the while, we developed our own products with our knowledge in image processing, 3D imaging, computer vision, and IoT,"
said Shimon. "We usually receive the characterization of the products or a problem which needs solving and we build the product or solution right from the design stage, including hardware, software, algorithmics, and more.
"We have a very diverse skill set. We aren't just some contractor who provides a very limited service," added Shimon. "Our job isn't complete until the software is working on the client's devices. Thanks to the income from these projects we are able to develop our own technology. As we are in contact with many clients in the sector we know what is lacking and what is needed. Our products are sophisticated as we don't just capture information and transfer it on the cloud, but we also know how to process information through edge computing. This gives us an advantage over other companies who might be good only in hardware or software, while we have our unique knowhow that we amassed over many years."
Shimon said IMDT saw an increase in demand during the Covid-19 pandemic, with big tech companies often turning to outsourcing after being overwhelmed by the spike in orders.
"We expanded during the pandemic. There were projects which started prior to Covid-19 which are long-term projects and not only didn't they suffer due to the pandemic but they actually received a boost, like this project, which seems far more realistic and necessary these days," said Shimon. "We used to have to explain and convince people why this project is necessary, but I think that people now understand that even with vaccines coming the world still isn't going to return to the way it was previously. People will still work from home more and there will be fewer mass events and it will take at least a few years until the world gets back to normal, and that is assuming there isn't a new virus or some mutation that derails everything again."
As part of the project, Condense Reality has been working with BT Research, the research arm of telecommunications giant BT, as well as the likes of the University of Bristol. The project is also backed by the UK government's Department for Digital, Culture, Media, and Sport
(DCMS) and the Israel Innovation Authority.
Shimon is hopeful that within a couple of years IMDT will already be able to turn its full focus to developing its own products, with external funding likely to play a role in its expansion.
"I think this industry has no option but to reinvent itself. People watch a match from home and they want an improved viewing experience. All the content providers are competing to provide additional services and people will pay extra to sit at home and watch the match in 3D as if they are at the stadium. This gives the content providers another stream of income," noted Shimon. "The fact we set up the company as bootstrapped doesn't mean that we don't want to bring in investors and VCs at some stage. Our goal was to retain our equity and raise money when we are a more mature company and approach investors and VCs who invest in late-stage companies. We aim to bring in strategic partners, for example, from the media sector, and not just investors that want to put in a dollar to receive two dollars in two or three years. We are here to stay and we aren't looking to make an early exit."