20-Minute Leaders
"Entrepreneurship is not about sitting around with a laptop and thinking about ideas; it's about understanding risks and downside"
Horizen Labs co-founder Liat Aaronson speaks to Michael Matias about her career-spanning love affair with entrepreneurship, from the sidelines and into the fray
From law to VC to entrepreneurship, Liat Aaronson, former executive director of the Zell Entrepreneurship Program and co-founder of Horizen Labs, has explored a variety of unique industries and leadership roles throughout her career. Aaronson is an M&A lawyer by trade, and though she loved working through the challenges that the field presented, she soon developed a desire to find a position where she could leave a greater impact. After leaving the legal world, Aaronson joined the Zell Entrepreneurship Program team and helped talented young students transition into the professional world. Aaronson thoroughly enjoyed supporting and learning from the entrepreneurs she worked with and decided to further pursue her passion for entrepreneurship with Horizen Labs. Liat sat down for an interview with 20MinuteLeaders creator Michael Matias and told him about the knowledge she has ammassed across various sectors and her plans of using her expertise to grow and scale her business.
Click Here For More 20MinuteLeaders
Can you tell me a little bit about Zell, what that was about, and how you're fostering entrepreneurship amongst undergraduates in the IDC?
My path is probably not very intuitive. I studied law and worked in mergers and acquisitions for many years at a big law firm in Israel. I was looking for something a little bit more impactful to do with my time. Although I enjoyed being an M & A lawyer, I felt like I needed to do something with a little bit more meaning, and I was shopping around. I was thinking of maybe doing a Ph.D. I had four small kids by then and so something that would manage my time in a way that was more effective with my family. A friend of mine was working at IDC, and she said, they're looking for someone to run an entrepreneurship program, and I thought, "OK, well, why me?" I'm not an entrepreneur, I've never managed anything, and I'm not an educator, so I'm almost uniquely unqualified for this decision, but I came onto campus. It's very, very small, but it's very beautiful and there is a charm; you have magic in the air. It was an old army base that was converted, so it's got a lot of trees and just a great vibe, plus there is this little entrepreneurial spirit in the air that I think Professor Reichman instills; I don't know if he grows it in the flowers or something.
Liat, Zell is analogous to the Stanford Business School of the U.S., and it is known as one of the best entrepreneurship schools in Israel, but there are a lot of entrepreneurship programs, a lot of accelerators. What do you think allowed Zell to really foster itself to becoming this hub of success that it's seen?
First of all, thank you for the compliments. I think Stanford is definitely up there, and I think it kind of sounds like Stanford's history, which was a lot to do with timing and a sense of the president of the university being able to recognize that there is an opportunity in combining the forces of commerce and military government spending. The same thing was happening here with that in 2008, so it became more accessible (to younger entrepreneurs), it didn't become easier, more accessible, and the IDC in particular and Zell as a conduit were great places for hatching that. That's because most of our teaching comes from the real-world practitioners, people who have done it in the past, and this program is very, very hands-on. We do have some academics courses, but most of the programming is actually about rolling up their sleeves trying, failing, and getting up again. It's also the ethos of Sam Zell, who doesn't believe there is any such thing as a failure; you just have setbacks and then you get up and you go again. He is also not a big believer in setting limitations; he just believes that he can do something and plows forward.
I think that ethos and with the support that we got, not only from the IDC, but also from Sam Zell and his generous donation, we were able to get almost like a safety net. If you can visualize one of those safety nets, but it's so tight that when you land, you actually are able to bounce right back up, almost like a trampoline. I think that's really what the program infrastructure was able to harness. The entrepreneurs were there, I think a lot at IDC, not only in Zell. Obviously, there's a lot of entrepreneurs in Israel, not only at IDC; I think Zell was just really ripe, almost like a sandbox for people to try things, fail, and get up again. A lot of our entrepreneurs or Zell alumni entrepreneurs didn't create their venture in the program. They created it even a couple of years out. We are still very close with everyone, and we are a very tight ecosystem and sometimes the right time isn't when you're studying, it's a couple of years out.
I fell in love with the place—it was kind of love at first sight—and I joined the team, although I had a big learning curve in the first year of just reading up on a lot of the methodology that was coming out, like Four Steps to the Epiphany and Lean Startup. I was starting to get acclimated with the methodology side, and I'd already had a lot of contact on the ecosystem network side, so I started combining them together. I had a great playground to do it with a lot of really wonderful people who go through the program, humbled by having the opportunity to spend a whole year with 24 people who are at a crossroads in their life of finishing an undergraduate degree and about to start their real life.
I was doing that for a couple of years and then 2008 happened, which was a turning point for the program and a turning point personally for me, in the sense that most of the people who'd come to Zell before that were really excited about becoming investment bankers ... They were outstanding students … (but they) didn't necessarily want to be entrepreneurs, but disruption will change something, and I think that's a little bit of an asterisk for now. I think we're in a period of disruption, and I think a lot of things will change. There will be a lot of opportunities as a part of that, and this is one of them.
There was a tool shift on the technology side so open source and iPhone as a platform or the App Store as a platform and cloud computing, so a lot of technology changes, a lot of economic changes. So a lot of highly talented people were wanting to be entrepreneurs or having to be entrepreneurs because there weren't any investment banking jobs. Necessity breeds innovation, and that allowed for younger entrepreneurs to be able to be more successful, so from 2008 on, we started having more and more ventures really out there in the world. Some exist, which I'm proud of, but I'm actually prouder of the fact that I think today there are about 3,500 people employed in Zell alumni companies.
Now we are fast-forwarding to Selina and Horizen Labs. Selina is obviously well known and a huge success. Tell me a little bit about what you are doing over there, and then let's jump on to Blockchain and that type of stuff.
Kind of on the way between IDC and Selina, I spent two years at Marker LLC. It was a young venture capital firm, and it explains how I got to Selina, so it's a little segue. From Zell, I joined (Marker) as a partner; it's a New York-Tel Aviv-based firm that was investing primarily in Israeli companies that were ready to launch or grow and scale in the US, so mostly series A and series B. I joined that firm in the state for a few years. I'm still involved in their follow on fund and investing in our portfolio companies. I'm a director in one of the companies in the portfolio, but two years in, there were a lot of structural changes in the fund, and it became clear that they weren't going to focus on early-stage investing in Israel. That's kind of my passion, and where I feel like I could bring more to the table, plus I really missed being in the hands-on world as opposed to sitting and mostly getting to say no, which is part and parcel of being an investor and being a good investor and seeing a lot of deal flow, having to eventually say no.
I'd love to get to know you a little bit better and what is it like going through all these incredible experiences, really time-consuming, difficult experiences, while raising four kids? That's not an ordinary thing to do, so tell me a little bit about how you get that done.
I have a better half that helps me, so it's not something I do by myself, and I think I was very fortunate that when they were young, I had a lot of help, and I think that I'm ever grateful for that help. I think it allowed me to finish my studies and work in M&A, which is not a really easy thing to do. I'm very grateful for that, and beyond that, I have obviously a very supportive father of the kids as well. It's always been a juggle, but it's one of those juggles that, I think, maybe I'm a very energetic person, so I just find the time and it's been great. I'm certainly reaping the rewards of it. We've been in kind of house isolation with my big kids, and it's been really, really fun.
I was just leaving Marker when one of the Zell alumni was working at Selina. He introduced me to Rafi, the CEO, and we started talking. They just had raised their first really big round, and they needed to get organized on investor relations and also building out what would be the infrastructure for raising the next round because everything had gone so super-fast; it was like lightning speed. I came on to do a consulting project, and from that consulting project, I ended up morphing really quickly into a COO role. So I was the Chief Operations Officer, not focusing on the hotel operations, but more on corporate operations, which was what I had come to do, so it was part housekeeping but also part building up the communications between the different divisions and that the high growth and the pace that was happening. We were also getting infrastructural support of building the organization, so a lot of strategies too, really, really fun, a lot of travel, great people, incredible people, just kind of the ride of my life. But it was very, very intense, and after a year, I just realized that although I was absolutely in love with the operational part, being hands-on, I felt like probably something smaller would be more suitable for me.
So, at the time when I was still in Selina, I was visiting Panama about once a month because that's where Selina was headquartered at the time, and my cousin, who grew up within LA, had moved to Panama. It was great to reconnect with him, and I was spending a lot of time with him. He transitioned into Blockchain, and I was following his journey through it, and when I was about to leave Selina, he offered me another consulting project, this time to help create a commercial entity out of the public Blockchain infrastructure that's Horizen. And the goal of this company is actually to create a technology that's a really, really complicated proving system that allows the creation of smaller Blockchains, but really, really easy and inexpensive, but with all of the security features that are enabled with a very robust public watching infrastructure. At the time I thought, "I have nothing to lose; I don't know anything about Blockchain, and it's certainly a really interesting space, and it's great to connect with my cousin."
I started learning about Blockchain and realized in the meantime that it's the biggest rabbit hole chase in the world, like the more I know, the less I know, but what I also got to know is a really, really fantastic team of people. We have a tech team based in Milano and a great place to have dinner too, and I was getting to know the team, getting to know the founders. The CEO is a super inspirational, visionary guy named Rob, and the whole team of people, whether it's the strategy team, the marketing team, the Zen Blockchain Foundation, all of the business development and of course all of the product engineering, just great, great, great people. When they decided to create this entity and raise money for it, Dean, my cousin, asked me, "Why don't you join as a founder?" And I thought, "I haven't been a founder in my long list of career titles," and so, I decided to kind of jump, take the risk and the plunge, and jump right in. Again, because in that transition from one career path to another meandering career path, one of the things that I've taken home is the importance of working with great people. I just knew that I loved the team and I loved the people and I thought, "This is definitely an adventure or this is definitely a group of people that I would love to go on an adventure with, which is what we're doing now."
Still, you can't manage to sleep a lot, and you moved from different industries and you have to train yourself into becoming an expert in these different industries because you are a leader in these different industries. How do you even go about doing that? Even besides the responsibilities of a family, how do you go about transitioning from so many different industries and being successful doing that?
First of all, I can assure you that there are many nights and days where I don't feel very successful. I think, overall, I somehow manage to do it, but there are definitely days where I think I was absolutely ruinous at both. Sometimes, when you juggle between the two, you end up not doing either very well, but I think that I don't know if there is a magic trick, except that support is one of them. I guess some kind of an inner fire, and drive to know that I need to do something for myself to be meaningful for myself and so not feeling guilty toward my kids because I feel like to be a good mother, I also have to be able to use my brains, talent, and energy.
I'd love to know three words that you would best describe yourself as.
It's brave, generous, and proactive.
Finally one piece of advice that you would give to any aspiring entrepreneur, perhaps that's coming into the Zell program or coming out of a good cool tech unit, or just somebody who wants to be an entrepreneur?
I think the first thing is I would make sure that they understand what being an entrepreneur is; it's not about sitting around with a laptop and thinking about ideas. I think it's about risk and understanding risks and downside. I would tell them to think about how they like uncertainty and risk.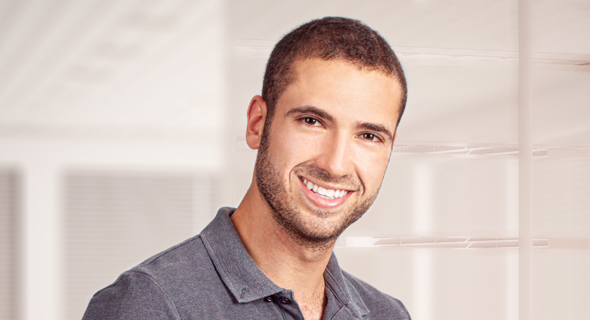 Michael Matias. Photo: Courtesy
Michael Matias, Forbes 30 Under 30, is the author of Age is Only an Int: Lessons I Learned as a Young Entrepreneur. He studies Artificial Intelligence at Stanford University, while working as a software engineer at Hippo Insurance and as a Senior Associate at J-Ventures. Matias previously served as an officer in the 8200 unit. 20MinuteLeaders is a tech entrepreneurship interview series featuring one-on-one interviews with fascinating founders, innovators and thought leaders sharing their journeys and experiences.
Contributing editors: Michael Matias, Amanda Katz