How to land a tech job even if you didn't study computer science
Non-techie tech sector workers offer advice on what to do and not to do when searching for a job in the in-demand industry
The dream of working in high tech is alive and kicking. Even prior to the pandemic, working in the tech industry was an attractive prospect that offered excellent work conditions, interesting work, and prestige. The crisis has only made the sector even more desirable. The fact that the industry was one of the first to recover, and in certain cases even grew, made even more Israelis yearn to work in tech including those who didn't necessarily study engineering or programming. So, how can you get a job in the tech industry if you don't have a coding background? What types of non-technological positions exist, and what are the necessary skills one needs to get accepted? And how do you go about searching for such jobs?

Calcalist spoke with Leora Golomb, a social entrepreneur, who founded a Facebook group called "I'm not a techie, but I want to work in tech," and the founder and director of Fuckup Nights Tel Aviv, and with Raviv Gurtensten, the Developer Relations Manager at Riskified, both of whom don't come from a technological background but are employed in the tech sector. They discussed how even non-techies can integrate into the industry.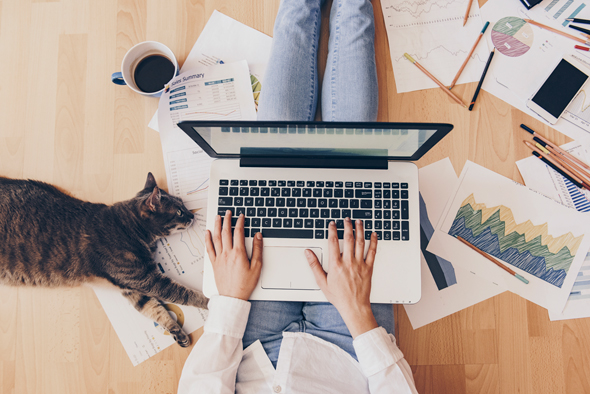 Looking for a job in the high tech indutsry for non-technical positions can be tough, but using your skill set to look for positions helps (illustrative). Photo: Shutterstock

1. Put your ego aside

The tech world is moving fast and positions are constantly changing, so it's impossible to be familiar with them until you enter that sphere. "It's preferable to start with an entry-level position, get your foot in the door, and not to aim for getting a specific senior position or salary. It's okay to backtrack a bit before going forward. Because this sector is moving so fast, new opportunities are always opening up and it's much easier to transfer to different positions once you're already in, when you already know the language, the terminology, and you're already part of that world," Gurtensten said.

2. Stop focusing on titles

At different tech companies, similar positions are often described completely differently and titles frequently vary. Therefore, those who are looking for a job solely based on a position's title risk missing out on other opportunities for suitable positions. In addition, it's recommended to ignore the word "manager" in a title since it doesn't necessarily mean that you'll "manage" other people.

3. Meet people for coffee

Golomb recommends meeting as many people as possible over coffee in order to better understand what a certain role demands, and also to broaden your network. Your contact network is crucial, both for entering the high tech sector and afterward, during your first job, because it will provide you with people to consult with.

4. Look for jobs based on skills

If you're not searching for a job by titles, then what to search by? Nowadays, you can search for jobs on LinkedIn or Indeed according to terms and not titles. "Traditional search engines now allow you to search by terms and not titles. That means not searching for "Operational Manager" but "operations, or 'people' if you want to work with people," Golomb said. Most of those types of positions at tech companies don't appear in traditional job sites, but you can reach them through company websites or people who work at those places. In addition, if you are looking for your first job in the tech sector, you should search using certain keywords like "junior specialist," or "entry-position." "It's important to understand what you're good at because it might mean doing an entry-level position for a year or two, and then you can move onto different things. Often when you join a growing startup, the position starts off looking one way and after half a year it looks completely different since the company grows and you grow with it," she said.

5. Translate your skills into tech jargon

Don't think you have no skills just because you're entering a new field. Instead, find the relevant terminology and jargon that explains your skills for the tech world's requirements. "There are websites, such as worktable.com, which provide job descriptions and you can use them to find the relevant terms for the skills you already possess," Golomb said. Another way to do so is by searching for people who are currently in positions that you are interested in, and see which terms they use on their LinkedIn profile and use them in yours. Golomb suggests paying for a service to "translate" your resume that will make it fit the tech sector, and if you aren't interested in spending money while hunting for a job, you can still do the work yourself and get inspiration from LinkedIn profiles or from others in the industry.

6. Don't worry about not being fluent in English

One of the most common concerns among those who are looking to enter the tech field is the high level of English required to fit such a position. Gurtensten assures that for most positions you needn't be fully fluent. If you've passed a decent level of English in your Israeli matriculation exams, or have a bachelor's degree and you feel comfortable with your level of English, you can get by most of the time. During the course of your job, you'll be able to become more fluent and gain confidence.

7. Learn the jargon and the basic skills

You can also take advantage of the time you'll spend looking for a job to take courses that are related to those positions you want to fill, but in general, there are a few things that are worth learning in any case. It's important to understand how to set key performance indicators (or KPI), how to present data, and how to build a budget. Success in basic things that are used every day by tech companies. You don't have to take courses in these subjects, but you can read blogs or websites to familiarize yourself with the jargon and to enrich your knowledge.

8. It takes time, but continue broadening your searches

Looking for an entry-level job in the tech sector, especially during Covid-times where the number of competing candidates is particularly high, is something that requires patience. It could take several months and you could get several rejections. It's important to broaden your searches also in terms of the types of positions that you're looking for, as well as the type of companies and their locations. It's not a good idea to apply for jobs only at companies of a certain size or for a specific type of position. In addition, it's best to broaden your searches to include locations that aren't in Tel Aviv where there could be available positions that fewer candidates compete over.