CES 2021: Small, remote, and lackluster
It seems like we will have to wait for the pandemic to pass before we can get the new toys we so desire
The annual CES technological expo, which takes place in Las Vegas every year, is considered the biggest and most important tech event on the calendar. But this year, due to Covid-19, things are different. Instead of flashy exhibits that take up most of Sin City's hotel and casino real estate, this year the entire event will be held virtually with 2,000 exhibitors - less than half the 4,500 that took part in last year's celebration. If in the past the CES gadgets were all anyone could talk about, it appears that this time we will have to make do with products that are still in development and will have to wait for the pandemic to be over to receive a proper launch.

That said, relying on the innovations on offer at the CES can still provide a glimpse into the major trends that will dominate the tech sector in the upcoming year. Microsoft is expected to return to the spotlight, with the participation of its president, Brad Smith, for the first time in years, alongside senior figures from the automotive industry, such as GM CEO Mary Barra. Another industry that everyone is watching this year is the healthcare industry, and we are apparently set to be exposed to new developments showing how to leverage technology to improve the way we cope with the global health crisis.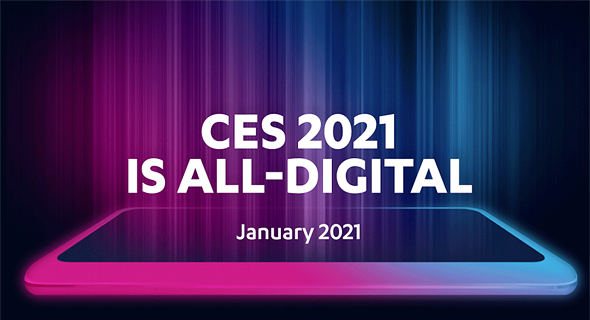 CES 2021

But not all manufacturers are expected to showcase products meant to help people who are quarantined at home or need to work or study remotely. The main reason for that is that Covid-19 caught many manufacturers unprepared and a single year is insufficient time to set up a production line. We are, however, set to see some technological products that try to provide solutions to the new normal and even provide a vision of life after Covid-19.

5G is here, but it's only getting started

5G technology is already gaining steam, gradually becoming commercially available as its infrastructure was rolled out during 2020. There is no doubt it is a technology that is attracting manufacturers' attention these days. A range of cellular communications providers and producers are expected to show off some of the innovation 5G makes possible, though most of what will be presented this year is related to developing trends and potential applications, and not new gadgets. For example, how to use 5G's generous bandwidth to solve some of the problems that Covid-19 exposes, including remote work and study or data protection solutions.

Cars are the new gadgets

The automotive industry is closer than ever to becoming part of the tech ecosystem. If in the past, talk of cars made us think of tires, motor oil, and grease, nowadays Mercedes is trying to sell us high tech cars with giant screens. And it's not only Mercedes, Ford, GM, Hummer and, of course, Tesla, will be presenting electric vehicles of their own and try to cast them in as techie a light as possible. Even veteran tractor manufacturer John Deere will showcase an artificial intelligence-based robot— a cyber tractor if you will.

Transparent televisions are entering our homes

When it comes to televisions, Samsung has taken over the conversation of the current show. It is showcasing its line of new TVs that include models that look like pictures or mirrors that can be hung on a wall in the living room or bedroom without drawing attention.

But Samsung is not alone. Its bitter rival LG is fighting for attention and is even taking the competition a step further with its transparent OLED displays. These monitors can play content on a nearly invisible screen that resembles a window. And unlike the folding displays it showcased last year, these offerings will likely be far more popular. Naturally, no successful technology can arise without one of the nimble Chinese companies rushing to adopt it, with Xiaomi already starting sales of its 55-inch televisions that utilize LG's OLED technology with a $7,200 price tag.

Wearable technologies to maintain health and gadgets to help you dream

The ongoing health crisis has led to a surge in devices to help us keep track of our health, from wristwatches to bracelets, to smartphone apps and a wide range of wearable devices and smart fitness gadgets. Overall, there aren't any major inventions in the field and what's on offer is simply more of the same, perhaps slightly smaller or better designed. Manufacturers' attention to our health, however, has only increased, and it is up to us to pay more attention to the data we are willing to share with them.

The most surprising gadget on offer, which is probably the weirdest one we've encountered yet, is a device that claims to help us dream. According to various studies, different sounds have the ability to impact our dreams and the quality of our sleep. For that reason, researchers from MIT developed a device called Dormio, that wants to influence our dreams by sound association. The device allows users to create an individual soundtrack to produce better sleep and sweeter dreams.

Digitalization and smart homes

Another trend that is gaining momentum and will likely feature prominently in this year's CES is the growing convergence of digital services in our daily lives, through the digitalization of our homes. The traditional refrigerator is getting an upgrade courtesy of LGs transparent doors, which let us see its content and make an online shopping list. Vacuum cleaners are becoming more autonomous, now featuring self-emptying features, and everything from our ovens, to our dishwashers and washing machines, are integrating new "smart" features.

None of them are entirely novel innovations, but their integrations are taking place more transparently and with improved user experience. Another particularly interesting trend is the entrance of robots into the field of education with iRobot's Root, aimed at teaching coding and robotics.