SoftRide partners with EZRaider to marry self-driving tech with electric ATVs
Former Innoviz employees produce kits that can turn practically any vehicle into an autonomous one, using LiDAR sensors
Israeli autonomous driving startup SoftRide, which was founded by former Innoviz employees, has signed a strategic cooperation agreement with DSRaider the developer of EZRaider to produce an autonomous vehicle using LiDAR technology.

The marriage of the two companies will result in a sturdy, electric, all-terrain vehicle with autonomous capabilities that will be marketed to the defense market at a quarter of the price of existing autonomous military vehicles. More than a thousand units of the Israeli-made non-autonomous EZRaider have already been sold to a range of defense and civilian organizations.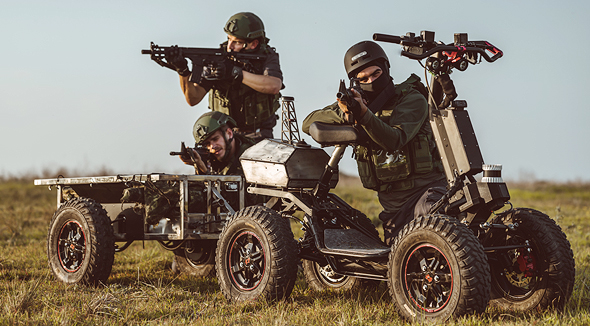 Soldiers can use the EZRaider electric ATV for a range of missions. Photo: Benny Deutsch

"We use LiDAR (Light Detection and Ranging) sensors and algorithms we developed in order to provide an affordable autonomous kit that enables users to transform their existing vehicles that operate in closed-off areas such as production facilities, ports, and farms into self-driving vehicles," said Yonatan Horowitz, SoftRide's CEO and the former head of Innoviz's autonomous vehicles team. He, like many of the company's founders, served in Unit 81, the IDF's intelligence technology unit. "These capabilities are attractive to the defense sector too, which is constantly seeking to add autonomous capabilities to its existing vehicles."

Despite numerous attempts, both in Israel and in other countries, to integrate autonomous ground vehicles into the military, their adoption has been slow, particularly relative to the adoption of autonomous aircraft. It is possible that a small and relatively cheap self-driving vehicle, that is suitable for special forces missions, can expedite their adoption by the military.

The EZRaider is a four-wheeled vehicle that can be operated sitting down or standing up with a range of 80 kilometers (50 miles) and a capacity to carry hundreds of kilograms of equipment. Its size and weight make it very easy to transport, including by attack helicopters. The vehicle has already been purchased by the IDF and U.S. special forces units.

"Combatants can reach their destination stealthily, dismount to carry out their mission, and send the vehicle back to collect other troops or evacuate someone who was injured," DSRaider co-founder and CEO Brig. Gen. (Res.) Miki Bar said. "The vehicle can enter autonomous mode with a press of a button and SoftRide's kit allows us to offer it at a very competitive price compared to other autonomous vehicles, not only for military purposes but also to the huge agriculture market, which requires self-driving vehicles for crop spraying and other monotonous tasks."

EZRaider was founded in 2017 and has raised $5.5 million to date. It is currently embarking on a new funding round that is expected to raise $15 million to expand the company's U.S. operations and recruit new employees for the Israeli headquarters. Though its vehicles were sold to the Israeli Border Police and IDF, as well as to off-road and urban tourism companies, most of its production is geared to the international market. Despite the Covid-19 pandemic and the difficulty of dealing with foreign clients, the company ended 2020 with sales of hundreds of vehicles and an increase in production from the previous year.