Social Finance Israel seeks to pair financial gains with social benefits
SFI just launched its 5th Social Impact Bond, aimed to reduce loneliness among 200 elderly residents of Tel Aviv-Jaffa
As a high-tech powerhouse, the Startup Nation has succeeded for years in garnering investments from Israelis and professionals abroad, often providing impressive returns. But what if financial gains could be paired with social gains? What if you could make money and a positive social impact?

Social Finance Israel (SFI) is doing just that, and now, in the first social impact bond of its kind worldwide, the not-for-profit is using crowdfunding to raise capital, democratizing access to this unique investment opportunity.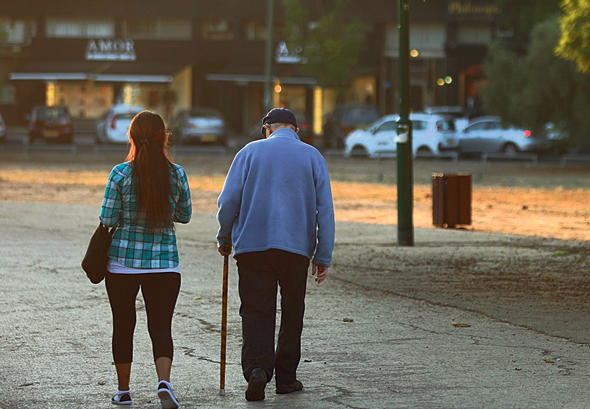 An elderly man in Tel Aviv. Photo: Amit Shaal
Established in 2013 by Sir Ronald Cohen and Yaron Neudorfer (the latter still serves as the CEO), SFI is a social enterprise which works to solve social, health and environmental challenges in Israel using a unique financing model called Social Impact Bonds (SIBs). It is the first and only institution in the country to issue these bonds, which are financial vehicles that reinvent how governments and municipalities contract for social services. Through SFI, investors pay for the up-front provision of social services with the promise of capital reimbursement—plus a gain—from the government or municipality, should certain pre-set outcomes be achieved as determined upfront, and measured by a third party.
Pioneered in 2010 by Social Finance UK, the SIB, also known as "pay for success," has proven to be an invaluable tool for governments to pursue social initiatives that they otherwise may not consider due to financial risk. In a way, they provide an R&D lab for the public service. According to Brookings, $421 million has been raised through SIBs through about 200 bonds in 33 countries worldwide. About 75% of these are estimated to be originated and managed by the Social Finance Global Network.
In Israel, SFI just launched its 5th Social Impact Bond, aimed to reduce loneliness among 200 elderly residents of Tel Aviv-Jaffa. Based on a similar bond called Reconnections issued by Social Finance UK, this bond aims to provide investors dual social and financial returns, should certain pre-set outcomes in elderly loneliness be achieved.
How does it work? SFI first performs market research to calculate the financial burden a certain problem is bearing on the economy. Next, they raise money, in this case NIS 1.6 -2.3 million ($500,000-$720,000) from anchor investors such as family offices and philanthropy funds, and NIS 700,000 ($220,000) from the general public. With this bond, SFI will then manage the program for a period of two and a half years until, ideally, the bond's goals are met and investors receive their returns. The payment will be made by the Tel Aviv Foundation and the Tel Aviv-Yafo Municipality.
To accomplish the initiative's objectives, SFI is contracting Uniper Care Technologies, an innovative AI-based platform for the elderly founded by Rami Kirshblum and Meir Schreiber in 2015. "The company's vision," Kirshblum told CTech, "is to become the digital infrastructure that connects the elderly in their home back to the community."
Like all powerful ideas, Uniper's original inspiration came from Kirshblum's grandmother. "I saw her watching TV all the time," he said, "bored and unengaged. I could see that she could be happier."
With its Android-based set-top box, Uniper's platform enables any elderly person to transform their TV into an interactive platform for holistic services such as yoga therapy, virtual exercise classes, Whatsapp video chat with grandchildren, and more. Approximately 70% of the platform's content is developed in-house and 30% is user-generated.
During the Covid-19 crisis, their platform has taken on an additional layer of meaning. Seniors confined to their homes are craving connection and engagement, which studies have shown doesn't only improve overall health and reduce loneliness, but also extend a person's lifespan in many cases. Uniper has committed to continue the services for the elderly even after the program ends.
"Many investors, who come from philanthropy, cannot see how they can ethically make money off the backs of the people they're trying to help," said Asaf Rosenheim, director of business development at SFI, who pivoted to the burgeoning field of impact investing after 14 years in real estate. "Our more traditional investors, on the other hand, seek market-rate financial returns in single digits IRR while also bringing social good."
In many ways, SIBs represent a financial vehicle with the potential to be more sustainable and scalable than philanthropy, enabling investors to recycle their capital for continued use. Though Rosenheim reminds me that the original development of each SIB is funded by philanthropy, in this case through the generous grant made by the Dalia and Eli Hurvitz Foundation.
Out of SFI's four previous impact bonds, two have aimed to reduce the dropout rate among computer science and IT students in higher education, mostly Arab students. One has sought to prevent the onset of type 2 diabetes among pre-diabetics, and the other aimed to enhance educational attainment in mathematics for Bedouin students in the Negev region.
"This is not charity," said Rosenheim, "and we are encouraging people to invest significant amounts. Unlike governments, which many times only measure results after the money is spent, we are totally results-driven from the beginning. Our financial incentive is to make an impact."
At the time of publishing, SFI's 5th Social Impact Bond, which ends on Jan. 28, showed around NIS 180,000 left to raise, with an investment minimum of NIS 500.
Andrew Jacobson is a CTech guest writer. He is an associate on KPMG's M&A team in Tel Aviv. He made Aliyah from Boston in Sep. 2020 after graduating from Brandeis University.