Israeli fintech startup Rapyd completes $400 million funding at $2.5 billion valuation
"We ended 2019 with sales of $20 million and reached $100 million in 2020. We will at least double or triple that in 2021," said co-founder Arik Shtilman
The blossoming of e-commerce during the Covid-19 pandemic has done wonders for many fintech companies, with one of the main beneficiaries being Israeli startup Rapyd which announced on Wednesday a massive $400 million funding round at a valuation of $2.5 billion. Some $300 million were raised in a series D financing round, with another $100 million coming in through secondary funding that will be used to purchase shares belonging to employees and company executives, as well as those of angels and shareholders who invested in the company in its early days.

Founded in 2015 as CashDash by Arkady Karpman, Arik Shtilman, and Omer Priel, Rapyd offers payment services enabling the transfer of electronic funds across borders through various means of payment, including bank transfers, digital wallets, and cash. Rapyd's platform supports 65 currencies in more than 170 countries and enables global transfers in real-time. Its valuation has significantly increased over the past couple of years, with the company being valued at around $1 billion when it last raised funds in October 2019 and at just $300 million in the beginning of 2019.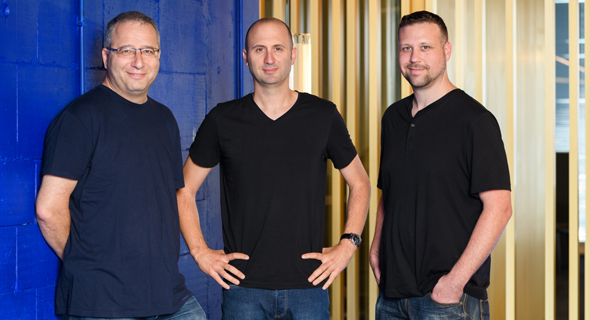 Rapyd co-founders Arkady Karpman (right), Arik Shtilman, and Omer Priel (left). Photo: Courtesy

"We decided to go ahead with this funding round after being approached by the biggest funds in the world, including with offers to buy the company at a massive sum," Rapyd co-founder Arik Shtilman told Calcalist. "But after a month-and-a-half I realized that we could receive a higher valuation and now we are worth more than double."

The series D round was led by Coatue, which has invested in several Israeli companies recently including Gong and Cato Networks, with several new investors participating in the financing, including Spark Capital, Avid Ventures, FJ Labs, and Latitude, along with further investment from current investors General Catalyst, Oak FT, Tiger Global, Target Global, Durable Capital, Tal Capital, and Entrée Capital. Rapyd had previously raised $260 million.

Shtilman spoke to Calcalist about the future of Rapyd. "There is a lot of money in the stock market and investors are looking for good companies to invest significant sums in. The future of companies like ours is to eventually go public and I estimate that it will happen within two years. We already had the option to go public now, either directly or via a SPAC, but we want to grow at our rate which is more volatile and wild. We will postpone the IPO for as long as we can so that it will be at a valuation of tens of billions," said Shtilman.

Rapyd's platform embeds fintech services into any application and simplifies the complexity of offering local payment methods through an easy-to-use API while managing diverse compliance and regulatory requirements. "Our market is on steroids right now. Every business in the world has moved to operating online. A process that was supposed to take many years happened within three months and our business has boomed as a result of this acceleration. Plans we had for the next year-and-a-half were achieved within a few months. Our results for 2020 match our predictions for 2022," added Shtilman. "We ended 2019 with sales of $20 million and reached $100 million in 2020. We will at least double or triple that in 2021. There are many companies in our market that use old technologies. We are a relatively young company with new technology and can register a client to receive payments within a few minutes. Our main competitor is Stripe, which is also an amazing company. We jointly lead this sector."

According to Shtilman, the company will use the new funds to significantly increase its workforce, as well as purchase additional companies. Rapyd acquired Iceland-based credit card payment processing company Kortathjonustan hf (Korta) in April of this year. "Around 40% of the money will go towards two big acquisitions we will be doing in the coming year following the successful purchase we made in 2020," revealed Shtilman. "The rest of the money will go towards hiring 100 new programmers in the near future and expanding our sales teams."

Rapyd was represented in the deal by Shlomo Landress and Dan Fisher of the Gornitzky & Co. law firm.