Vdoo raises $25 million in extended series B round
Cybersecurity company plans to use new capital to expand its services and hire additional sales and marketing employees
A year and a half after software protection company Vdoo announced that during its series B round it raised $32 million, the company announced on Wednesday that it has extended that investment round by an additional $25 million. The round's extension was led by the Qumra Capital fund and Verizon Ventures. According to Calcalist's estimates, the company's valuation at this time is significantly higher than it was at the start of the round.

"This is a mid-investment round because of the strategic value it adds, and that it allows us to prepare for 2021, and is part of our important collaboration with Verizon," Netanel (Nati) Davidi, one of the company's co-founders and its CEO told Calcalist. "The company is selling at a rapid pace and I want to recruit an additional 40 employees, mainly for marketing and sales positions. We have several yearly contracts with strategic companies including Schneider Electric among others. We've been successful during a year where it's been difficult to operate in the industry, yet have managed to double the number of our customers."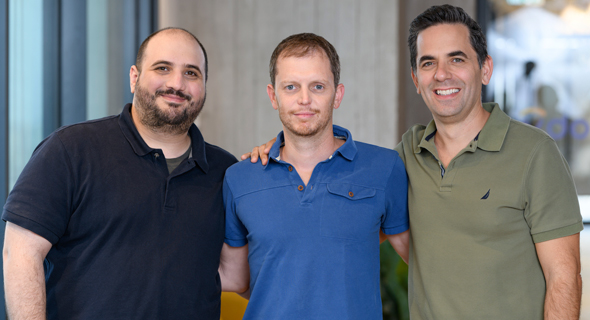 Vdoo co-founders Nati Davidi, Uri Alter and Asaf Karas. Photo: Vdoo
Two of its founders, Davidi and Uri Alter, were behind another cybersecurity company, Cybera, which was sold to Palo Alto Networks for $200 million, and were at the center of a dispute in which one of Cybera's co-founders sued them. After a series of lawsuits and defamations, both sides reached an undisclosed agreement. Davidi said he was happy to say that the dispute was behind them, that everything ended on a positive note, which allows them to now focus on their new company's future.
The new funding will allow the company to expand its range of solutions for communications companies and service providers in the fields of water and electricity, against the backdrop of the increasing demand for smart products that can be operated remotely during the pandemic. The round increased the total capital raised by Vdoo to $70 million. Qumra Capital and Verizon Ventures joined existing investors 83North, GGV Capital, WRVI Capital, Dell Technology Capital, NTT DOCOMO, MS&AD Ventures, and prominent private investors in the extension round.
"Over the last year, we've experienced huge market demand from device deployers such as telecommunications companies and utilities. These companies are responsible for the security of the millions of devices such as routers, connected home appliances, and smart meters that they deploy to their end-user and customer environment. With Vdoo's new offering, they can now quickly and easily vet the security and standard compliances of these devices and continue to monitor and protect their devices over the lifecycle of the product. As a result, our newest customers include top U.S. and global telecommunications companies and additional utilities players around the world. We are happy to announce this round after receiving strong market validation, and we are thankful we were able to grow significantly in these challenging times," Davidi said.
According to research firm Markets and Markets, the pandemic and the shift to working from home dramatically increased the need for smart devices that can connect remotely, and accelerated the demand for securely connected products. The firm expects that the global device security market will grow from $12.5 billion in 2020 to $36.6 billion by 2025.
Vdoo was founded in 2017 by Davidi, Alter, and Asaf Karas after they served a lengthy service in the elite technology intelligence unit of the Israeli military. Vdoo delivers an automated product security platform for device manufacturers and deployers. Vdoo's platform performs a complete security assessment in minutes, providing a comprehensive report identifying zero-day vulnerabilities, CVEs, configuration and hardening issues, standard incompliances, and other security exposures with suggested prioritization and remediation mechanisms. The system offers prioritization and updating correction mechanisms for continuous monitoring of systems, as well as protection against future attacks.
Vdoo's R&D centers are located in Tel Aviv and in branches in the U.S., Germany, and Japan. The company employs 90 people and has dozens of customers who are Fortune 500 companies from across the industry that create millions of products for various sectors, including automobile, medical, industrial, smart buildings, security, and now telecommunications and services.
"The number of connected IoT devices is rapidly growing, creating greater opportunities for security breaches," said Boaz Dinte, Managing Partner of Qumra Capital that led the round. "Vdoo's unique device-centric, deep technology automated approach has already brought immediate value to vendors in a very short period of time. We believe the market opportunity is huge, and with newly infused growth capital, Vdoo is well-positioned to become the leading global player for securing connected devices."
"With the expansion of 5G networks and mobile edge compute, there's a need for an end-to-end, device-centric security approach to IoT," Verizon Ventures Managing Director Tammy Mahn said. "As the venture arm of a leading telco, Verizon Ventures is proud to invest in Vdoo and its world-class team on their journey to solve this global need, while ushering in a new era of security by design in our increasingly connected world."