Pitango invests in startup of former Talpiot commander
Israeli company Swimm raises $5.7 million in total to build codebase sharing platform
Israeli startup Swimm announced on Thursday the completion of a $5.7 million funding round led by VC fund Pitango First. The company was founded at the end of 2019 by Tom Ahi Dror, the former commander of the Israeli military's prestigious Talpiot Program and the Head of Human Capital Development at the Israel National Cyber Directorate, CEO Oren Toledano, who previously founded the Israel Tech Challenge, Gilad Navot, who joined from IM Creator, and CTO Omer Rosenbaum, who worked at Check Point. Swimm currently employs 12 people and is in the process of recruiting additional R&D staff.

Additional investors in the round include TAU Ventures, Axon Ventures and Fundfire. Joining those firms was a group of high-profile angel investors including the founders of Snyk and Orca.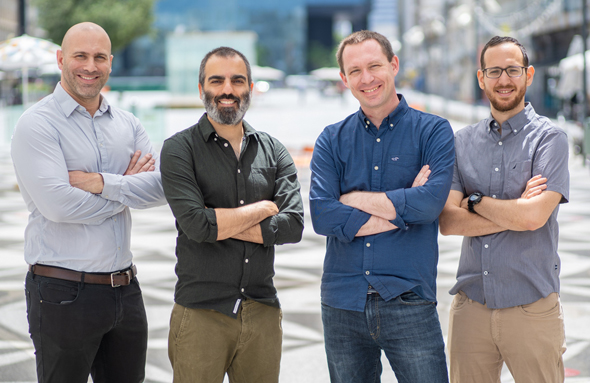 Co-founders of Swimm Omer Rosenbaum (from right), Tom Ahi Dror, Gilad Navot, and Oren Toledano. Photo: Cedric Betsch
Swimm was founded with the aim of solving one of the most expensive and common bottlenecks encountered by R&D teams, sharing information about codebase. Each company's code is unique and dynamic, which makes it difficult for engineers to get accustomed with a codebase. This problem is made worse because the code itself is constantly changing and evolving. Undocumented knowledge often causes expensive delays and friction around onboarding, training, remote work, project or context switching. By tightly coupling tutorial-style documentation to a project's codebase, Swimm enables continuous documentation.
Swimm's founders noticed this pain point while running Israel Tech Challenge, a high-tech academy that trains elite global graduates in cybersecurity and data science, then places them in software companies to gain experience. "We immediately saw how much time, resources and effort companies had to invest into training developers — even experienced ones," said Toledano, co-founder and CEO of Swimm. "In most companies, developers were just thrown into the code pool at the deep end, and it became a question of sink or swim. It's an expensive learning curve."
"Software development is now at the core of every modern business. Swimm provides a structured, contextual and transparent way to improve developer productivity," said Yair Cassuto, Partner at Pitango First who is joining Swimm's Board. "Swimm's solution allows for rapid and insightful onboarding on any codebase. This applies across the developer life cycle: from onboarding to project transitions, adopting new open source capabilities and even offboarding. We are fortunate to be part of the Swimm team's journey to reimagine how knowledge is shared across code."