Israeli startup SixAI signs strategic partnership in South Korea
Ran Poliakine's company signed an agreement to form a joint venture (JV) with major South Korean semiconductor test solutions provider, ISC, and tech-focused investment company, Yozma Group Korea
Israeli company SixAi, founded by entrepreneur Ran Poliakine, founder of Nanox Imaging, has signed a strategic agreement to form a joint venture (JV) with major South Korean semiconductor test solutions provider, ISC, and tech-focused investment company, Yozma Group Korea.

SixAI, which received a $5 million investment from SIBF VC last month, specializes in developing and commercializing advanced technologies that combine advanced optics, edge computing and artificial intelligence. The company has two subsidiaries, one focused on developing autonomous visual quality control inspection systems in production lines and another one focused on developing autonomous driving technologies for industrial Autonomous Mobile Robots used in manufacturing floors and logistics centers.

The JV will not only allow SixAI to make use of ISC's manufacturing capabilities in South Korea, but ISC is also expecting sales growth by expanding the business field to AI-based test inspection and strengthening the lineup of non-memory chip testing solutions. The companies aim to collaborate to secure opportunities in the burgeoning $4 trillion AI robotics market.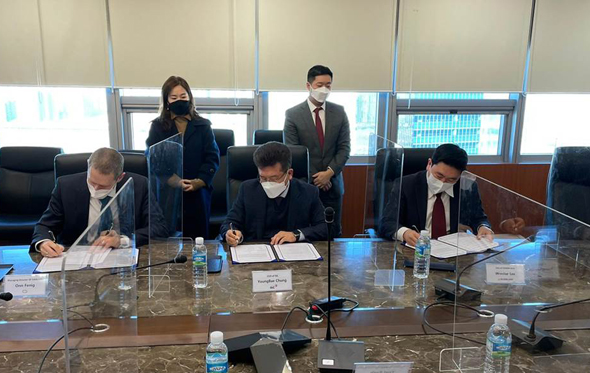 The signing of the agreement between SixAI, ISC and Yozma Group Korea. Photo: SIXAI
ISC is a global total test solution company with parts and modules for the test process of semiconductor manufacturing, and has a No. 1 market share in the global test socket market. ISC develops and produces test sockets needed to test semiconductor IC chips used in semiconductors, IT, BT, automobiles and various electronic parts.
Yozma Group Korea has been creating a global business model that matches Korea's elite manufacturing technology with overseas technology companies. By applying this cooperative model, Yozma plans to actively support the global commercialization of SixAI.
The agreement was signed in South Korean capital, Seoul, and was attended by Lee Won Jae, administrator of Incheon Free Economic Zone, Chung Young Bae, ISC Chairman, Lee Hwan-kyun, former Minister of Transport and Construction and Akiva Tor, Israeli Ambassador to the Republic of Korea.
"Israel is a world leader in applied Artificial Intelligence per capita, with 40 times more technologies based on AI than the USA, the world leader. Along with the Republic of Korea, Israel leads the world in national investment in R&D, which sparks innovation and growth at the cutting edge of technology," said Tor. "Today's partnership with ISC is a prime example of 'scaling up together' and the potential for Israel – Korea high technology cooperation. Our shared dreams are becoming fruitful realities – albeit we know that this is just the beginning."
Onn Fenig, SixAI Managing Director, commented: "The combination of AI and robotics is becoming increasingly important. This joint venture will not only help us to understand what the market needs, but allow our companies to fast-track market shaping solutions for key Korean industries and organizations. The application of technology to manufacturing is by no means a new idea – but this joint venture is the next step in making industry 4.0 a reality."