StackPulse founded by former Luminate Security execs raises $20 million
The Israeli software company creates automated software to respond to glitches without the need for traditional IT tools, company plans to use funds for expansion and product development
Israeli software company StackPulse raised $20 million in a series A funding round led by venture capital fund GGV Capital. The current round comes after StackPulse completed its $8 million seed investment round less than a year ago, which was led by Bessemer Venture Partners, which also took part in the current round. Other leading names from the industry who took part in the round include Wiz CEO Assaf Rappaport, Armis Security CEO Yevgeny Dibrov, angel investor Benny Schnaider, Assaf Wand of insurtech company Hippo Insurance, and other leading entrepreneurs. The new capital will be used to continue to develop the company's product and expand its global operations.

In an interview with Calcalist, Ofer Smadari, co-founder and CEO said that "there is an opportunity here to build something very big and there is high demand."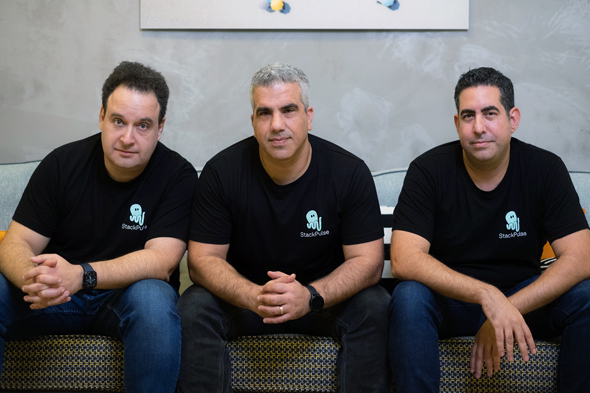 StackPulse co-founders Livni, Smadari, and Belkind. Photo: Guy Hamui
The company was founded in 2020 by Smadari, Leonid Belkind, who serves as CTO, and Eldad Livni, who serves as CPO, who had previously co-founded Luminate Security, a pioneer in the field of cloud native Zero Trust, which was acquired after two years by Symantec Global in a hundred-million-dollar deal. The executive team includes Brian Lake, Josh Thorngren, and Karin Ophir, who brought their extensive experience in leading similar companies in the arena.
"Symantec gave us and anyone who was at the executive level the opportunity to leave, and we chose to go. We left shortly after the acquisition, and we had an excellent idea that didn't come from the cyber field. The new company we formed receives warnings from various types of systems and infrastructures that activates automatic fixes for malfunctions, saving programmers a lot of time," Smadari said.
"We grew together. We took a Luminite team who had worked with us in the past, which helped us rapidly develop our product. We are a 35 person-company in Israel and the U.S combined and we plan to adopt the hybrid work model because it seems like people want to combine working from home with working in the office," Smadari said. "I feel like work from home is taking over the world. We see colleagues of ours who are leaving the West Coast and looking for housing elsewhere. I don't think there will be a need for returning to flights and the old ways of doing things."
Over the past few years, many organizations are undergoing digital transformations, which is reflected in the use and development of software as a cloud service. In addition to software development, there is a need to deploy and maintain the actual service (internal and external), which is composed mainly of dozens of different coding components. As a result, the companies promise to ensure the high level of reliability and stability of the service at any time, but existing tools that are used are mainly traditional IT tools, which aren't suitable for dispersed cloud platforms.
StackPulse offers a platform that enables an automated and efficient service that addresses glitches in cloud services, as well as concentrated communication and team synchronization to resolve those issues. The platform collects data and enriches it with information obtained from monitoring those systems, communicates with different software and infrastructure components in order to find a solution as quickly as possible. It's distinct from manual and Sisyphean processes that are used today and from tools used by traditional IT teams that aren't suitable for working in a diversified cloud platform. Using StackPulse, development teams can configure, test, and deploy automated diagnostic and troubleshooting processes as well as operating processes, as part of the service development and also to ensure maximum efficiency, quality, and stability.
"It's extremely rare to see a one-year-old startup exiting stealth mode already having built significant product-led growth and customer adoption momentum," said Glenn Solomon, managing partner at GGV Capital. "StackPulse's rapid ramp is a testament to the management team's proven experience, having successfully built, scaled and exited multiple previous companies. At GGV Capital, we seek to invest in leading teams going after large, emerging, and globally relevant markets. We are thrilled to have led StackPulse's Series A and to be working with this passionate and dedicated team."
"The growing importance of software dictates the need for predictable reliability," said Amit Karp, partner at Bessemer Venture Partners. "The only way to ensure such reliability is to make service operation processes as well-defined and continuously improved as software development."