Trax planning to fire dozens of employees as preparations for $2 billion NYSE IPO gather steam
The Israeli retail analytics company is planning on going public in the first half of 2021, but first it will be cutting down its workforce both in Israel and abroad
Israeli retail analytics company Trax is preparing to go public on the New York Stock Exchange (NYSE) during 2021 at a valuation of at least $2 billion, a source told Calcalist under the condition of anonymity. The IPO is expected to take place in the first half of the year, with company representatives currently meeting with potential underwriters.
As part of its preparations, Trax plans to fire dozens of employees who have already been called in for a pre-dismissal hearing, with a large portion of them being based in Israel, and the rest around the world.
It is estimated that Trax will nevertheless hire additional staff in some of its global offices depending on specific needs. Trax, which offers retailers image recognition and computer vision analytics tools to keep track of their stock and inventory, employs a total of 1,000 people, 300 of them in Israel. The company fired around 120 employees this past May.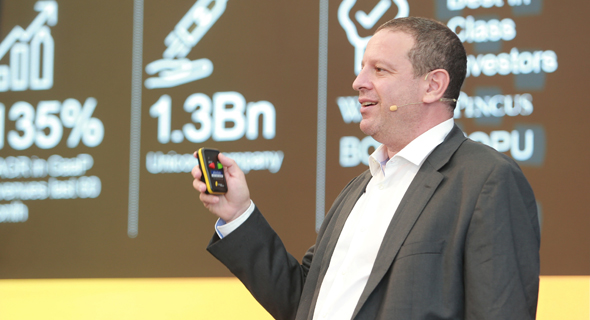 Trax CEO Yoel Bar-El. Photo: Orel Cohen
Trax uses AI, Machine Vision and Big Data in order to provide retailers and brands with useful insights to keep track of their inventory. The platform is based on a network of sensors that are integrated into shops, for example, tiny cameras the size of a coin that are placed on shelves several meters apart. This network allows the company to digitize the shop in real time. The AI system analyzes the data that is collected and produces insights for retailers and brands regarding managing inventory and consumer behavior.
Trax was founded in 2010 by Yoel Bar-El (CEO) and Dror Feldheim (CCO), and operates in more than 50 countries, the most important of which are Israel, Singapore, and the U.S. The company serves over 175 clients in total. It has completed several acquisitions over recent years, including the U.S. company Shopkick for around $200 million in 2019 and of French startup Qopius last year for an undisclosed sum. It has raised $350 million to date, with private equity company Warburg Pincus being its largest shareholder, and the likes of J.P. Morgan also among its investors.
Trax refused to comment on a potential IPO, but regarding the layoffs told Calcalist: "We are undergoing fast global growth as part of the integration of some of the companies that were recently acquired and the focus on target markets which requires a new deployment. We are working to reduce our workforce in our R&D center in Israel which numbers 300 employees. This cutback that is being considered is planned to include less than 10% of the workforce in Israel."