IL Tech in NY
While in Israel we can get away with being pushy at times, in the U.S things are different, cautions Anima
As part of a collaboration with Israeli Mapped in NY, Anima execs join CTech to discuss some of the differences between operating in Israel and The Big Apple
There are more ways to communicate with people than language. Of course, it helps to open up shop in America if you speak English, but there are social cues and language nuances that may be missed by a typical Israeli when moving to open a business in the U.S.

"Be respectful, think twice before making a joke you'd feel comfortable making in Israel," warns Anima. "Offensive comments are not taken lightly here."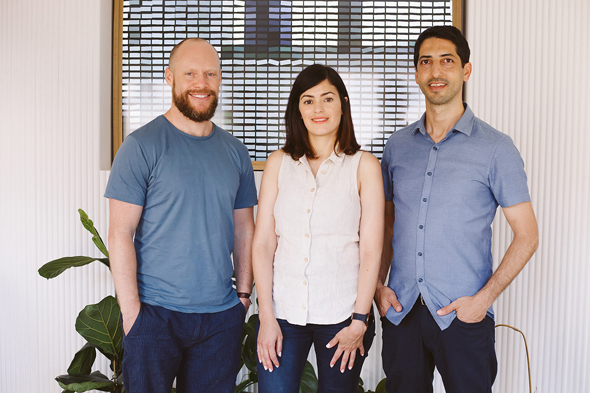 Anima's Or Arbel, Michal Cohen, and Avishay Cohen. Photo: PR

Anima's three founders met at university and they have had a New York-based office ever since Or Arbel, its CTO, relocated there. They have joined CTech for its weekly IL Tech in NY series to break down how different tones and body language may affect relations with investors overseas.

Company name: Anima

Field of activity/product: Design to Development Platform

Founders: Avishay Cohen (CEO), Michal Cohen (CPO), Or Arbel (CTO)

Year of founding/start of New York operations: Founded in July 2017. We've had the U.S office ever since the CTO, Or, relocated to the U.S. (first in the Silicon Valley and then in New York City).

Number of employees and whether the company is active in other locations: 20 employees. We've based in Tel Aviv and New York City, and we have employees all around the world, in places like Australia, Portugal, Morocco, and more.

Sum of total funding to date/funding rounds completed: $2.5M seed round in January 2020.

Names of investors/VC backers: YC (S18), Hetz Ventures, and Zohar Gilon

General background on the founders/senior managers:

Before getting married, Avishay and Michal met while serving together in the Israeli Air Force where Michal was a Unit Commander and Aviashay was a Major. They both met Or at university.

Avishay and Or's professional paths intersected for the first time a few years later at Mobli, where they worked on a search engine for social media, with built-in deep computer-vision tech. Or led the mobile development of the company, only to be replaced by Avishay when he left to found Yo.

Yo, as we all know, blew up. It shot to be the number one app on the AppStore, became an international sensation, and ended-up raising $3 million, with Or moving to work on it in the Bay Area and later, in New York City. As Yo wound down, the three reconnected and began hashing out a new company with three principles, one for each of their individual passions:

Avishay's was building tech products that were lock-step with businesses transitioning to online. Or's was automating redundant processes for efficiency. Michal's was to make it even easier to bring designers' vision to life.

With Anima still nascent, they applied and were accepted to Y-Combinator. They all lived in an apartment in Sunnyvale for six months and began Anima's journey from idea to a fully-formed product-company.

Background on the product/service/platform/solution:

Anima is a design to be a development platform that transforms designs (from Figma, Sketch, or Adobe XD) into workable developer-friendly code.

We are designers, developers, and product managers who used to spend way too much time explaining things to each other — instead of seeing our ideas actually materialize. That's why webuilt Anima: to eliminate design-to-development friction so we can create awesome products faster.

Founded in 2017 by Avishay Cohen (CEO), Michal Cohen (CPO), and Or Arbel (CTO) — all veterans of prominent Israeli startups — Anima's design-to-development platform was conceived and built during the summer of 2018 at Y Combinator and started onboarding paying customers by the end of that year.

More than 300,000 designers, developers, and product managers are in our community. Prominent clients include Google, Facebook, Amazon, Bloomberg, Cisco, Samsung, LG, BOSCH, Walmart, HP, eBay, Starbucks, and more. Anima raised $2.5 million in seed funding from Hetz Ventures and Zohar Gilon.

Why New York? What advantages does it offer? How does the market differ from Israel? How does the competition differ?

Most of our users are located in the U.S and so we wanted to have an office here to be close to them. True, the world is global but some things can't be replaced - sharing the same time zone, being able to meet for casual coffee, being part of the culture, and seeing trends materialize.

Two things you learned about the U.S. market from operating in New York:

Here we're small fish in a big ocean. The U.S market is huge, it's changing rapidly and if you don't know the rules (and there are many rules and regulations), and the right people, you'll simply get lost.

Whereas in Israel everything is negotiable and we can get away with being pushy at times, in the U.S things are different. This kind of attitude will come across as aggressive and will not get you very far.

Two things you learned about American investors as a result of starting operations there:

Israeli investors mostly tend to tell entrepreneurs exactly what they think without trying to sugarcoat the message. Even if they'll end up investing in your company, they'll spend a great deal of time discussing why your idea will not work. Investors in the U.S tend to be more polite and friendly. They can tell you your idea is interesting and you'll leave the meeting with a good feeling, but the relationship will remain formal and there will be a good chance you won't hear from them again.

There is also the familiarity factor. People feel more comfortable investing in local companies. It's easier to stay in touch, they speak the same language, in many cases, you can easily sit for a coffee with the CEO and keep a closer eye on the progress of the company. And so, in early stages, it's harder for startups coming out of the U.S to get investment outside of their home territory.

Two suggestions for Israeli entrepreneurs on what to do in New York:
Make connections. This is a big market, take all the help you need.

Be modest, and work hard. This is the big league. We're competing not only with Americans but with the best of the best from all around the world.

Two suggestions for Israeli entrepreneurs on what not to do in New York:

Remember you're in a multicultural city, the rules are different. Be respectful, think twice before making a joke you'd feel comfortable making in Israel. Offensive comments are not taken lightly here.

We're very warm and direct people, but in the U.S this might be perceived as aggressive. Get to know the people and their personal style first.

On a scale of 1-10 how much did the Covid pandemic impact your work?

Since we all work from home, we're working hard on creating and maintaining a positive atmosphere with happy hours before the weekend, morning coffee, beers, and ice-cream deliveries.

I don't feel it has had much of an effect on the actual work. We've experienced 133% growth in 2020. The team works hard and users need to use our product just as they did before, if not more.

Also now that business trips are limited, being physically in the city gives us a competitive advantage. Key players in the city who normally wouldn't find the time to sit with you for coffee now have some free time and you can find an easier way in.

What are the differences when it comes to recruiting employees?

At the beginning of the year, we were four in the team. Now we're 20. We had to recruit the team over Zoom. That was challenging but also allowed us to hire talented people from all around the world - we have a developer in Morocco, a Customer Success Manager in Australia, and so on.

What are some of the workplace culture differences between Israel and New York?

Israel is less official and less politically correct, where everyone is a friend of a friend. New York City is multicultural, people come here from all around the U.S and the world as a matter of fact, and so relationships take more time to build.

The IL Tech in NY project is a collaboration between CTech and Israeli Mapped in NY. For more information: Franklin@israeliMappedinNY.com