Israeli palates rule Redefine Meat's alt-meats are tasty enough for mass market
Blind taste-test hailed a success, Best Meister to distribute plant-based substitute to restaurants and high-end butchers in Israel
Israeli startup Redefine Meat announced on Thursday the forming of a strategic partnership with Israeli meat distributor Best Meister, who will distribute the company's Alt-Meat products commercially to Israeli restaurants and high-end butchers in the first half of 2021.
The agreement came on the back of what the companies claimed was the largest-scale public blind-tasting of Alt-Meat products targeting meat-eaters. Redefine Meat and Best Meister's food truck served over 600 customers with the plant-based meat substitute in less than five hours.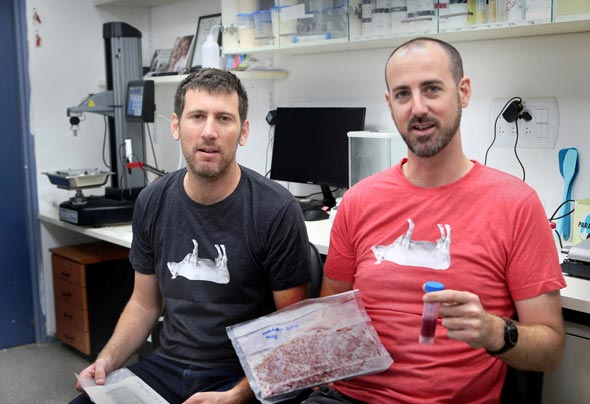 Redefine Meat co-founders Eshchar Ben-Shitrit (right (right) and Adam Lahav. Photo: Avi Mualem

Redifine Meat was founded in 2018 and has raised to date $6 million, including from Jeremy Coller's CPT fund, which was also an early investor in Beyond Meat and Impossible Foods. Additional investors include Israeli VC fund Hanaco Ventures and PHW Group, a German company that produces and markets poultry specialties. Redefine Meat was founded by Eshchar Ben-Shitrit and Adam Lahav and is headquartered in Ness Ziona.

Redefine Meat and Best Meister set up a carnivore-branded food truck in a village in central Israel, with the truck boasting staple Mediterranean meat foods, cooked to order, which were in fact made of Alt-Meat. Putting the meat experience truly to the test, the meat was served with little to no condiments or extras – focusing consumer senses entirely on the Alt-Meat's appearance, flavor and texture. Driven purely by customer satisfaction and word of mouth, over 600 visitors attended the food truck and purchased close to 1,000 servings of meat – emptying the truck in less than five hours. The consumer feedback after being told that the meat products were plant-based demonstrated overwhelmingly that the Alt-Meat products were comparable to animal meat on key metrics such as taste, texture, and mouthfeel – with over 90% acceptance rate. All revenue from the event was donated to support local restaurants badly affected by the Covid-19 pandemic.

"We believe Alt-Meat should taste as good as animal meat – simple as that. Redefine Meat has achieved that with every product it has put to the test, transitioning the Alt-Meat conversation from health and sustainability and the view that 'this is really close' to 'wow this meat is super delicious'," said Eshchar Ben-Shitrit, CEO and co-founder of Redefine Meat. "The incredible results of the food truck exemplify this. We initially only expected 100 visitors a day, as the event was held in a small village due to Covid-19 restrictions. But through word of mouth, we ended up receiving over 600 customers in one day – with queues as long as 50 minutes. What this has shown is that meat lovers can enjoy our alternative meat because it tastes and feels like meat – not solely because it is better for the environment or animals."

Ori Zaguri, Best Meister CEO, added: "We've been excited by Redefine Meat's unique alternative meat offering for a while, but the food truck event cemented it for us. Not only was consumer feedback overwhelmingly positive but Redefine Meat's technology will also provide us the scale to create a wide-variety of quality meat cuts for our customers on-demand from one single source. We believe the mass meat-eater market is ready for alternative meat of this quality and we are excited to be the first to deliver it to them."