Glassbox aims to go public on TASE at a $400 million valuation
The software company has developed a system that allows organizations to track user app activity, and is aiming to raise up to $100 million in its IPO
Israeli software startup Glassbox is joining other tech companies who are planning on going public on the Tel Aviv Stock Exchange. It was revealed to Calcalist that Glassbox will attempt to raise $100 million at a valuation of over $400 million (NIS 1.3 billion) based on its 2020 annual report. The offering is expected to take place in May.

Last year saw an emerging trend among medium-sized tech companies, valued at hundreds of millions of dollars, that preferred to carry out their IPO on the TASE instead of on Wall Street. This is unlike larger tech companies, valued in the billions that are preparing for a wave of offerings and mergers as SPACs on the NASDAQ.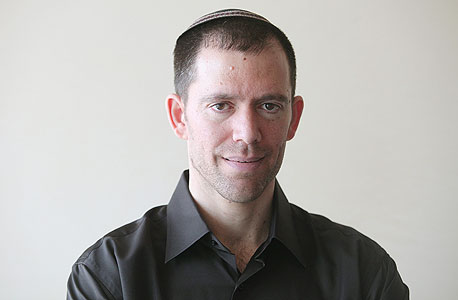 Glassbox CEO Yoav Schreiber. Photo: Orel Cohen

Glassbox has raised $72.5 million so far. The last investment round took place less than a year ago in April 2020, when the company raised $40 million in a round led by New York-fund Brighton Park Capital Management, L.P., with the participation of Updata Partners, Ibex Investors, CEIIF, and Geffen Capital, where the company raised $25 million during August 2018.

Glassbox was founded by Yoav Schreiber, who serves as the CEO, Yaron Gueta, CTO and VP of R&D, and Hanan Blumstein, the Chief Customer Success Officer. The offices are located in Petach Tikva in Israel, as well as in London and New York and employ 260 people, among them Glassbox employs 100 people from the company's former competitor, British SessionCam, which it acquired for $40 million last October.

Glassbox has developed and marketed a system that allows organizations to track user app activity and to spot user trends and patterns, thereby improving and streamlining the services they offer. The coronavirus (Covid-19) pandemic has assisted the company's business shift toward the more intensive use of online services (mainly due to lockdowns and travel limitations), and has sharpened the need for businesses to use systems that are focused on customer app use that allows organizations to familiarize themselves with different user patterns and behavior, understand whether their services work or not, where there are issues, and where their product is more effective. Glassbox's product allows organizations to improve their customer user experience where the software spots faults and provides quick answers through a real-time window.

An annual subscription at a fluctuating yearly price

The company's system provides a software as a service (SaaS) model as an annual subscription whose price fluctuates as user traffic increases. The company's revenues are estimated to be around a few tens of millions of dollars. SessionCam, which specializes in monitoring digital user experiences and has merged with Glassbox, is expected to provide for the first time complete visibility of customer activity across all digital platforms. The merged company has over 300 customers worldwide, including from the world's six largest banks and corporations, such as SoFi, Singapore Airlines, Superdry, and others.