New post-accelerator for Arab entrepreneurs in Israel launched by The British Embassy in Israel and PresenTense
MoveUp will assist 10-12 Arab entrepreneurs for two months, advance their levels of product development and provide guidance for projects
PresenTense, a non-profit organization promoting diversity, equity, and inclusion will this week launch MoveUp, a post-accelerator for tech entrepreneurs from the Arab-Israel society. The project is being conducted in partnership with the British Embassy in Israel alongside Citi Foundation, the UK Israel Tech Hub, and Takwin VC, an investor in Arab-led startups.
MoveUp's aim is to assist in advanced levels of product development, helping founders gain access to relevant tools, consulting, and guidance for their startups. Roughly 10 or 12 entrepreneurs will take part in a two-month virtual program led by local and UK experts. These vary from finance, IP, global markets, and more. The entrepreneurs will also be connected to potential investors in both the UK and Israel.
PresenTense Co-CEOs Khouloud Ayuti and Ariella Rosen. Photo: Shani Nachmias

"In these times of growing uncertainty and increasing social gaps between diverse communities in Israel, we are proud to launch MoveUp together with our partners to provide immediate support for Arab entrepreneurs, promoting them to take part in the 'startup nation," said PresenTense Co-CEOs, Khouloud Ayuti and Ariella Rosen.

British Ambassador to Israel Neil Wigan added that promoting values of diversity and inclusion is important for the UK, and "we are happy for the opportunity to assist and contribute to the promotion of these values in the Israeli tech ecosystem. I believe in the power of technology and entrepreneurship as a catalyst for a diverse and inclusive society and as a tool to address social gaps, and I welcome the collaboration between Embassy and PresenTense on this mission."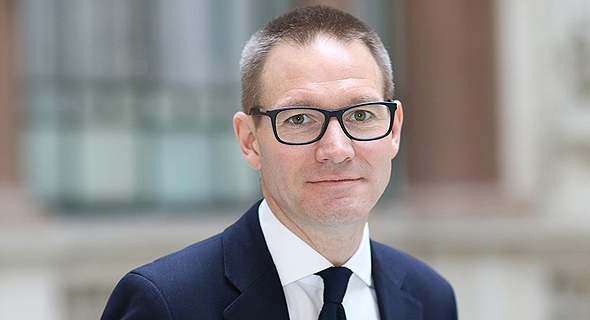 British Ambassador to Israel, Neil Wigan. Photo: PR

Israel is known for being the Startup Nation, yet while 9% of its population is involved in the ecosystem, only 1.4% of them are from Arab communities. Arab society accounts for 21% of Israel's total population.

"We believe entrepreneurship is a tool for personal empowerment, development of local communities, and reinforcing the local economy," explained Citi Foundation Israel CCO Neil Corney. "During our partnership with PresenTense for the past six years, we have witnessed the strength of entrepreneurship in bridging gaps and encouraging growth, diversity and social inclusion. We are delighted to continue this mutual path and expand the activities to promote entrepreneurship in the Arab society through MoveUp that joins other initiatives and activities led by PresenTense."

PresenTense was founded in Jerusalem in 2006 and launched its first entrepreneurship in 2016, with the aim to bridge the gap between the Tel Aviv tech ecosystem and communities in Jaffa. It is supported by The Citi Foundation, which promotes economic progress and helps to improve the lives of low-income communities across the globe.