Israeli biopharma startup Omnix Medical awarded €10.8 million from EU to fight drug-resistant bacteria
The novel agents developed by Omnix are designed as an alternative to classical antibiotics
Israeli biopharmaceutical company Omnix Medical, which develops next-generation anti-infectives for the treatment of life-threatening infections, has been awarded €10.8 million in EU funding under the EIC Accelerator Programme, part of the EU's Horizon 2020 funding program for research and innovation.

The decision to award Omnix the funding comes due to the understanding that antibiotic resistant infections are currently one of the greatest threats to mankind. The World Health Organization (WHO) recently warned that "antibiotic resistance is rising to dangerously high levels in all parts of the world. New resistance mechanisms are emerging and spreading globally, threatening our ability to treat common infectious diseases… Without urgent action, we are heading for a post-antibiotic era, in which common infections and minor injuries can once again kill."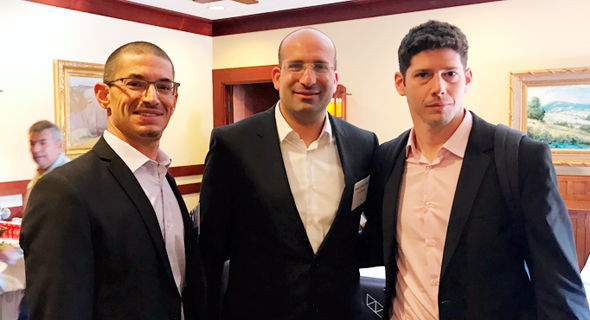 Omnix Medical co-founders Dr. Moshik Cohen-Kutner (center), Dr. Niv Bachnoff (left) and Rom Lakritz. Photo: Courtesy

Omnix Medical was founded in 2015 by Dr. Moshik Cohen-Kutner (CEO), Dr. Niv Bachnoff (CSO) and Rom Lakritz (CFO/COO) at the VLX Ventures incubator in Jerusalem.

The company has raised a total of €20 million to date, with its investors including venture capital firms Tal Capital, Entrée Capital, the CBG Group, Xenia Ventures, and VLX Ventures.

Contrary to current solutions in the market, the novel agents developed by Omnix are designed as an alternative to classical antibiotics. Instead of targeting chemical or biological bacterial pathways, they physically destroy the membrane of bacteria regardless of existing resistances, leading to an immediate breakdown of the electrical and electrochemical potentials of the bacterial membrane.

"We are very proud about the funding," said Dr. Moshik Cohen-Kutner, CEO of Omnix Medical. "It is an important recognition of our unique approach to treat life-threatening, drug-resistant infections. The funding allows us to advance our lead compound OMN6 through clinical proof-of-concept studies. As we have already seen very promising preclinical data, we are confident that our approach will eventually provide an urgently needed, safe and effective solution for the treatment of patients with otherwise incurable, potentially lethal infections."

Omnix, which has received support from the Israel Innovation Authority since its founding, announced this past November that it appointed Dr. Antonius Schuh, Managing Partner at Global Source Ventures, as Chairman of the Board of Directors on the back of its $8.5 million funding round.