Israel's Run:AI completes a $30 million series B
Run:AI has developed an orchestration and virtualization software layer tailored to the unique needs of AI workloads running on GPUs and similar chipsets
Israeli startup Run:AI announced on Tuesday that it completed a $30 million series B funding round led by Insight Partners and participated by existing backers TLV Partners and S-Capital. The latest funding brings the companies total to $43 million. Insight Partners managing director Lonne Jaffea will be joining the company's board of directors.
Run:AI was founded in 2018 by Omri Geller (CEO) and Dr. Ronen Dar (CTO). The two met during the course of their studies at Tel Aviv University's Faculty of Electrical Engineering. Dar used to be a researcher at Bell Labs and an algorithm engineer at Anobit Technologies, Ltd., and later at Apple after it acquired the company. Until founding Run:AI, Geller was in the Prime Minister's Office Technological Unit. The company currently employs 30 people and Geller told Calcalist that in light of its growth, it is expecting to double its employee headcount over the upcoming year.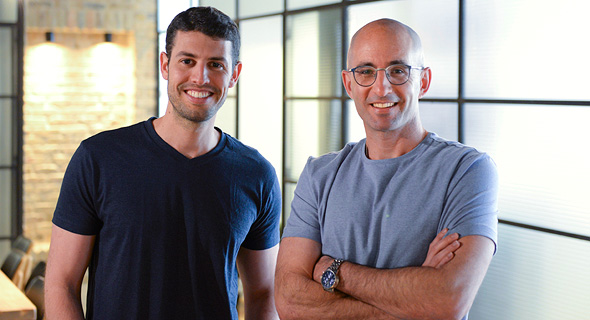 Omri Geller (left) and Ronen Dar. Photo: Run:AI
Run:AI has developed an orchestration and virtualization software layer tailored to the unique needs of AI workloads running on GPUs and similar chipsets. The platform is the first to bring OS-level virtualization software to workloads running on GPUs, an approach inspired by the virtualization and management of CPUs that revolutionized computing in the 1990s. Run:AI's Kubernetes-based container platform for AI clouds efficiently pools and shares GPUs by automatically assigning the necessary amount of compute power – from fractions of GPUs, to multiple GPUs, to multiple nodes of GPUs – so that researchers can dynamically receive as much compute power as they need. Enterprises and large research centers are using Run:AI to solve their resource challenges for both training and inference; better utilization of their AI computing infrastructure allows them to bring AI solutions to market faster.
"Tomorrow's industry leaders will be those companies that master both hardware and software within the AI data centers of the future," Geller said in a statement. "The more experiments a team runs, and the faster it runs them, the sooner a company can bring AI solutions to market. Every time GPU resources are sitting idle, that's an experiment that another team member could have been running or a prediction that could have been made, slowing down critical AI initiatives."
"The new round will allow us to grow our teams across the company: Research, development, marketing, sales, and corporate. We identify a real market opportunity to build a significant infrastructure company for the burgeoning AI market," Geller added.
"Every enterprise is either already rearchitecting themselves to be built around learning systems powered by AI, or they should be," said Jaffe. "Just as virtualization and then container technology transformed CPU-based workloads over the last decades, Run:AI is bringing orchestration and virtualization technology to AI chipsets such as GPUs, dramatically accelerating both AI training and inference.
"Even with the ever-growing availability of computing power and advancements in AI, there are still gaps that prevent efficient AI work. Run:AI introduced a GPU virtualization solution to organizations and AI researchers that has proven to be a necessity for streamlining and managing AI Infrastructure," said Rona Segev, Managing Partner at TLV Partners and an investor in Run:AI since their seed funding. "The potential for this company is huge; we are confident that Run:AI has all the capabilities and ingredients to build a significant company that will address these gaps."