Ukko raises $40 million to develop solutions for food allergies and sensitivities
The Israeli startup uses patient data, machine learning and AI to guide the engineering of food proteins that can be incorporated into food products, plants and therapeutics
Israel biotechnology startup Ukko has completed a $40 million series B funding round led by Leaps by Bayer, the investment arm of German pharmaceutical giant Bayer. Continental Grain Company, PeakBridge Ventures, Skyviews LifeScience and Fall Line Capital all participated in the round, with current investors, Khosla Ventures, Innovation Endeavors and Marc Benioff, the founder of Salesforce, also all taking part.
Ukko was founded in 2016 by CEO Anat Binur and chairman Yanay Ofran and employs 30 people, most of them in its R&D center in Israel. The company also employs several people in Silicon Valley, where Binur and Ofran set up the company. The two returned to Israel several years ago and are planning to use the new funds to expand Ukko's teams in the U.S. and Israel.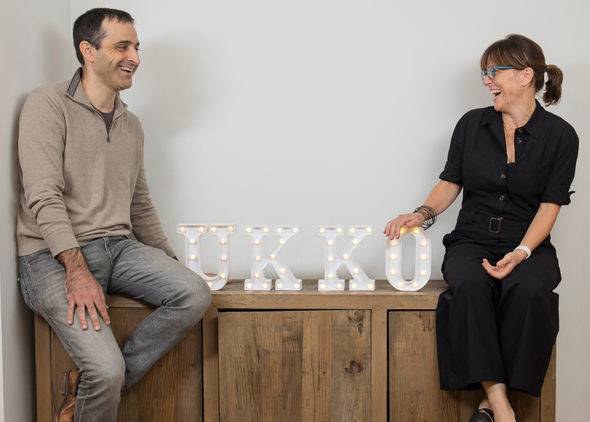 Ukko co-founders Anat Binur (right) and Yanay Ofran. Photo: David Scouri Photography
Ukko uses patient data, machine learning and AI to guide the engineering of food proteins that can be incorporated into food products, plants and therapeutics in order to find solutions for food allergies and sensitivities. The funding will allow the company to accelerate the development of unique food proteins. The main focus of the company is peanut and gluten-related disorders, including Celiac.
"In every classroom there are children who are allergic to gluten and peanuts and for some of them it is life threatening," the founders told CTech. "We kept the company under the radar since we founded it four years ago and now we are exposing it with this funding round. We are planning to manufacture within the next couple of years bread and other pastries that will be the same as any other pastries, but people with Celiac will be able to eat them without fearing that they have gluten. We will begin clinical trials in Israel over the next couple of years for medicine that will help in the fight against allergies."
The inspiration to found the company came during a sabbatical Ofran spent at Harvard University while he was testing different methods to work with proteins.
Ukko is building a comprehensive, clinically validated map of the molecular structure of food allergies and disorders, and on the basis of this map, is designing proteins that do not trigger an immune response. These proteins are then applied to the food and therapeutics markets.
Ukko is also developing a new experimental medicine for peanut allergies, engineering proteins that will be able to teach the immune system to cope with the allergies.