GreenQ's Internet of Garbage solution makes cities smarter about their waste
Israeli company provides cities with real time data on garbage collection, allowing them to cut down expenses and pollution
Longtime friends from Haifa, Shlomy Ashkenazi and Meir Dudai, realized in 2015 that garbage collection in Israel was an industry stuck in the past. Many other sectors had begun to integrate data and IoT technology into their solutions, but garbage collection hadn't changed in years. Waste management directors at municipalities continued to remain blind, knowing close to nothing about their garbage trucks: if they went out, when, where, and how much trash was collected.
And there it was born "IoG" – the Internet of Garbage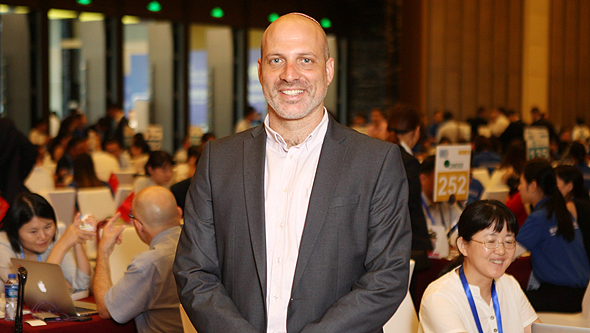 Shlomy Ashkenazi. Photo: Amit Shaal
GreenQ validated their model early on. When the company first deployed its sensors on Herziliya's garbage trucks in 2017, they received a call from the city that something was wrong. "We're not seeing any data," they said, referring to the web-based platform. The founders rushed down to the municipality to investigate and discovered that the garbage truck in question had sat in a parking lot all day instead of collecting waste. The city hadn't known.
With its garbage-truck sensors and web-based application, GreenQ's connected technology enables municipalities and contractors to have eyes and ears throughout the city. Data collected includes truck routes, the volume of trash collected, and more, enabling the city to ensure that each resident receives proper collection services, all in real time.
Compared to international competitors, who often require the attachment of a device to both bins and trucks, GreenQ just affixes its sensor to trucks of any type, a simple process that takes just a few hours.
With the data collected, municipalities and contractors save money and reduce pollution. In Herzliya, GreenQ's efforts resulted in the cancellation of one weekly collection day, a 53% reduction in diesel use, a 30% reduction in truck driving distance, and a 53% reduction in carbon emissions.
A garbage truck gathering waste. Photo: Shaul Golan
For example, if a city discovers that trash barrels are 60% empty in a certain neighborhood, it can reduce services to two days a week instead of three.
Waste management is generally one of the top five expenses of a municipality, according to GreenQ and Roi Peretz, a PhD candidate in the Department of Environmental Engineering at Tel Aviv University, and often spend tens of millions of shekels on collection and disposal per year.
"Monitoring waste collection is a very powerful tool," he says. "If you can figure out who is putting in exactly how much of what type of waste, cities can optimize their collection, recycling, save money and ultimately reduce waste."
According to Peretz, Israel landfills approximately 80% of its waste, a percentage much higher than other OECD countries, owing largely to undeveloped recycling infrastructure and poor recycling education among the public. In addition, Israel does not incinerate its waste, for the production of energy or otherwise, like many other countries, such as Japan and Ireland, mainly due to challenges around space and a popular "not in my backyard" mentality.
According to Sensneo's 2019 global waste index, Israel was ranked 7th in waste generated per capita. Along with Israel's densely situated population and limited space, these landfilling trends are not sustainable, Peretz told CTech.
But there is hope. Kfar Saba, for example, Peretz's hometown and one of the few municipalities with continuous waste collection, is actively pursuing technological solutions to reduce waste. The municipality's goal, Peretz told CTech, is to become a zero-waste city through a combination of heightening recycling awareness, encouraging waste separation, and introducing data-based technological solutions to trash collection.
According to Ilan Katz, founder of Environmental Engineering Consultancy and Development, municipalities generally pay NIS 280 ($85) per ton for waste transport, including NIS 110 ($34) of tax, which is required to ship garbage from the collection city to the landfill. Once the trucks arrive, the municipalities pay another fee to landfill each ton. "These costs add up," Katz told CTech, although he also explained that landfilling fees in Israel are much lower than other countries, perhaps one of the reasons why many cities are in no rush to evolve ingrained practices.
In 2018, GreenQ was chosen by URBAN-X, a New-York based accelerator, to join its fifth cohort. The company currently counts more than 11 Israeli cities as customers and have begun initial steps to expand to the United States and Europe. It is currently seeking additional strategic partners active in automation or technology-integration.
Initially, the company sold directly to cities and their contractors, but since mid-2019 has focused on selling via distributors, who have more reach, especially to the international market.
Global competitors in the smart waste management space include more mature companies such as Moba Mobile Automation (US) and AMCS Group (Ireland), as well as smaller companies like Sensoneo (Slovakia) and ECube Labs (South Korea).
Andrew Jacobson is a CTech guest writer. He is an associate on KPMG's M&A team in Tel Aviv. He made Aliyah from Boston in Sep. 2020 after graduating from Brandeis University.