Israel's Otonomo to raise $280 million at $1.4 billion valuation via SPAC
"Auto companies cast aside their technological developments and they will have to search for solutions after the crisis is over," says CEO
Israeli startups are continuing their onslaught on Nasdaq via special purpose acquisition companies (SPACs) and following Taboola and Innoviz, today Otonomo Technologies confirmed that it too is choosing that path. The company will be listed on Nasdaq and raise $350 million at an estimated valuation of $1.4 billion. The company, which has developed a platform and marketplace for vehicle data, will merge with Software Acquisition Group, Inc. II after the latter raised $172.5 million in a Nasdaq IPO last September. After the deal is completed in the second quarter of 2021, Otonomo will be listed under the ticker symbol OTMO.

Out of the $350 million it is raising, $60 million will be used to purchase secondary options from the company's managers and employees, $30 million for each, and the remaining funds will be invested in the company.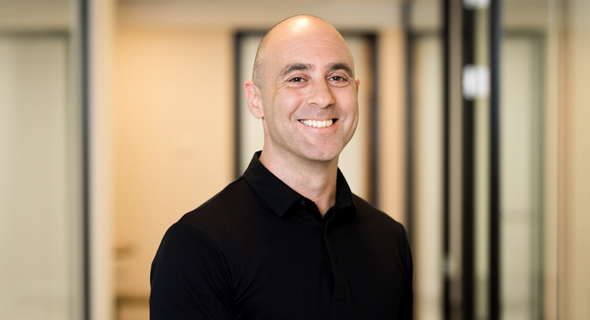 Ben Volkow. Photo: Otonomo

The global automotive industry experienced a difficult year, as did the many startup companies that are active in the space, who were forced to absorb the severe blow to the market. In a conversation with Calcalist, Ben Volkow, Otnonomo's co-founder and CEO, addressed some of the challenges facing the market.

"In recent years we experienced a rising tide and companies' valuations surged, accompanied by an inflation of investments. But every surge is followed by a correction and ours was expedited by the Covid-19 crisis. Global auto sales dropped by 20% and it forced the manufacturers to go back to basics. In the short term many contracts and tenders with startup companies were canceled," he said.

Despite the pessimism, Volkow estimates that companies that managed to survive the crisis will come out on top. "Those who survive will emerge stronger. Auto companies cast aside their technological developments and they will have to search for solutions after the crisis is over. The auto companies tinkered with technology for a few years and part of that is over, but it also cleans up the sphere a bit, to separate the wheat from the chaff. There is a feeling as if this world has come to a halt, but there is also a sense of sanity that's been rediscovered and that the Covid-19 crisis also provided opportunities to emerge from the underlying crisis."

According to the company's statement, the transaction is expected to result in excess of $307 million in cash. This will be comprised of Software Acquisition's $172.5 million of cash in trust, assuming no redemptions by public stockholders, a fully committed primary and secondary PIPE of $172.5 million led by institutional investors Fidelity Management & Research Company LLC, BNP Paribas Asset Management Energy Transition Fund, and Senvest Management LLC, as well as support from strategic investors Dell Technologies Capital and Hearst Ventures, and approximately $25 million of cash currently on hand. The transaction implies an equity value of approximately $1.4 billion and Otonomo is expected to have approximately $307 million of cash and cash equivalents on its balance sheet, assuming no redemptions by Software Acquisition's stockholders.

The transaction will enable Otonomo to reinforce its position as a market leader, accelerate its go-to-market strategies, and unlock new use cases and end markets," it said in a statement.

The decision to choose the SPAC route was a surprise considering that the Israeli company was in advanced negotiations with local institutional investors. "In September we were approached by several banks who suggested that we go for a SPAC merger. They told us that we are very suitable for the market, especially with our focus on data. It was not in our plans to go public and we attempted to raise capital from institutional investors here in Israel, including signed offers of $40 million to $50 million. However, the offers we received from SPACs were substantially higher, so we decided to go for that because the sums were such that would allow us to play at the highest levels and break into new fields. Our business requires fuel and that fuel is funding. We play in the same arena with giant companies — insurance companies, banks, industrial companies. Going public offers us an advantage because they want to feel like they are dealing with a substantial company. Being a public company will ease their minds, assuring that we are not just a startup that is about to be acquired, but rather a large, stable, and transparent company," Volkow said.

Volkow realizes that by going public, the company will change significantly and be obliged to issue public reports. "My former company was acquired by F5 and being publicly traded changes everything — it instills discipline, deadlines, and commitment to revenue. We have reached a maturity level where we can follow up on our predictions and we know what our machine is capable of producing. Taking into account all the risks, we possess the stability and ability to make predictions and meet them. Naturally, we were a bit wary of it, but we think now is a very good time for us to do it."

There are quite a few SPACs that are active in the U.S. market and are searching for qualified companies to merge with. It is estimated that half of all IPOs this year will be in the form of a SPAC, and there is an accompanying fear that many of them won't be of the highest quality. "Luckily we had several options, with several SPACs that approached us. Of them, we chose this one because it is run by very experienced, smart, and patient people, who will be a great addition to our board of directors. The people who are acquiring us have experience both in the software and SPAC worlds. They are not financiers but are in it for the long run and we felt it was the right decision. Six months ago, I hadn't thought it would be a good option, but the market is changing and this is a fine, legitimate, opportunity, especially for automotive companies like us, who require lots of capital and a long runway," Volkow said.

"We established Software Acquisition Group Inc. II to invest in a world-class software company that is positioned to be the leading player in a market that has enormous potential," Jonathan Huberman, the CEO of Software Acquisition Group Inc. II said. "We reviewed multiple potential partners and Otonomo stood out as the clear choice. Otonomo management not only identified the significant opportunity that exists in the automotive data space, but they have also achieved early market leadership and are positioned for impressive growth."

Otonomo was founded in 2015 by Volkow and Avner Cohen, who does not have an active role in the company. It developed a vehicle data platform and marketplace that now fuels an ecosystem of 16 OEMs, fleets, and more than 100 service providers. The platform ingests more than 4 billion data points per day from over 40 million global connected vehicles, then reshapes and enriches them, in order to accelerate the time to market for new services. The company has raised a total of $82 million to date, with its main backers being Bessemer Venture Partners, StageOne Ventures, and Maniv Mobility. The company's development center is located in Herzliya and it employs 70 people in Israel and the U.S.

According to Amit Karp, a partner at Bessemer Venture Partners, Otonomo's largest shareholder, the amount of data that is derived from connected vehicles is growing exponentially with Otonomo, for the first time, enabling companies and service providers to consume the data in a simple way, and in doing so creating a new marketplace for automotive data. "We invested in Ben in the past, in Traffix, and when he told us that he was launching a new company, it was clear that we'd invest in that too. We accompanied the company from day one when we led its seed round and hosted its team in our offices for the first year. It is incredible to see how something that was merely an idea in Ben's mind a few years ago has fleshed out to revolutionize the global transportation industry," Karp added.

According to Dell Technologies Capital VP and managing partner Yair Snir, Otonomo's advanced data platform is supported by a strategic global network, which makes it a market leader in the field of automotive data.