Earlysense sells its intellectual property rights for $30 million
Company's technology can be used to treat patients and hospitalize them at home. As part of deal, it setback Hillrom from primary to secondary shareholder
Some 16 years after its founding, EarlySense Ltd., which provides continuous monitoring solutions across the healthcare continuum, announced on Monday that it has sold its proprietary contact-free continuous monitoring technology to U.S. technology giant Hillrom, which had been its largest shareholder.

Under the terms of the agreement, Hillrom will receive exclusive rights to sell and use the Israeli company's technology in hospitals around the world. In addition to the cash payment and future licensing options, Hillrom will surrender a large portion of its equity in EarlySense.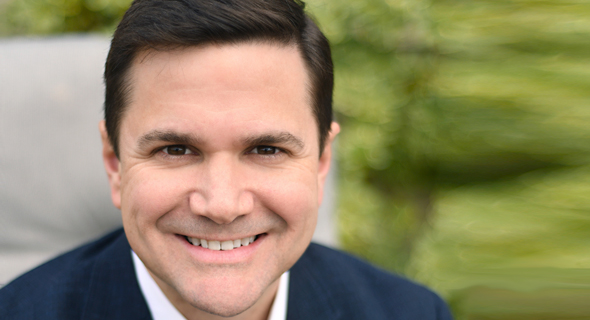 EarlySense CEO Matt Johnson. Photo: EarlySense
"We are essentially now a new company with $30 million in the bank," Guy Meger, who serves as CTO, VP R&D, and Israel General Manager, told Calcalist. "The buyer gains the ability to create our technology, modify it and create new sensors that can adapt to the application. We will obtain licenses to use our software outside this deal. The buyer has one market where it owns the product rights, which is the global general hospital market. We can still sell our product to geriartic facilities, and for home hospitalizations even if they're run through hospitals," he said. "In the past, people were admitted for long term care in hospitals, but today there's a growing trend to hospitalize patients at home, particularly during the coronavirus (Covid-19) pandemic."
EarlySense's technology allows for continuous (more than 100 times per minute) monitoring of patient heart and respiratory rates without requiring physical contact with the patient. In addition, the technology alerts health professionals to potential patient deterioration events much earlier than traditional monitoring methods do. This technology is the core of EarlySense remote patient monitoring devices, and helps bring hospital-grade patient analytics to care settings that are outside traditional hospital facilities.
EarlySense is a medical device company that was founded in 2004 by Dr. Danny Lange, Guy Sher, Yossi Gross, and Avner Halperin, and has raised $150 million so far. Hillrom was the largest shareholder in the Israeli company which raised $39 million in 2019 from it and other backers. Additional investors include the Wells Fargo Strategic Capital fund, BlueRed Argos, Hotung Venture Capital, JK&B Capital, and Pitango VC - which will become the company's largest shareholder. The company employs 40 people in Israel, and an additional 15 in the United States.
The agreement stipulates that EarlySense will sell its intellectual property rights to Hillrom as well as the license to use its technology, in exchange for $30 million in cash as well as potential payments based on future sales and a chunk of Hillrom's EarlySense shares. As a result Hillrom has gone from being the main shareholder to being a secondary shareholder.
"We set out to save lives and improve care by implementing AI-based contact-free patient monitoring in healthcare facilities across the globe," said Matt Johnson, CEO of EarlySense. "We made great progress by becoming the standard of care in Hillrom's flagship Centrella Smart+ hospital bed. Our technology has already monitored more than one million patients and helped clinicians save tens of thousands of lives, and we expect to accelerate this significant impact as a result of this technology sale to Hillrom.
"The Covid-19 pandemic has created historic opportunities for smart health technologies outside the hospital, and this transaction will allow us to continue serving our global customer base and apply our clinically proven technology to this high-growth sector. Our more than one hundred million patient-monitored hours uniquely position us to deliver intelligent, predictive, and patented solutions that elevate remote patient care without increasing the risk of harmful infection," added Johnson.
Hillrom was represented by adv. Mark Cohen, Hili Rashkovan, Tal Rotman and Maya Lakstein of the Pearl Cohen law firm