Verint Systems supplied South Sudan with surveillance technology says Amnesty
Amnesty International obtained documents that prove that between March 2015 and February 2017, the South Sudanese government paid the company $762,000 for surveillance equipment that was used to illegally wiretap citizens' phones
The Israeli branch of U.S.-based Verint Systems Inc. provided the South Sudanese government with surveillance equipment to intercept communications devices, although the country has a long history of human rights violations, and despite the high risk that it posed to continuing those abuses, said a report published by Amnesty International on Tuesday.

The human rights monitoring organization's report revealed new information about South Sudan's surveillance capabilities as well as the role of companies whose technologies can intercept communications such as citizens' telephone lines without legal permission.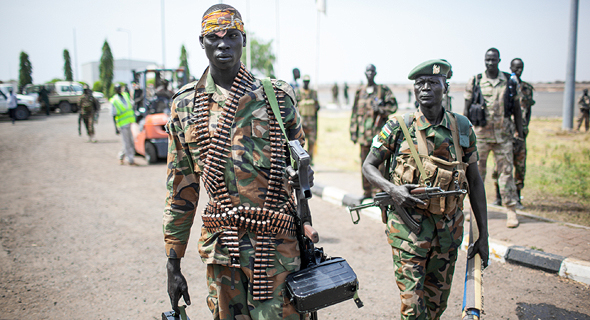 South Sudan is known for its blatant human rights violations and strict military control, an armed soldier walks past (pictured). Photo: Shutterstock

South Sudan, which declared independence from Sudan in 2011, radically limits freedom of expression, and is considered by the United Nations to be one of the most dangerous places in the world for journalists. According to experts, the South Sudanese government exercises fear tactics, as well as harassment, arbitraty dententions, torture, kidnapping and extrajudicial executions in order to silence the regime's opposition, human rights activists, and journalists. South Sudan's National Security Service (NSS) is used as the government's main operational arm.

Amnesty's report is based on a two-year investigation, which included interviews with 63 people, among them activists, journalists, and attorneys from South Sudan, which uncovered the country's extensive physical and technological surveillance network that the country had created, and the extent of the systematic harassment that accompanies it in order to create an atmosphere of constant fear and sow doubt in the regime's opponents and dissidents. The infiltrated bodies include nonprofits, news outlets, private companies, security and hotel chains, and an extensive telephone surveillance network. According to the report, many who were interviewed felt that "the surveillance, harassment and looming risk of arbitrary arrest, detention and possible death does not stop them from speaking out, but that they carefully measure and regulate what they say, where they say it and to whom., with one activist saying, 'You cannot speak without thinking twice.'"

As for Vernit's activity in the country, the Amnesty report uncovered documents that prove that between March 2015 and February 2017, the South Sudanese government paid Vernit $762,000 for "providing technical services."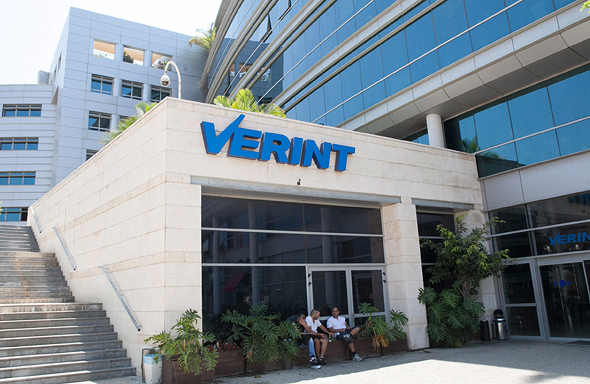 According to an Amnesty report, Israeli Verint Systems supplied the South Sudanese government with surveillance technology. The company is based in Herzliya (pictured). Photo: Orel Cohen

"The ex-Vivacell employee said that the South Sudanese government required all telecommunication companies operational in South Sudan to pay Verint Systems Ltd, the Israeli subsidiary of U.S. Verint Systems Inc. for this equipment and annual service provision...between the years of 2015 - 2017 despite the high risk that the equipment could contribute to human rights violations," the report read. The fact that Verint supplied surveillance equipment to South Sudan is worrying because of the country's long history of human rights abuses and freedom of expression. "South Sudanese authorities must rein in the NSS and put an end to the security service's practice of operating outside the law. The intimidation, harassment, arbitrary arrest and illegal detention of government critics must end," the report read.

The report also quoted previous publications where Israeli companies were involved in South Sudan's surveillance network, and in a UN report from 2016, it noted that Israeli-made communications interception equipment were believed to have aided in the identification and illegal arrest of citizens, according to an AP report from that year. "Amnesty International believes that such activity is contrary to Israel's obligation to protect human rights," another report read.

"Unchecked and unlawful surveillance by the NSS is having a chilling effect on civil society and peaceful activism. The threat of surveillance is a weapon in itself - government critics and human rights activists told us they live in constant fear of being spied on," Deprose Muchena, Amnesty International's Director for East and Southern Africa said in the report.

"Despite this, many courageous South Sudanese activists continue to stand up for their and others' rights, braving surveillance, intimidation and harassment. It is time for the South Sudanese authorities to halt the unlawful practices of the NSS and enable people to exercise their freedom of expression without fear of reprisals," he added.

Verint Systems did not respond to a request for comment, but the Amnesty report came out a day after the company announced that it was splitting off its defense-focused activities into a separate company .