New survey debunks myth of early stage investment drought, Israeli VCs say too much money available
According to a report by early-stage venture capital firm Ground Up Ventures, 37 of the country's leading funds they surveyed made 145 investments at the seed stage in 2020, rising from 112 in 2019, with the average check size at $1.77 million, a jump of 20%
Countering common perceptions of a shortage in seed round investment capital, a majority of Israel's top venture capital funds believe there was too much capital available at the seed stage in 2020, a report by early-stage venture capital firm Ground Up Ventures has found.
According to the report by the firm which invests in pre-seed and seed-stage startups in the U.S. and Israel and surveyed the views of 37 of the country's leading funds, 56% of the funds said there was more than enough money at the seed stage last year. Some 41% of the funds also said that they would be raising new funds in 2021.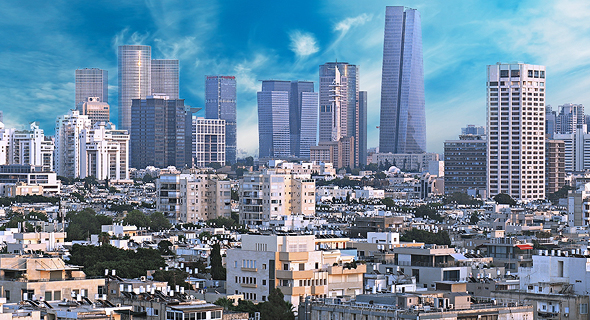 The Tel Aviv skyline. Photo: Shutterstock
According to The Israeli Tech Review published last December by research company IVC together with the Meitar law firm, investment in early (seed and series A) rounds experienced a drop in the first and second quarters of the year due to lack of certainty caused by the Covid-19 crisis. But the trend shifted later in the year and in the third and fourth quarters, there was a boost in investments by venture capital funds both in the number and size of investments. In Q4, tech companies raised $2.5 billion compared to $2.2 billion in the same period last year. Out of the total, $579 million went into early-stage companies, an increase from $478 million in Q4 2019.
Ground Up Ventures' report found that 145 investments were made at the seed stage in 2020 by the companies surveyed, a significant increase from 112 in 2019. The average check size was $1.77 million, a jump of 20% from the previous year.
The report also found that while prior to Covid-19 only 33% of investors had ever invested in a founder without meeting them face-to-face, that figure nearly doubled in 2020. VCs are also seemingly moving faster than ever, with 43% of funds averaging less than four weeks from first meeting to term sheet compared to just 26% in 2019.
Despite the shift to remote work during 2020, Israeli VCs don't expect it to be a permanent change, with 59% of investors saying that at most one of five of their portfolio companies would be fully remote in 2021.
A majority of funds (53%) expect to be more active this year, with a quarter predicting they would be less active and 22% saying they would be similarly active to last year. Some 53% also said that they plan to make between 1-4 investments in 2021, while 39% said they expect to make between 5-8 investments and 8% between 9-12.
"What could have been a horrible year for the venture landscape in Israel due to the pandemic last year, turned into a very active year," David Stark, General Partner at Ground Up Ventures told CTech. "61% of the funds surveyed reported an increase in the volume of their deal flow compared to 2019 and the average number of investments per firm went up as well. What's encouraging for startup founders right now is that there is a lot of capital out there, the majority of the funds expect to be even more active this coming year and almost all of the survey respondents believe that it is a good time to be starting a company. Add to that a large number of expected unicorn exits and 2021 should be a big year for the Israeli venture community."