Israeli team behind Amimon chipset wins Academy Award for Scientific and Technical Achievement
"I have won many academic awards, but there is no doubt the Oscar is the most well-known prize I've ever won," says TAU professor Meir Feder
The Academy of Motion Picture Arts and Sciences, better known as the Oscars, announced on Tuesday that Israeli scientists from Tel Aviv University have been selected to receive the 2021 Scientific And Technical Achievement Awards for their contribution to the industry.

The award went to Prof. Meir Feder from the university's Faculty of Engineering and his former student Dr. Zvi Reznic, who together with Guy Dorman and Ron Yogev were responsible for the development of the Amimon wireless chipset, which enables untethered, high-quality on-set, encrypted digital video monitoring with sub-frame latency.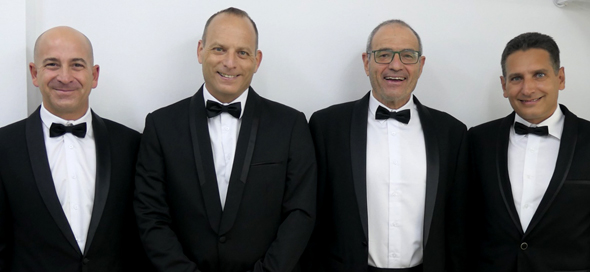 Oscar winners Guy Dorman (left), Zvi Reznic, Meir Feder, and Ron Yogev. Photo: Tel Aviv University

"By using novel extensions of digital data transmission and compression algorithms, and data prioritization based on error rate, the Amimon chipset supports the creation of systems with virtually unrestricted camera motion, expanding creative freedom during filming," read the statement by the Academy announcing their win.

"This is a very exciting day for me and it brings great pride to Tel Aviv University. We developed the basic technology for the chipset in 2004 and 2005 when everyone thought it was nearly impossible. We knew it was a technological achievement but never imagined we'd get an Oscar for it. A year ago the award committee told us we were nominated, but I didn't place any importance on it. I saw it as merely a gimmick," said Feder. "A month ago, I suddenly received an official email from the academy in Hollywood telling us we'd won and the feeling was amazing. I have won many academic awards, but there is no doubt the Oscar is the most well-known prize I've ever won, it's one that everybody I meet is familiar with."

Feder explained that the award-winning technology built by his startup Amimon has become extremely common in the global film industry. He says it makes it possible to simultaneously transmit high-quality video from numerous channels with no delay, enabling directors and filming crews to fully control all angles of filming at once.

Amimon was acquired in 2018 by the London-listed Vitec Group in a $55 million cash deal.

The award for the Israeli team and 16 other recipients will be presented in a virtual ceremony hosted by filmmaker Nia DaCosta on Saturday, February 13.

"In a year of upheaval, some things remain constant: around the world, extremely clever people are striving to push the technology of film to new heights, and the Academy is privileged to be able to recognize and celebrate their accomplishments," said Doug Roble, chair of the Scientific and Technical Awards Committee.