Binah.ai launches 'Binah Team,' helping companies with employee wellbeing
The app is available on iOS, Android, and Windows in 12 different languages to help combat stress and anxiety
AI-based video monitoring tool provider Binah.AI has launched Binah Team, a solution to help organizations monitor and treat mental and wellness among their employees, students, or any other member. It will be powered by the technology that debuted at CES 2020, which at the time earned it that year's Innovation Award.

Binah Team does not require integration and is a cloud-based management platform, supported by iOS (iPhone 8 and above), Android 9.0 and above, as well as Windows computers. Binah's technology measures a variety of signs, such as heart rate, oxygen saturation, respiration rate, heart rate variability (HRV), and mental stress – just by having users look at their smartphone camera.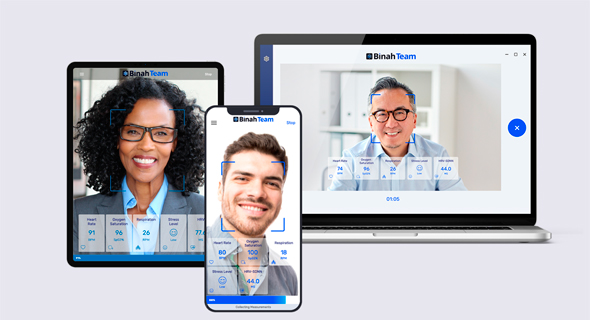 An example of Binah Team. Photo: Binah.ai

"Since the inception of launching Binah.ai, we have remained committed to providing health and wellness solutions anytime, for everyone, anywhere," said David Maman, CEO and co-founder of Binah.ai. "The Covid-19 pandemic significantly emphasized the need to rapidly deploy the technology across the globe. With Binah Team, we can now empower any organization, from any industry, to support their teams in their wellbeing efforts."

As the world of remote work, lockdowns, and social distancing approaches its first birthday, millions have been met with unprecedented challenges when faced with the lack of human interaction. As a result it is not a surprise that there has been a rise in global stress and anxiety levels among people of all ages.

Binah.ai was founded in 2016 and has raised $17.5 million to date. The company exhibited Binah Team during this year's CES, which took place virtually. Its app is available in 12 languages, including English, Hebrew, French, Spanish, Russian, Arabic, and Chinese.