Teva beats analysts predictions with increased revenues from growth drivers
The Israeli pharmaceutical company concluded the quarter with $4.5 billion in revenues, bringing it to a total of $16.6 billion for 2020
Israel-based Teva Pharmaceutical Industries surpassed market expectations in the final quarter of 2020: the company concluded the quarter with $4.5 billion in revenues and a clear profit of $0.68 per share - analyst prediction had its revenues as $4.37 billion and $0.62 per share.

"Our key growth drivers delivered promising results and milestones, including the continued growth of Austedo and our leading biosimilar Truxima, as Ajovy sales continued to improve following the launch of the auto-injector. Our generic performance was boosted by the successful launch of the generic versions of HIV-1 treatments Truvada and Atripla tablets in the U.S.," Kåre Schultz, Teva's President, and CEO said in a statement. "Looking ahead, we will continue to optimize our manufacturing network, portfolio, and pipeline, improve our profitability and generate cash, as we remain on track to repay our debt and achieve our long-term financial targets."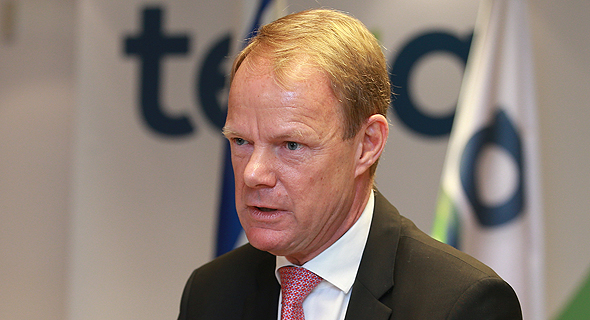 Teva CEO Kare Schultz. Photo: Avigail Uzi

The company's fourth-quarter results were better than expected, mainly due to the rapid growth in sales of the relatively new source drugs Austedo and Ajovy. Sales of Austedo, used to treat tardive dyskinesia jumped by 36%, reaching $185 million, and migraine treatment AJOVY's sales climbed by 42% to reach $36 million.

Teva concluded 2020 similarly to 2019, with $16.6 billion in revenue and non-GAAP diluted EPS of $2.57. The company's free cash flow reached $2.1 billion, concluding the year with $25.9 billion in debt, a $1 billion drop compared to 2019. Its short-term debt in 2020 was 12%, compared to 9% as in 2019.

In its forward-looking statements, the company said its revenues in 2021 are expected to be $16.4 - $16.8 billion, and its Non-GAAP EPS is expected to be $2.50 - $2.70. Its free cash flow is expected to be $2.0 - $2.3 billion. The forecast reflects an outlook for a similar year for Teva, without major breakthroughs on one hand and with sales of its new drugs balancing out the lack of income from its branded multiple sclerosis treatment Copaxone.

Teva estimated that revenues from Copaxone will drop from $1.3 billion to $1 billion while Austedo revenues will climb to approach $1 billion (up from $638 million) and Ajovy revenues to double and reach $300 million.