"CYE can be the Spotify of the cybersecurity world"
Petter Weiderholm, Global Head of IT Strategy at Swedish private equity giant EQT which invested $100 million in Israeli cybersecurity company CYE, believes it can emulate the success of Spotify, at which he served as VP
Israeli startup CYE, which specializes in offensive cybersecurity, announced on Wednesday a series A $120 million funding round led by European investment giant EQT, owned by Sweden's Wallenberg family, which accounted for $100 million of the round.

CYE is one of the only licensed offensive cybersecurity companies in the market and is hired by companies to attack them in order to expose the vulnerabilities of their security systems. "CYE doesn't only simulate an attack, but also carries out a full attack against the organization. There are many companies that use cyberattack tools, but only a few will really go all the way and expose the vulnerabilities of giant organizations," Reuven Aronashvili, founder and CEO of CYE, told Calcalist last year.

CYE was founded in 2012 by Reuven Aronashvili, who served in the secret elite military unit Matzov, an abbreviation for the center of encryption and information security in Hebrew. Matzov is dedicated to developing encryption and information systems security technologies. The unit is Israel's highest authority on encryption and cybersecurity and offers its services to all of the country's security organizations.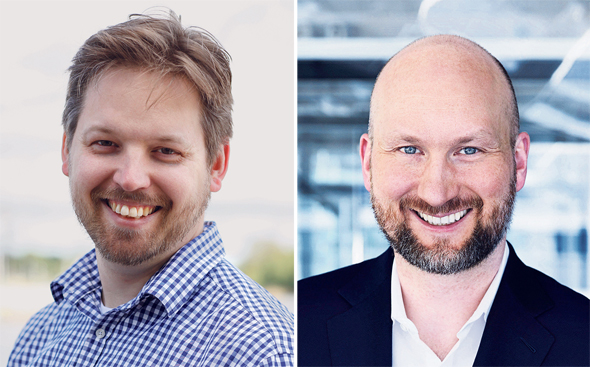 Florian Funk (right), Partner in the EQT Private Equity business line, and Petter Weiderholm, Global Head of IT Strategy. Photo: Courtesy

CYE employs 70 people in its offices in Herzliya, as well as hundreds of ethical hackers across the globe.

EQT is investing in an Israeli company for the first time and Calcalist spoke with executives Florian Funk, Partner in the EQT Private Equity business line, and Petter Weiderholm, Global Head of IT Strategy, on their decision to put money into CYE and their appetite for additional investments in the Israeli market.

EQT was founded in Stockholm in 1994 by the Wallenberg family, who are relations of Raoul Wallenberg, who saved tens of thousands of Jews in German-occupied Hungary during the Holocaust while serving as Sweden's special envoy in Budapest. EQT currently has 52 billion euro under management in its two main arms, assets and private equity investments. The company employs 700 people and is headquartered in Stockholm.

Weiderholm joined EQT five years ago after previously working as Vice President of Business IT at streaming giant Spotify for five years. "I was very lucky to be part of Spotify's founding team and one of the company's first employees between 2011 and 2016. It was the place in which I grew. When I joined Spotify it had one million users, six offices and 200 employees. When I left they already had 35 offices, 2,000 employees and God knows how many millions of users," Weiderholm told Calcalist. "I bring with me the experience of being an entrepreneur and also relevant experience on how you grew a company because I saw it firsthand at Spotify. I'm working with CYE now and I plan to take it a long way."

When looking into companies, do you assess if they have the same genes as Spotify?

"We have many types of companies. What we know for sure about the companies we own is that they need to be digital leaders in their industries and markets."

Do you think it is possible that there will be a Spotify in the cybersecurity world?

"I have no doubt. CYE has the DNA to grow. With us as a partner they can be extremely successful. When you see the level of cybersecurity at a normal average company on the one hand, and the level of threats on the other hand, you see that there is a significant gap. The more companies rely on digital processes, the more cybersecurity needs to keep up. Companies need to look ahead and ask themselves what type of cybersecurity will they need in the future. This is similar to the potential of the music market on the internet, and that is what Spotify achieved. The same way almost every person likes music, every company needs to address its cybersecurity issues, now and in the future. CYE has an especially strong team that brought something new to the cybersecurity market. CYE can certainly be the Spotify of the cybersecurity world."

The managers of the Swedish fund know that there is no lack of investors or liquidity in the Israeli market, but still believe that there is room for investors of their magnitude. "We are interested in investing mainly in companies that are aiming to have a positive impact on the future. CYE in such a company. It helps the world become a safer place when it comes to cybersecurity," said Funk.

Why did you only invest in Israel now after almost everyone else is already here. Don't you feel that you have missed the party?

"Our priorities were to grow in other regions. We built up our business in the U.S. and Asia, but Israel is a very interesting region for us. We want to do more in Israel and I think this is also a better timing. We are looking for additional investment opportunities in Israel. We were looking for top quality people and teams for our first investment in Israel and we found them in CYE. We've known them for five years. We were doing business with them and had partnerships which allowed us to get to know the company and its capabilities from the inside."

Will your next investments also be at around $100 million?

"Generally speaking, we will invest between $50 and $200 million in growth rounds in majority or minority deals. We are flexible and are also open to really big acquisitions like companies that are valued at more than $1 billion. What's important is that the company will fit our investment focus - software, cybersecurity, health services and industrial technology. There are many top companies in Israel, especially in cybersecurity, but not only. We want to be an active partner of Israeli entrepreneurs and help them become a global success."

North83, the first VC to invest in CYE, also participated in the round. The round included a small secondary element in which shares were bought from the company's executives and employees, with the company refusing to reveal its exact size. CYE's valuation was also not disclosed.

Aronashvili said CYE grew by more than 100% over the past year. "Cyber threats have grown exponentially and the demand for our products increased considerably, especially in the U.S. where we brought in new clients," he explained. "We don't need the money, but are really interested in having this partner, with whom we have been working since 2016. We know their capabilities and were enamored with the idea of having them as a minority share partner.

"The investment wasn't due to a financial need. The company's valuation is progressing very nicely and the investor received a small share of the company as we want to avoid being diluted as much as possible," added Aronashvili. "We are a profitable company and we will now be able to expand globally, including in North America and western Europe and have a global operation headquartered out of Israel. In addition, we are looking at acquiring other companies, assuming we find a company that has a technology that interests us that we don't have, or a technology that will improve our's or a company that has a lot of talent which we would be happy to take under our wing. This round and the money we have allows us to make interesting acquisitions."

Aronashvili wouldn't rule out another funding round in the future and has also already got one eye on going public. "We didn't need this round either, but on the other hand, if we have an opportunity to connect with a good partner I will definitely consider it favorably. I'm following the happenings in the world of IPOs and SPACs and it is very interesting. We are still not at that stage and we will see in two years if we will be there."