GOTO Global secures $3.5 million investment from Kia importer
"Today more and more people are seeing mobility-as-a-service as a reality that needs to be embraced," says CEO
GOTO Global Mobility Ltd, announced it has secured a new $3.5 million investment from the Talcar Group, which is owned by the Ungar family. The Talcar Group, which is the official importer of Kia vehicles to Israel will invest the funds based on a $45 million pre-money valuation, a 50% increase in valuation from its previous round in July 2020 that was led by Adam Neumann's family office.

As a result of this deal, the Talcar Group will obtain 1,172,010 Class A shares in GOTO Global, giving it 8.10% of holdings. The other shareholders are the Shagrir Group, holding 49.79%, and Adam Nuemann-owned Nazare Capital Management LLC, holding 34.73%.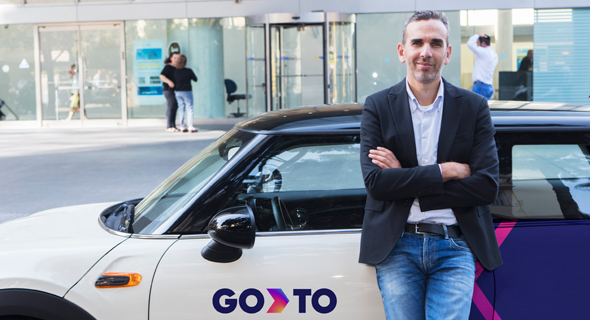 GOTO Global CEO Gil Laser. Photo: Aviad Bar-Ness

GOTO Global is a multi-modal shared mobility solution operating in Israel, Spain, and Malta. The company allows users to access a range of shared mobility solutions including bikes, kick-scooters, electric mopeds, cars, all via a single app. According to the company, in 2020, it powered more than 1.3 million rides and generated $12.5 million in revenue.

"Shared mobility is coming of age and evolving at a very fast pace and so is GOTO. Talcar's extensive experience in the automotive world and its strong connection with KIA, one of the world's leading car manufacturers, is sure to be of great support with our international expansion and our mission of bringing multimodal shared mobility to every major city in Europe," said Gil Laser, GOTO Global's CEO. "Today more and more people are seeing mobility-as-a-service as a reality that needs to be embraced. Shared mobility operators globally are in fact experiencing a boom in demand. This trend has been further accelerated by the Covid-19 pandemic, which has led to a steep increase in the demand for self-drive shared mobility solutions - as people look to limit their use of public transport in view of contamination concerns."

"Kia has a clear vision to continue maintaining its position as a world-leading automaker and as such to deepen its ties with the world of shared mobility. Talcar, an importer and distributor of the brand in Israel, is always looking for ways to be aligned with the manufacturer's vision and we are excited to join GOTO on its journey as a strategic partner," Gadi Ungar, CEO of the Talcar Group CEO said.

"We are happy to provide additional value to the Shagrir shareholders via our strategic investment in GOTO Global. Seeing the new pre-money valuation, which is 50% higher than it was at the previous round, further demonstrates the progress GOTO is making and underscores its growth potential," David Michael, CEO of the Shagrir Group added.

GOTO Global was founded in 2008 with the launch of its round-trip car sharing service under the brand CAR2GO. This was followed by its expansion into new markets and categories, including bike and electric moped sharing. Today, the company operates the biggest shared electric fleets in Israel and Malta. The company employs 160 people and reported revenues of $13.2 million in 2019.

Talcar is a privately owned Israeli company that imports and represents in Israel a number of leading car brands, including KIA, Ssangyong, and Chinese electric car brand SERES. The company is fully owned by the Ungar family, with Gadi Ungar serving as its CEO.

GOTO Global was represented by Adv. Nathalie Noy, Head of the High-Tech Department at the ERM Office (Epstein, Rosenblum, Maoz).