ALD merging with cybersecurity startup HUB Security
Merger to be followed by $65 million cash infusion from institutional investors, with new joint company to be valued at $105 million
Advanced Logistics Development Ltd. (ALD), which is traded publicly on the Tel-Aviv Stock Exchange (TASE), has announced its plans to merge with Israeli cybersecurity company, HUB Security. The merger will be followed by a $65 million cash infusion by institutional investors.

According to the term sheet, the merger between the companies will be carried out at an estimated value of approximately $105 million before money. HUB will become the controlling shareholder in the newly merged entity, with 51% of its shares and a majority holding on its board of directors.

HUB Security was established in 2017 by veterans of the 81 and 8200 IDF Intelligence units, including co-founders Eyal Moshe (CEO) and Andrey Iaremenko (CTO). Its shareholders include among others the leading global insurance company AXA and private investment fund OurCrowd.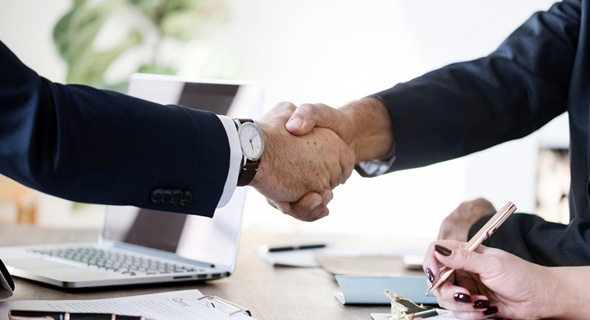 Handshake. Photo: Pixabay

HUB Security provides advanced encrypted computing solutions for companies and organizations aiming to prevent hostile intrusion and exposure of sensitive data while protecting commercial IP and key information from theft. "Both companies believe that there is a synergistic connection between the technological innovation behind HUB Security, and the highly developed local and international sales infrastructure and blue-chip clientele established by ALD for the past 36 years," read the press release.

"This is one of those rare cases where a company merger happens naturally with complete synergy," said Eyal Moshe, CEO and founder of HUB Security. "The merger with ALD will provide HUB with a global marketing infrastructure that would have taken us years to establish independently, connecting us with dozens of potential high-profile customers from the world's leading brands, including governmental institutions, insurance conglomerates, commercial banks and others."

Dotan Moshe, COO and Deputy CEO of ALD, added that, "HUB Security is an extraordinary growth engine that is working to build on top of the reliable business infrastructure we have spent the last 36 years developing, including close relationships with global brands. This partnership is a classic merger between a stable business infrastructure and an innovative growth engine –– addressing the unmet needs of our global customer base."

ALD has an annual turnover of approximately NIS 130 million (approximately $40 million), with its customers including government bodies and Fortune 500 companies. The company employs around 400 people and its offices are located in Even Yehuda in Israel.

HUB Security has signed a number of key partnerships with leading global brands over the past year, such as storage giant Seagate and Lloyd's Marsh, as well as cooperation agreements with Kudelski Security and the Israeli Electric Company's Sophic cyber unit. The company has offices in both Tel Aviv and New York and employs about 20 people.

The merger and fundraising efforts are being led by the investment firm A-Labs Advisory & Finance Ltd., alongside Clover Wolf Capital Fund.