Palo Alto Networks acquires Israeli startup Bridgecrew for $156 million
This is the seventh Israeli company purchased by the Silicon Valley cyber powerhouse
Israeli-founded cyber company Bridgecrew Technologies has been acquired by Palo Alto Networks, the companies confirmed on Tuesday announcing they has signed a definitive agreement for a $156 million cash deal. The acquisition will enable the American cybersecurity giant's Prisma Cloud to provide developers with security assessment and enforcement capabilities throughout the DevOps process.
Bridgecrew was founded in 2019 by Idan Tendler (CEO), who formerly founded Fortscale, which was sold to RSA, Barak Schoster Goihman, and Guy Eisenkot, who is the son of former IDF Chief of Staff Gadi Eisenkot. The founders and their teams will join Palo Alto Networks upon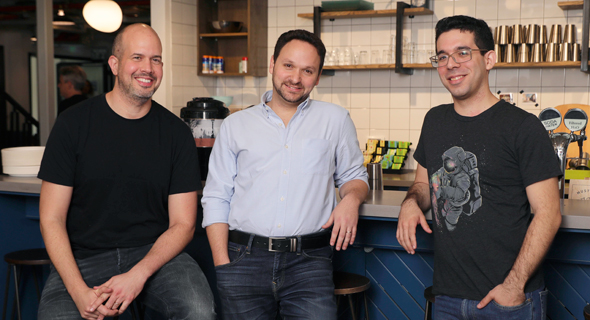 Bridgecrew co-founders Idan Tendler (left), Guy Eisenkot, and Barak Schoster Goihman. Photo: Bridgecrew

The proposed acquisition is expected to close during Palo Alto Networks fiscal third quarter, subject to the satisfaction of customary closing conditions.

Barry Levenfeld and Ben Sandler from Yigal Arnon & Co. accompanied the buyer in the acquisition.

According to estimates, the company's existing backers will receive a return of nine or 10 times their investment. Among the early investors that raised only $18 million until now are NFX, Battery Ventures, Tectonic Ventures, DNX Ventures, Sorensen Ventures, and Homeward Ventures. In addition to the VC funds, Bridgecrew also raised money from private investors who are among the leaders of Silicon Valley's data and cloud protection industry, including Lookout founder Kevin Mahaffey, Head of Security at Spotify, David Hannigan, VP of Security Engineering at Marqeta, David Tsao, Head of Cloud Infrastructure Security at Netflix, Srinath Kuruvadi, and Principal Product Manager for AWS Security Hub, Ely Kahn.

"We have dedicated ourselves to building developer-first tools that bridge the gap between developers and cloud security. By joining Palo Alto Networks, we will be able to bring codified cloud security to the developer community on a wider scale,"Tendler said in a statement. "We look forward to working together to continue shifting cloud security left."

Bridecrew, which employs dozens of people in offices in Israel and California, developed a security-as-code platform that identifies and automatically fixes cloud infrastructure misconfigurations in both run-time and build-time, saving users money and time.

The company's automation solution is particularly suitable for the urgent requirements of development on the cloud, which demands fast growth to meet rising demands while lowering costs and improving organizations' DevOps and data protection processes.

"Shift left security is a must-have in any cloud security platform. Developers don't want to wait until runtime to find out their security is not working, and the CISO charged with protecting the entire organization certainly values higher security from fixing issues earlier in the development lifecycle. We are thrilled to welcome Bridgecrew, and their widely adopted and trusted developer security platform, to Palo Alto Networks. When combined, Prisma Cloud customers will benefit from having security embedded in the very foundation of their cloud infrastructure," Nikesh Arora, chairman and CEO of Palo Alto Networks said in a statement.

Palo Alto Networks is one of the most active buyers of Israeli technology, having acquired six companies to date. The American cyber giant, which was founded by Israeli citizen Nir Zuk, one of the first team members at Check Point, is now traded at a valuation of $38 billion.

Palo Alto acquired Israeli company Cybera in 2012 for $200 million, which resulted in it setting up its Israel branch. Afterward, it acquired LightCyber in 2017 for $105 million, and Secdo in 2018 for $100 million. In 2019 it acquired Twitslock for $410 million, PureSec for roughly $100 million, and Demisto for $500 million.