Artificial intelligence startup gives a voice to the silent
Sensi.ai develops software platform that utilizes artificial intelligence to monitor caregivers and patients in home care
The world of caregivers is expanding as the Baby Boomer population ages and with coronavirus (Covid-19) concerns rampant, many prefer to rely on private home care for the eldery. In addition to home care, nursing homes and other care facilities can't provide complete monitoring of patients, who often find the placement of cameras as an invasion of privacy. One Israeli startup has found a solution to the conundrum. Sensi.ai has developed a software as a service (SaaS) platform that provides facility managers and family members with complete and comprehensive oversight of a patient's ongoing care schedule with a caregiver. In the event of a mishap, accident, or extra care requirement, users may simply follow up on the app.

CEO and co-founder Romi Gubes spoke to CTech about how Sensi.ai's platform is making waves in the caregiver market.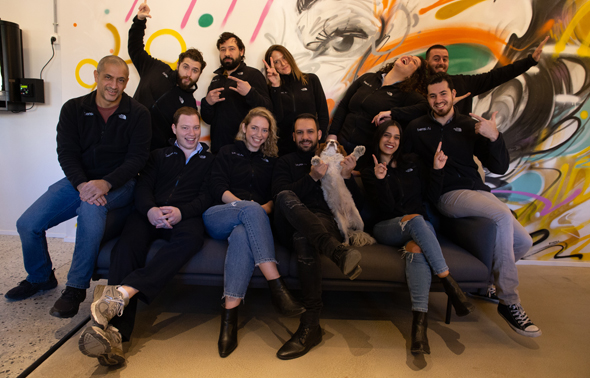 Sensi.ai's team is developing a SaaS platform that helps monitor the elderly. Photo: Sensi

"We make taking care of people, such as the elderly, babies, special education youth, or those who can't speak up for themselves, easier. We give them a voice by using our SaaS platform which tracks and records sounds of a caregiver's session anywhere from long term care facilities to private homes to make the process more efficient and comprehensive," Gubes explained.

The company's platform can record sounds and its artificial intelligence component can later send indications to care facility managers or caregiving providers in nursing homes or private residences on what is happening during the patient's day-to-day and whether their care needs to be improved.

Sensi.ai was founded in 2019 and raised $3.5 million in a seed round in December 2020 led by Flint Capital and Homeward Ventures as well as receiving funding from the Israel Innovation Authority. It plans to deploy to long term U.S. healthcare providers that cater to homecare services. Sensi.ai currently has offices in Israel and California.

How can your company's product benefit its users?

"It's very hard to find caregivers," she noted, "and also hard to supervise them." Being a professional aide is the most in-demand job in the U.S. currently and is becoming exorbitantly expensive in Israel as well. The entire industry is going downhill, since the tasks required while common - such as bathing and feeding - aren't easy and caregivers as well as patients require constant supervision, although a version that isn't quite as invasive as video cameras are. "The threshold requirements for entering this field are going down as well," she said. "Almost any person can get hired for such a position but that doesn't necessarily mean they'll do a good job. Our product attempts to understand what is happening in real-time with both caretakers and patients."

If a caregiver needs improvement or additional training or if a patient is being particularly difficult or needs extra help with a certain task or an additional medical follow up, such as ensuring patients take their medication on time, bathe at a proper time, etc. Sensi.ai's product is able to use AI to identify the faults in the schedule and make recommendations to supervisors or family members about how to swiftly and efficiently improve the schedule. This is also relevant for cases of abuse and neglect, which happens with elderly or special ed patients, and is a growing disturbing trend as well as to end violence against caregivers.

"Most of the solutions today are based on computer-vision fixes," Gubes explained, which are both expensive and while they prevent a full picture of the situation without any blind spots - they can be considered incredibly invasive of a patient's privacy. "Our product is an audio platform - without video - which is capable of analyzing a patient's surroundings," she said. Sensi.ai's platform provides feedback, transparency, generates a higher standard of treatment, and creates an environment that is safer for both patients and caregivers.

"We want to do something that helps people yet doesn't rob them of their human dignity," she said.