Israeli startup selected as finalist in IBM Watson XPRIZE for malaria-combating app
ZzappMalaria appeared as a finalist for its innovative product which aims to combat malaria using artificial intelligence to assist elimination campaign efforts around the globe
ZzappMalaria, an Israeli startup, was selected as a finalist on Tuesday for the IBM Watson XPrize "AI for Good'' challenge for its malaria-combating software and app. The startup received a monetary award of $500,000 to continue its fight against malaria and widespread operations in Ghana to end malaria. It is now set to compete for the $2.5 million grand prize. If ZzappMalaria wins the competition, it has promised to invest those funds to extend its operation to other countries suffering from the disease.

The company, which was founded in 2017, is a spin-off of Sight Diagnostics, a healthtech startup which uses technology to analyze blood diagnostics. ZzappMalaria's goal is similarly to eradicate malaria worldwide, and it has developed a wide scale plan to do so that incorporates planning, executing, and monitoring treatments and elimination campaigns. ZzappMalaria's solution involves larviciding, or treating stagnant water bodies where mosquitoes tend to breed early on. Its mobile app uses an algorithm which can locate malaria outbreaks, identify elimination strategies, and optimize them. It then immediately creates assignments for workers in fields, who can upload data to a system so that countries and municipalities may keep track of the disease's progress and lead campaign efforts to end the spread. The app does so by tracking topography and utilizing satellite imagery, and through relying on machine learning tools coupled with artificial intelligence that continue to improve and upgrade subsequent operations.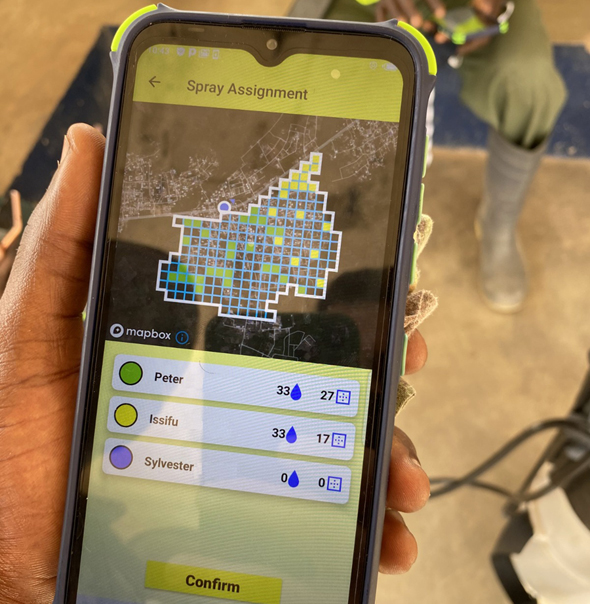 ZzappMalaria's app allows researchers to upload data and update it in real-time, preventing outbreaks. Photo: ZzappMalaria

Recently, ZzappMalaria collaborated with IBM to develop a system that is able to predict what effect weather has on mosquito populations. Since the app is often used in rural areas, it is able to function in areas without internet connectivity and on low-cost phones. Currently, ZzappMalaria has conducted successful anti-malaria operations in several African countries in addition to Ghana, including Zanzibar, Kenya, and Ethiopia.

According to statistics from the World Health Organization, nearly half of the world's population lives in areas that are high-risk for contracting malaria, which killed over 400,000 people in 2019, mainly in African countries, and of which 67% were young children.

"It is very gratifying to know that our technology is saving lives on a daily basis. In fact, our pilot product currently protects more than 300,000 people," said Arnon Houri-Yafin, CEO of ZzappMalaria. "ZzappMalaria's app – which is GPS-based and works offline – is suited to work in the harshest conditions."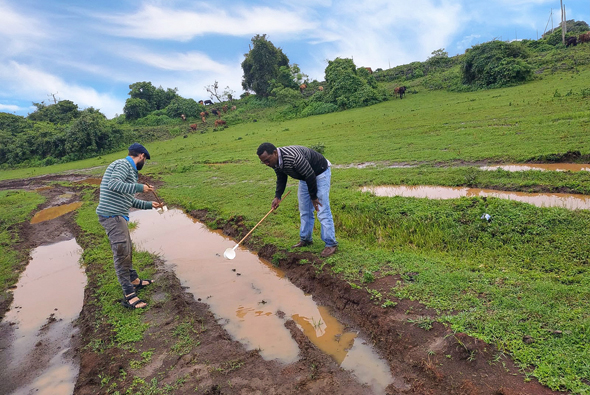 The app can be used without internet connectivity by workers in fields. Photo: ZzappMalaria

"It simplifies our work considerably. Despite the technology's sophistication, the app and the dashboard are very intuitive and user-friendly. In an operation in the Amhara region in 2019, we located all of the water bodies, which is usually a great challenge. The technology saved us time and energy, and in prioritizing severely affected villages," said Dr. Abebe Asale from the International Centre of Insect Physiology and Ecology, a research body which specializes in malaria.

The $5 million IBM prize is only a drop in the ocean of several prizes which aim to combat global challenges, and is part of the XPRIZE foundation. In early 2020, Israel reaped the rewards after winning the XPRIZE's Moonshot Landing prize money for its Beresheet spacecraft for reaching the Moon, and whose $1 million prize money is currently being channeled into its next lunar mission. Some of the other competitions include the $10 million XPRIZE to conserve the rainforests.