Israeli billboards shout: Looking for local high tech talent!
Rapyd launched a wide scale campaign on billboards across central Israel looking to recruit high tech talent. "People don't realize how expensive it is to recruit employees," says CEO
Residents of central Israel couldn't help but notice the hundreds of ads plastered on billboards everywhere by fintech company Rapyd, calling for software programmers to join its workforce. In contrast to typical billboard campaigns, it wasn't designed to advertise the company's product, but rather to recruit employees. Although in the past there have been a number of companies that have run similar recruitment campaigns, the extensive efforts signified better than any statistic, that the battle over finding talented tech employees hasn't subsided amid the Covid-19 crisis, but rather escalated.

Rapyd announced in January that it raised $400 million as part of its growth goals, and plans to recruit more than 200 employees within a year. "We chose the billboard campaign - which is very aggressive and located in almost every city - to get more resumes and raise awareness for our brand. It's a well-known fact that there aren't enough programmers in Israel, and especially when there are larger Israeli companies as well as multinational ones like Google and Facebook, all compete over the same people. Recruiting hundreds of people within a short time is a nearly impossible task, unless you start thinking outside the box and don't stick with standard methods like LinkedIn, outsourcing, and headhunter companies," Arik Shtilman, Rapyd's co-founder and CEO told Calcalist.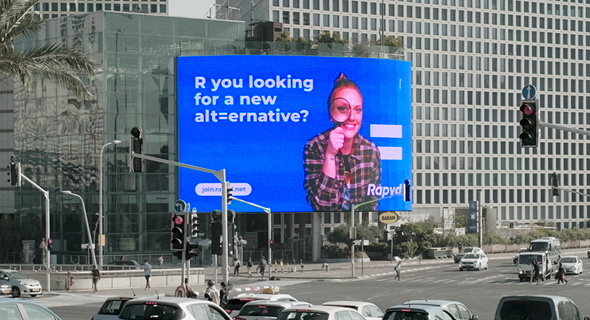 Rapyd's campaign appears on main billboards on the Ayalon highway in Tel Aviv

In addition to the advertising campaign, Shtilman said that the company has also started a training program for computer science graduates to train some 20 programmers every quarter in skills required by the company. "We don't really have a choice because we don't want to recruit outside of Israel. We prefer to build our development operation here, and that isn't a trivial matter because the far easier option would be to hire people from India and Eastern Europe," he said.

Anyone who has a presence on social media knows that high companies are continuing to aggressively recruit and compete over quality employees. That is one reason why they publish targeted ads, and campaigns designed to recruit employees, which are geared toward relevant populations. Billboard advertising is considered a less focused and reliant tool to recruit people. Similarly, companies don't advertise on television that they're looking to hire.

"In Israel it's difficult to recruit programmers with the necessary experience who fit in with the company's DNA, so we needed to make a special move and deviate from standard recruitment methods. We wanted to make a big impact, and ensure that it would be impossible to miss the signs. This campaign targeted the central Israel area, from Herzliya through Rishon Lezion, Ramat Gan, Givatayim, and Tel Aviv. In addition, the campaign has been accompanied on social media and additional platforms," explained Rona Susel, Director of Marketing EMEA at Rapyd.

Conducting the billboard campaign cost millions of shekels, and the question is whether that justifies the investment. The company says that there has been a 100% increase in the number of applicants, but the question is whether those candidates are suitable because eventually they must be hired. "People don't understand how expensive it is to recruit employees, or how expensive campaigns such as these are. But when you divide the investment by the 200 people you recruit, the price is not that high," Shtilman said.

Tech workers are accustomed to having companies woo them. Some people on social media commented on the widespread campaign with suspicion, suggesting that if a company needs to invest a lot in enticing employees then perhaps there may be problems hiding under the surface. A quick search on the Glassdoor site shows that according to Rapyd employees, some 80% recommended others to work there, and it was rated 4.5 out of 5. For comparison's sake, Facebook was rated a 4.6 with 89% of its employees recommending others to work there, Google was rated 4.5 with 90% of its employees suggesting it to others, and Microsoft was rated as a 4.4 with 91% saying they would recommend a friend to work there.

In the past, companies like eBay and defense giant Rafael have held billboard campaigns to recruit employees on billboards too, and the question is whether the phenomenon will become mainstream, and whether more companies will begin to compete over the best employees, invest millions of shekels in advertising campaigns, and not via the common channels. "It's ultimately the company's decision and depends on where it's at. We are at the stage where we need to grow rapidly and recruit quality people. Companies who have done campaigns like ours are really at a specific stage in their company's life," Susel said.