Wix.com revenues neared $1 billion in 2020, company ups 2021 outlook
The Israeli company recorded a 30% boost in revenues, concludes the year with a $216.5 million net loss
Tel Aviv-based website building company Wix.com Ltd. (Nasdaq: WIX) is concluding an impressive year courtesy of the Covid-19 pandemic that had everyone creating a website, many using the platform that it built. The company's 2020 annual revenues closed in on a billion dollars, reporting $989 million in earnings, up 30% from 2019.

Though the company is still not profitable, its net cash provided by operating activities for the full year was at $148.0 million, while capital expenditures, mostly related to the construction of new headquarters totaled $18.9 million, leading to a free cash flow of $129.2 million, compared to $127.5 million of free cash flow for the full year 2019.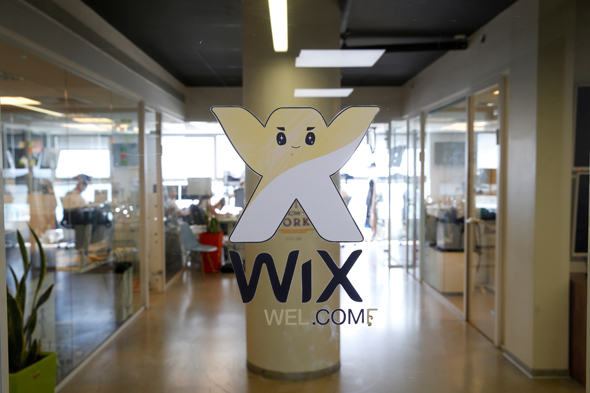 The entrance to Wix's offices in Tel Aviv. Photo Reuters.

Wix reported a $216.5 million GAAP net loss for the full year or $3.98 per share, nearly double its net loss of $86.4 million, or $1.71 per share, for the full year of 2019. Non-GAAP net loss for the full year 2020 was $24.2 million, or $0.44 per share, compared to non-GAAP net income of $59.1 million, or $1.17 per share in the previous year.

The company's profitability was impaired mainly due to investment in new service solutions and accelerated growth in the Wix Payments platform. Wix Payments generated $5.4 billion in Gross Payments Volume (GPV) in 2020, a 126% increase over $2.4 billion in 2019 as the number of online commerce businesses and their sales volume grew throughout the year. The company expects GPV will reach $10 billion in 2021. Wix Payments collections and revenue was $53.6 million in 2020, a 382% increase over $11.1 million in 2019.

"We have concluded the most successful year in our company's history. In 2020, over 31 million new registered users joined Wix, we added nearly 1 million net new subscriptions, and we crossed $1 billion of annual collections for the first time," Wix co-founder and CEO Avishai Abrahami, said in a statement. "My goal and belief is that at this rate of growth, in the next 5-7 years, 50% of anything new built on the internet will be done on Wix."

Against the backdrop of the positive results, Wix predicts that it will be able to maintain its 30% growth rate and conclude 2021 with revenues ranging from $1.27 billion to $1.28 billion and a free cash flow of $90 million to $100 million. The company said it plans to make incremental investments of approximately $60 million in 2021, mostly in its payments platform, and recruit 600 new employees.

Wix's 2021 Q1 outlook anticipates revenues of $291-296 million, a 5% increase on 2020 Q4's $282.5 million. The company onboarded 7.4 million new registered users in the fourth quarter of 2020, reaching a total of 196.7 million, a 19% increase from 2019. The number of premium users who pay for Wix services climbed by 22% over the year, reaching a total of 5.5 million.