Analysis
Massive funding, huge IPOs and sky-rocketing valuations: Welcome to the fintech gold rush
From September 2020 until January 2021, the local fintech sector recorded $1.4 billion in funding, making up 24% of all tech investments over that period
The Israeli fintech sector has registered a remarkable leap over recent months. This could be seen clearly in the magnitude of the funding rounds, the number of public offerings, and the surge in valuations of numerous companies. The latest example came on Tuesday with the announcement that global private equity firm Warburg Pincus LLC had led an investment of $75 million in Israeli fintech company Personetics, founded by David Sosna and David Govrin, and which provides a proprietary AI software platform to banks.
Fintech is establishing its position as a driving force in Israeli tech, not yet leading the sector, but certainly keeping up with the unequivocal king of the local industry, cybersecurity. But while cybersecurity cemented its position long ago and the competition in the sector is mainly between companies fighting for supremacy in existing fields, fintech is still in the 'gold rush stage,' with companies battling across every possible field of activity as the Covid-19 crisis increased the popularity of companies in the sector.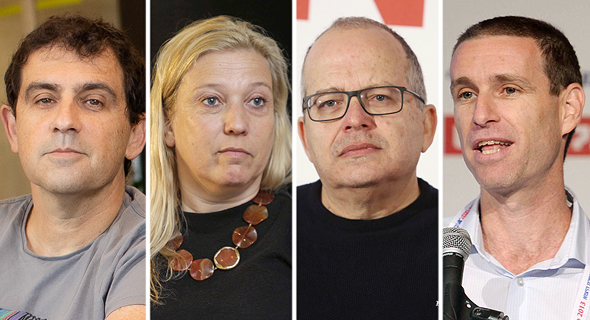 Oded Zehavi (from right), Chen Amit, Ornit Shinar and David Sosna. Photo: Amit Shaal, Arik Sultan and David Sosna
2021 began with an overall record in funding in local tech, with companies reporting investments reaching $1.44 billion in January alone. Even if some of the rounds were already completed last year and only announced in January, the trend is clear. The industry continues to surge and fintech is storming ahead.
Data collected by Start-Up Nation Central viewed by Calcalist shows that in the past five months, from September 2020 until January 2021, the local fintech sector recorded $1.4 billion in funding, making up 24% of all tech investments over that period. Five companies raised more than $100 million each at valuations exceeding $1 billion.
"The fintech industry is at a gold rush stage in which everyone is rushing to obtain the best plots and is willing to invest a lot of money in each of these plots without thinking of profits. They are only thinking of acquiring 'premium plots' that will produce gold in the future," Chen Amit, CEO of fintech company Tipalti, told Calcalist. Tiplati was founded a decade ago and raised $150 million at a $2 billion valuation at the end of last year from leading investors, including Dovi Frances and Oren Zeev.
The gold rush Amit is talking about is evident in recent months' figures. Following Tipalti's funding round, there were two more companies that raised money at valuations of over $1 billion during January. The first was payment platform Rapyd which raised $400 million, $100 million of which in secondary investment, at a valuation of $2.5 billion. The second was Melio, a B2B payments company, which was only founded in 2018, and already raised $110 million at a $1.3 billion valuation. Fintech was the dominant sector when it came to funding in January, raising a total of $413 million, making up 29% of all investments raised by Israeli tech companies in the first month of the year.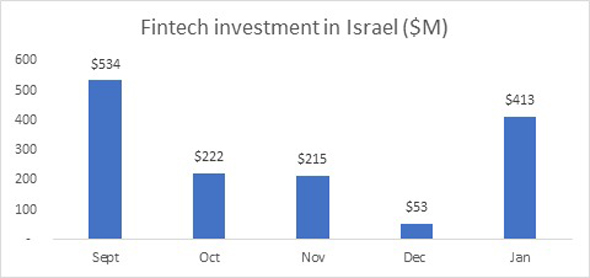 Fintech investments in Israel. Photo: Start-Up Nation Central Research Department

The $1.4 billion raised by fintech companies from September 2020 to January 2021 represents a sharp increase from the $340 million raised by the sector in the first eight months of 2020. "Around half (46%) of all investments in fintech companies over the past five months were in companies in the payments sector. Some 21% was in insurtech companies, 16% in fraud prevention and 13% in solutions for large organizations," said Nicole Krieger, Fintech Sector Lead at Start-Up Nation Central. "This can be viewed as a result of the increase in sales for companies facilitating payments and fraud prevention, which has become increasingly important to enterprises during the coronavirus pandemic."

Investments in the fintech sector doubled year-on-year in 2018-2019, a pace which continued in 2020, and is expected to increase even further in 2021.

Meanwhile, veteran fintech company Payoneer is in advanced negotiations to merge with a SPAC company, FTAC Olympic Acquisition Corp, at a valuation of $3.3 billion after many years of procrastinating over going public. Payoneer has reported annual revenue of $400 million, but is still not profitable. It is far from the only one. The massive valuations which fintech companies are scaling aren't backed by profits, and for some of them, even income. It is mainly the expectation of steep and swift growth that is attracting investors. That can be seen with Melio, with founder Matan Bar saying recently that the company raised in one year the sums it was planning on raising over five years. "Many investors want to see aggressive entrepreneurs that will create profits for them in the future," explained Tipalti CEO Amit.

Ornit Shinar, Head of External Innovation and Venture Investing at Citi Israel, added: "Our market is receiving far greater funds. Big billion-dollar VCs entered the market and they aren't investing just small sums of a few million. Interest rates are low and the only sector that is doing well on the market is tech. Massive amounts of money are being invested even in early-stage companies, including huge funding rounds that are in no way tied to the company's revenue."

Ignoring the lack of profits isn't something that is exclusive to the fintech sector, but it does have an increased significance due to its proximity to the financial world. "There are many factors that pushed the industry forward," said Oded Zehavi, CEO of fintech company Mesh and former Director of Global Business Development at PayPal, as well as Chief Revenue Officer at Payoneer. "If you look at what the shares of PayPal and Square have done over the past year you will understand that there is a huge demand for their technology, and that the huge demand for the digitization of financial services has resulted in an arms race by investors in financial companies."

There are several factors behind this change. Firstly, there is still considerable space for technological development in the sector. The Covid-19 crisis significantly accelerated the demand for such new technologies. The gradual progress that was expected to take place over a decade happened within a year.

An example of this can be seen in payments to suppliers, that used to be done through checks, but have since gone digital, as well as the receiving of credit digitally and the massive increase in online commerce. "If in the past consumers were willing to only receive financial services from banks or credit card companies, the past year has changed that and people are also open to taking a loan at the Supermarket. Many companies are adding funding and financing services for their clients," said Zehavi.

According to Shinar, Covid-19 created a perfect symbiosis between consumers, tech suppliers, and organizations. "Consumers wanted to move to digital services quickly. They didn't want to touch money and they didn't want to go to the bank and they wanted to do everything remotely. Banks and other financial organizations had to move to remote work and encountered many fintech companies that were ready and waiting to provide services to banks and the financial sector," explained Shinar.

The fintech world is characterized by the ability to enter new vectors of activity. Despite the sector's growth, it still only makes up a minuscule percentage of global financial activity, which remains under the control of banks and credit card companies. Fintech firms are focusing their efforts on identifying areas in which there are regulatory loopholes that will allow them to expand their activity or areas in which the regulation on old-world institutions is burdensome and where a new company can provide simpler and faster services.

All of this has a direct impact on the funding being funneled into companies, including in Israel. "Israel is currently the preferred destination for fintech funding," added Shinar. "Israeli companies offer a strong technological layer compared to others, which is why investors are seeking investments here. Israeli fintech companies were already mature and prepared when the crisis struck."