How to solve the problem of piracy in sports broadcasts?
According to data from Infront Lab, about 39% of the global OTT market is "pirated," with lockdowns during the Covid-19 pandemic boosting the phenomenon
Infront Lab, the innovation center of Infront, the sports business services giant, has researched in depth the phenomenon of piracy broadcasts of football and sports across the world. Pirated content is content that is broadcast or sold without the permission of the content producer.

According to Infront, the global OTT (Over the Top – streaming or VOD content) content market will grow from $93 billion in 2018 to more than $135 billion in 2022. According to the data from Infront Lab, about 39% of this amount is "pirated," with the lockdowns during the Covid-19 pandemic boosting the phenomenon.

In sports, football is the most "pirated" content. Some 27.4% of illegal downloads and views in sports are of football games; 25.5% basketball; 13% of mixed sporting events (such as athletics championships); 10.5% tennis; and 8.5% motor sports. In Italy, the phenomenon is so acute that Serie A, Italy's top football division, has launched a campaign to combat piracy. The danger, according to Serie A, is that if fans will not pay for watching, the media companies will not pay for the rights of the league and the possible damage is estimated at more than a billion Euros. In fact, the economic model will collapse, and more than 5,000 people will lose their jobs.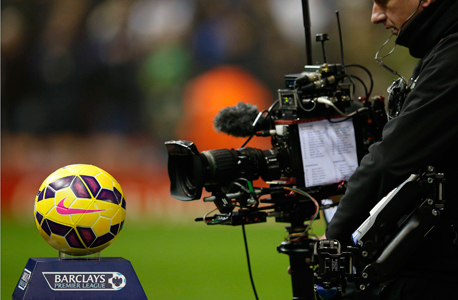 A camera at a Premier League match. Photo: Reuters

The thing is that despite the fact that 83% of Italian adults are aware of the fact that piracy is a crime, 38% have done it at least once (and are willing to admit it). And this is hardly an exclusive phenomenon to Italy. One out of 11 British people has admitted to watching a pirate broadcast of a Premier League football match. Last season, the Premier League blocked more than 200,000 pirate broadcasts and the financial damage is estimated at a loss of revenue of around £1 million per game. The Premier League is the richest league in the world mainly due to its ability to sell the broadcasting rights for £1 billion a year.

The phenomenon is not going anywhere despite the Premier League's efforts. There are more than 360 million people a month worldwide who visit pirate broadcast sites. According to Infront, the potential damage from piracy is $12.5 billion a year.

Infront's research has shown that the lower the viewer's age, the more likely he or she is to opt for a pirated broadcast. 54% of millennials admitted to watching sports on an "illegal broadcast." According to a survey by the sports industry website sportico.com, the generational issue is significant when it comes to streaming and piracy. The survey found that 77% of "boomers" (aged 56 and over) watch sports on television. This is while among Generation X (aged 40 to 56), about 57% watch sports on television. Generation Z and Millennials consume their sports online and via streaming. Of those who watch sports, only 35% watch live sports on TV. There is a clear correlation between a preference for watching TV and an unwillingness to pay for streaming services for watching sports: only 11% of boomers are willing to pay for streaming sports services. Among Generation X, this figure stands at 19% and among young people at 27%, with 15% preferring to watch sports streaming for free (the figure is less than 9% among older people).

The advanced technology, the "netflixication" of content (everyone chooses what they want to watch), also pushes people to look for a good free stream rather than pay for paid channels - which is more common among young people. Infront also tried to figure out what motivates someone to watch pirated content rather than open a TV. The results of their survey showed that most people think that the prices of sports channels are too high and that there are random "geographical restrictions" on broadcasts (for example in England live games are not broadcast between 15:00 and 17:00 to protect club revenues from ticket sales).

There is also quite a bit of ideology and idealization of streaming services, which supposedly compete against forces larger and stronger than them for the benefit of the public. And the thing is, no matter how much you struggle with the phenomenon - it's like playing catch with a mole. For each stream that is taken down, a new stream is created. Sites that are sued for infringing broadcasting rights simply disappear and then appear at a new address.

Infront Lab is collaborating with Israeli startup Videocites as it aims to find technological and business solutions to piracy. Videocites has developed an AI technology for monitoring copies of content throughout social networks by identifying the technological "fingerprint" of the content. "One of the things we have seen over the last year-and-a-half is a steady and rapid increase in piracy in sports - in all fields of sports. One reason for this is that it just gets easier. Today, to become a 'pirate' all you have to do is upload a stream (broadcast) to Facebook or YouTube, and that's it. Simple and easy", explains Damian Browarnik, Managing Director at Infront Lab. "On the one hand, we see how easy that is, and on the other hand we are seeing a significant increase in the revenue that can be generated from this piracy. For example, in one of the games we analyzed, Manchester United against Liverpool in the Premier League, we saw that in one game there were more than a million and a half illegal broadcasts - which is a huge loss for broadcasters worldwide."

And it really does not matter how hard you fight it, "piracy" doesn't go away. "When we talk about piracy, we are actually talking about an endless loop," Browarnik added. "All it takes is to upload a video to Facebook, and if this video was taken off - upload again from another user, and viewers will find the video again and again. Right holders and leagues must fight this phenomenon and break this loop. The solution we developed on the subject together with Videocites is divided into two prominent steps: In the first step, a quick and automatic removal of the illegal broadcasts, because that way the pirates' motivation also fades. In the second step, educating the market to watch legitimate broadcasts by referring them to that kind of stream, at a reduced price – in order to attract the viewer. If the removal of the illegal streams is quick and the alternative is conveniently delivered to the viewer/fan/user, he or she is likely to choose the legitimate option. In fact, not only are the illegal broadcasts shut down, but a wider circle of viewers is created for the broadcaster or the league - and the profit is doubled."

According to a survey by Synamedia (conducted among 6,000 sports fans in 10 different countries), piracy depends mainly on the options available to users. 84% of the survey participants who watch pirated sports broadcasts said they would consider reducing or stopping pirated viewing as a result of broadcast disruptions and legal and social consequences, such as fines or arrest, while 69% of participants will consider reducing or stopping pirated content consuming, due to the economic impact of piracy on the club they support. An absolute majority stated that for them the most effective way to prevent piracy of sports broadcasts is to disrupt pirated viewing by technological means to an extent that they will lose trust in these broadcasts, whilst strengthening the attractiveness of legitimate broadcasts.

So how do you deal with piracy? How do you get more young people to watch sports? Surveys and studies show that removing videos off the feed and giving penalties will not really help here. Cheap streaming, in an app that is easy to use and intuitive to watch, is the best way to deal with the problem that threatens to collapse the business model of football leagues.

This may sound simple, but in the conservative sports world it is like trying to fit an elephant into an optical fiber.