Interview
Data can only take you so far in sports, says 76ers owner
"Sport is a great teacher. There are winners and losers in sport, and there is a lot to learn from losing," noted Josh Harris, owner of the Sixers, as well as the NHL's Devils and Crystal Palace of the EPL
Wrestling is based on grappling with the body of your opponent: pulling, pushing, and grasping is permitted. But you aren't allowed to kick, or hit or pull the hair of your rival. The wrestlers wear a tight bodysuit and you aren't allowed to hold onto it during a fight. Unlike judo or boxing, it is also difficult in wrestling to use techniques that allow you to block or absorb blows, with your entire body being active and your weaknesses being quickly revealed.
Josh Harris began practicing wrestling at the age of 10 and continued all the way until he graduated from college. The lessons he learned on the wrestling mat were ingrained in him and ended up serving him well in life. "Wrestling is a sport that if you don't train and are not disciplined you will get physically dominated and it doesn't take very long to learn that you better be very well prepared and disciplined as far as your training regime," Harris told Calcalist. "I was never the brightest or the most athletic, but I would outwork everybody else. In wrestling that was really important and it served me well in life as well."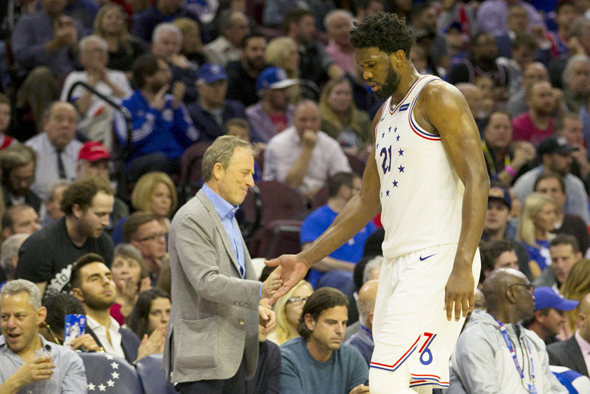 Josh Harris (left) and Sixers star Joel Embiid. Photo: AFP
This determination helped the 56-year-old Harris record incredible success. He co-founded Apollo Global Management when he was 25 and became a billionaire a few years later by acquiring failed businesses, revitalizing them and then selling them for a huge profit. Today, 30 years later, the fund manages equity valued at $400 billion, with Haris's personal fortune estimated at around $5 billion. Harris is the owner of the NBA's Philadelphia 76ers, the NHL's New Jersey Devils and English Premier League club Crystal Palace.
Harris, a long time 76ers fan, acquired the franchise along with other partners in 2011. The 76ers went through eight general managers in the nine years since, more than any other NBA franchise and created countless headlines despite not being one of the league's most successful teams during that period.
This past summer, the 76ers brought in successful GM Daryl Morey, after he left the Houston Rockets, and also signed a new coach in veteran Doc Rivers.
"Mike Tyson once said that 'everybody has a plan until they get punched in the mouth' and that is also true in sports. Sport is a great teacher. There are winners and losers in sport, and there is a lot to learn from losing, as long you create from it grit and tenacity," Harris explained.
The blows suffered by the Sixers seem to have certainly been worthwhile, with the franchise acquired by Harris and his partners for $280 million currently being valued at more than $2 billion. This is probably one of Harris's most successful investments, the result of good timing, the adoption of analytics and the selection of star players made for the era of social media.
"Certainly analytics and data is increasingly playing a major role in sports, but obviously it goes beyond the numbers," said Harris. "I still think that the man-management part of it and creating that chemistry and the intangible strength of the team is critical. Increasingly science is being applied to sports, but it can only take you so far.
"At a professional level, you aren't going to win without talent, but I think you need both to win. The NBA is probably the best example of this. You need 2-3 superstars to win, but on the other hand that isn't going to be enough to win. I think clearly, whether it be sports or Apollo, you win with the best people. Certainly, you need collaboration between the people. We have a lot of talent in 76ers but in the offseason we brought in head coach Doc Rivers who is an incredible leader."
Harris followed up the purchase of the 76ers with buying the Devills for $320 million in 2013 and in December 2015 he entered the world of English soccer with the purchase of London club Crystal Palace for a reported 50 million pounds. Harris, who completed all these acquisitions together with other partners, notably David S. Blitzer of the private equity firm Blackstone Group, believes that though different, the financial models in both U.S. and UK sports are sustainable.
"In the U.S. model there is a legal partnership that exists among the owners that are collaborating for the collective association and there is also the lack of relegation," said Harris. "If you own an NBA franchise, you are in the NBA. If you own a Premier League franchise, you can still be relegated. The economic model of U.S. sports, other than for the very largest teams, is a better economic model as it is less volatile."
Through Harris Philanthropies, Harris is also involved in social projects in Israel, namely 'The 48ers', a project aimed at instilling values and developing leadership amongst youth from disadvantaged and other populations, through basketball training, tournaments and educational activities. The program specifically aims to promote the successful integration of Ethiopian-Israeli youths within the general Israeli society.
"We've always had a deep feeling, and pride and excitement about supporting a vibrant state of Israel as a place for Jews and all people," said Harris. "Over time we have gotten more involved in Israel. Before my son Stewert's Bar Mitzvah, he said he didn't want guests but wanted to start something in Israel. We traveled to Israel and we met many people and were surprised to learn that Ethopian-Jews were struggling in Israel, economically and in the way they are assimilating. He came up with the idea to use his Bar Mitzvah money, and obviously we helped out, to set up a program that was designed to allow for Ethopian-Jews to compete on basketball teams, but also provide educational assistance and food and ultimately leadership assistance to help in their assimilation in Israel."