Israel's Torii raises $10 million series A led by Wing Venture Capital
The SaaS management service startup founded by Houseparty's head of product aims to expand its engineering and data science teams in Israel and commercial teams in the U.S.
Israel-based SaaS management service startup Torii Labs Ltd. has completed a $10 million series A financing round led by Wing Venture Capital together with the company's existing investors Entree Capital, Global Founders Capital, Scopus Ventures and Uncork Capital. In the wake of the investment, Wing VC Partner Jake Flomenberg will be joining Torii's board of directors.

The company was founded in 2017 by Tal Bereznitskey, Uri Haramati, and Uri Nativ. Haramati, who serves as CEO, is also the Head of Product of social media network Houseparty, which rose to fame amid the Covid-19 pandemic. Torii employs 30 people, half of them in the company's headquarters in the Tel Aviv suburb of Ra'anana and the rest in New York. The new capital brings the company's total raised to date to $15 million.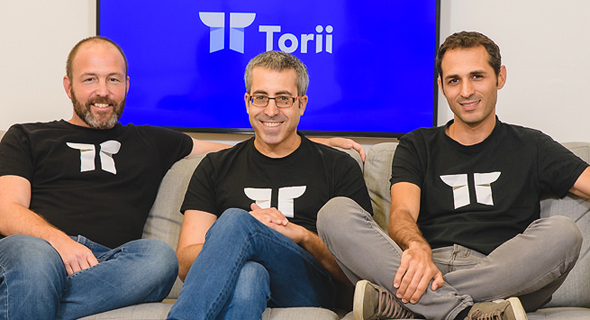 Torii co-founders Uri Haramati (left), Uri Nativ, and Tal Bereznitskey. Photo: Yarin Taranos

Torii says its revenues grew by 400% year-over-year in 2020 and that it is currently monitoring and optimizing more than $1 billion in total software spending and more than $4 billion in total transactions across its customer base. With the new funding, Torii says it will expand its engineering and data science teams in Israel and commercial teams in the U.S.

"We've reached the point where SaaS can no longer effectively be managed by humans," Haramati said in a statement. "Enterprises need a way of managing SaaS usage, spend, and security that will scale and keep employees happy but won't impact agility and growth. With companies deploying on average 20-plus new SaaS applications every month, this can only be achieved with intelligence-driven automation."

"Over the past decade SaaS has gone from the exception to the norm. With the interconnectedness and ease of data collection that SaaS affords, it is possible to unlock far more efficiency gains in the realm of software management through intelligence-driven automation than was possible on premise," Jake Flomenberg, Partner at Wing Venture Capital, noted.

Torii's customers include Delivery Hero, Instacart, Sisense, Yotpo, Logz.io, Appsflyer, Via, Twitch, Palo Alto Networks, Monday, and Payoneer.