Team8 expands its fintech portfolio leading $12 million series A of FundGuard
The company aims to use the new capital to increase its headcount by 75% over the coming year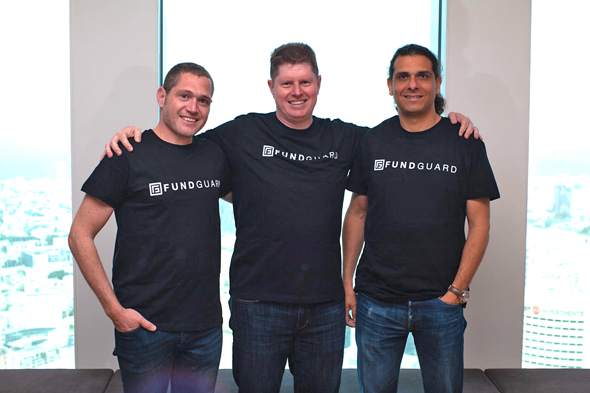 FundGuard co-founders Uri Katz, Lior Yogev, and Yaniv Zecharya. Photo: FundGuard

Tel Aviv-based fintech startup FundGuard Inc. announced on Tuesday that it has completed a $12 million series A financing round led by Team8 and participated by existing backers Blumberg Capital and LionBird Ventures.

Other new investors who joined the round include Mindset Ventures and Maccabee Ventures, as well as senior executives from leading American financial institutions JP Morgan, BNY Mellon, and State Street. Sarit Firon, Managing Partner at Team8 Capital, will be joining the company's board of directors. The financing round brings the total amount of capital raised by FundGuard to $16 million.

FundGuard was founded in 2018 by Lior Yogev (CEO), Yaniv Zecharya (CTO), and Uri Katz (VP R&D). The three had served together in Israel's 8200 intelligence unit. Yogev had previously worked as a technology investment banker at Goldman Sachs in New York, and before that led software development teams at Radware. Zecharya was a founding partner of Bluetail, which was sold to Salesforce and later went on to lead the company's local R&D center. Katz led development teams at various tech companies active in the big data space, including Natural Intelligence and TipRanks. The company employs 25 people, 20 of them in its Tel Aviv headquarters. The company aims to use the new capital to increase its headcount by 75% over the coming year.

FundGuard helps asset managers and fund administrators to manage mutual funds, ETFs, hedge funds, insurance products, and pension funds, supporting digital transformation, operations automation, AI-based insights, resiliency, and migration to the cloud.

"The industry is ripe for disruption with legacy market infrastructure for investment management struggling to support today's volumes, complexity of assets, and need for efficiency given the continued fees pressure. There is growing demand for a fully automated, scalable solution that improves operational efficiency and dramatically reduces costs," Yogev said in a statement. "Our AI-powered, cloud-native platform enables banks, asset managers, and fund administrators to drive efficiencies and enhance transparency by providing a real-time, single source of truth for funds."

"FundGuard has a bold vision for transforming a large and significantly underserved market," said Sarit Firon, Managing Partner at Team8 Capital, "FundGuard's solution has a significant, fast-growing foothold across the investment management industry, and the founding team has a flawless track record in execution that will serve the firm well during its next stage of growth."

FundGaurd plans to use the new capital to spur product development to support its partnerships with several of the world's largest fund administrators and asset managers in addition to meeting increasing demand from alternative funds and insurance companies.

FundGuard also announced two strategic hires having recruited Kirk Littleton, who formerly led trading and accounting platform sales at InvestCloud, and Alan Schneider, who spent 25 years at Citi, most recently as global middle office product head, as Sales Directors.