Stock options marketplace EquityBee raises $20 million on back of accelerated growth
The Israeli startup offers a marketplace where startup employees who lack the necessary funds to exercise their stock options can find investors, in return for a part in future gains
Tel Aviv-based stock options marketplace EquityBee Inc. has raised a $20 million series B funding round. The round was led by Dovi Frances'
Group 11 and also included participation from Oren Zeev Ventures, Battery Ventures and ICON Continuity Fund.
The company was founded in 2018 by CEO Oren Barzilai, Oded Golan (CPO) and Mody Radashkovich (COO). EquityBee currently employs around 30 people and has raised $28 million to date. The company offers a marketplace where startup employees who lack the necessary funds to exercise their stock options can find investors, in return for a part in future gains, for example, in the case of an initial public offering or if the company is acquired.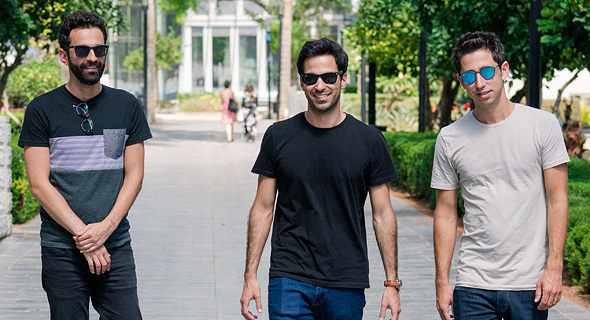 EquityBee founders Arik Moav (left), Oded Golan, and Oren Barzilai. Photo: Nufar Tagar
"I moved to the U.S. in the final week of 2019 in order to set up our operations here and shortly afterward Covid-19 arrived," Barzilai told Calcalist. "We were initially really scared because no one knew what might happen, but we continued with our plans and after a month of uncertainty the business returned to work really well. With tech continuing to blossom it was an amazing year for us and we achieved our goals."
Barzilai broke down the thinking behind EquityBee's platform. "When an employee joins a tech company he often receives share options that increase in value over the years. Tech employees spend an average of two-and-a-half years at a company and they usually have a limited time following their departure in which they can exercise their options. Sometimes doing so can require a sum that is greater than what the employee earns in an entire year so it isn't an easy decision for them. Before we set up the platform many employees wouldn't exercise any of their options, so we built a platform that allows them to receive funding for the purchase of the options. We don't invest directly, but facilitate investments between thousands of investors on our platform and the employee, who can select the best deal for himself. We have a set commission we take from the investor and an additional percentage of the profit."
Barziliai said that the company plans to expand its staff in Israel and the U.S., aiming to double it to a total of over 60 employees in the coming year. "Our mission is to help all employees to be part of the success of the companies and we will launch additional products to do so, which is part of the reason we raised this money."
According to EquityBee, the number of employees who use its platform increased by 250% year-on-year and the number of investors has surged four-fold within a year, reaching around 8,000. Since the platform was launched it has facilitated more than 1,000 deals totalling tens of millions of dollars in which options in hundreds of companies exchanged hands, including the likes of JFrog, Airbnb and Palantir. "We have completed over 1,000 deals since the first one in September 2018. We are currently doing hundreds of deals a month and employees have received tens of millions of dollars, while investors have made three-digit returns," added Barzilai.
Dovi Frances, founding partner of Group 11, added: "Over the past year since we led the series A round in EquityBee we have seen it display impressive three-digit growth in the U.S. We are convinced that not only is EquityBee's product a perfect match for the market, but that the company and its strong founding team has all that is required to become leaders in their sector with their technological solution. EquityBee has the potential to help millions of employees in American startups to receive access to capital. Our decision to invest in the company for a second time was an easy one and we are happy to continue and support it on its road to success."