Tips
Want to build your own startup? Prepare to be flexible
The year 2021 is set to pose challenges for new entrepreneurs who aim to build their own startup, but senior executives believe they can succeed if they follow a few tips
The year 2021 is set to be particularly challenging for businesses as well as new entrepreneurs. In 2020, Israeli entrepreneurs only founded 300 startups, compared to 2019, when 800 were formed. However, the slow return to normal could also bring new opportunities for those who want to launch a startup, even if the world has yet to return to normal.

"In 2020, the world was in a dramatic coronavirus (Covid-19) crisis mindset, which affected the entire world in regard to slow growth, labor market trends, declining sales in most areas, and without a clear expectation regarding when the crisis might end. In comparison, the year 2021 will most likely be characterized by significant differences between countries around the world in terms of consumption, growth, the economy, public awareness, and the state of the labor market, which all depends on the success (or lack of) of countries' vaccination campaigns. While there are countries who are planning on returning to normal during the second quarter, others won't succeed in doing so until the end of 2021, and maybe even later," said Batsheva Moshe, who serves as Head of High-Tech Activity at Bank Hapoalim.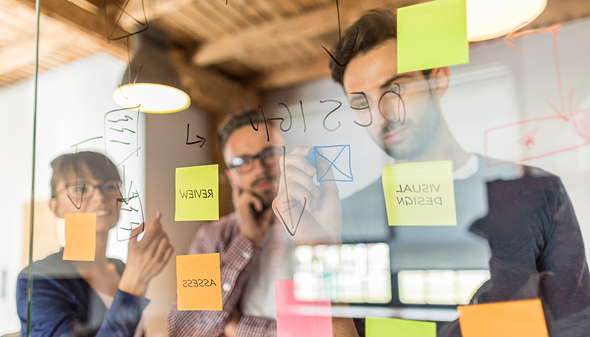 Building a startup during uncertain times requires agility and flexibility (illustrative). Photo: Shutterstock

Eyal Miller, the CEO of Samsung Next TLV, Samsung's innovation arm, thinks that although 2021 will be a challenging year for businesses and people around the world, it will be far more interesting and promising for new startups. Seeing that entrepreneurs who are at the very beginning of their journey don't have a product that needs to be shut down or undergo a pivot, or deal with the departure of great employees. New entrepreneurs now find themselves in a new reality where the internet is playing a greater role in commerce, health, communications, learning, and more. "Startups have the tools to analyze these repercussions and build tools and services that will integrate new consumer behavior," Miller said.

1. Build a flexible plan

In order to deal with uncertainty and gaps between different countries' economic regulations, entrepreneurs will need to build versatile and flexible plans for their business and global development, and for penetrating markets around the world, Moshe thinks. "While in the past Israeli entrepreneurs focused in most cases on their growth plans in strong markets like Europe and the U.S., it seems as if those markets will only recover much later, and as a result hinder the ability of entrepreneurs to break out into those markets with their new technologies."

2. Plan for a longer and more challenging investment process

"In 2020, we saw a decline in early stage investments, which is the most dangerous stage for startups in terms of ability to predict the company's chances of success. According to forecasts, the low volume of investments in early stage companies is expected to continue in 2021. Therefore, early stage entrepreneurs should build adaptable plans that consider different scenarios and can be deployed quickly, depending on the market's situation and vaccination campaigns, as well as prepare for a longer and more challenging funding process than in the past, or rely on bootstrap funding," she said.

Dr. Gali Artzi, who serves as VP of Innovation and Clinical Affairs at the startup food tech incubator, IFF Frutarom, explained that raising funds during a time of uncertainty is much more complex. She believes that plenty of markets aim to reduce risks and make it difficult to invest in companies that have already made it, and in addition grants and government funding are reserved for more mature companies.

3. Adopt mental flexibility

"Analyzing new trends and needs is rising, and entrepreneurs need to think dynamically and try and adapt their startup to these needs or trends. This could involve completely altering a technology or product, as in a pivot, or changing and updating a marketing or business strategy," Artzi said. However, she also thinks that it's crucial to build a smart and solid venture and advises startups not to disregard building strong agreements between entrepreneurs, building a robust company policy, signing external agreements, or commitments with external investors and suppliers. "A good foundation helps build a tall and stable building," she said.

Miller also believes that mental flexibility is the key to success. "There are changes in employees (and also executives) work routines since everyone is working remotely, and incorporating an employee's work life and family or home life can make it difficult to create or join a common work culture, could harm productivity, and requires mental flexibility on both sides to find a solution for unique problems that may arise, in order to truly be successful. In the past, the infinite hours together and the interpersonal connection played a crucial role in the ability to understand and build a good product quickly," he said.

4. Improve your emotional intelligence

Improving an entrepreneur's emotional intelligence is also a critical factor that may lead to success, since "the rapid ability to understand and feel nuances in the feelings of employees working remotely at a startup could highlight a clear difference between a leading, successful, and content team and a disconnected one that will fall apart," Miller said.