20-Minute Leaders
"I believe 'pivot' is one of the key words in innovation and startups"
KamaTech founder Moshe Friedman talks to Michael Matias about the challenges and opportunities of integrating religious people into the tech sector
Being part of the Haredi (ultra-Orthodox) community may cause Moshe Friedman to stand out from other entrepreneurs today, but he is working hard to increase the ranks of Haredi entrepreneurs quickly. After being drawn in to the startup world by his curiosity, he co-founded KamaTech to help bridge the gap between the Haredi and tech communities. Every year, two thousand students are part of the education program, and there is help for entrepreneurs as well. He says many young people in the Haredi community want to hold to their values and beliefs while still participating in Israel's vibrant tech world. In an interview with 20MinuteLeaders creator Michael Matias, he talks about his belief that Haredi youth will play a big role in maintaining the innovation ecosystem as they change the world with their ideas and companies.

Click Here For More 20MinuteLeaders

Talk to me about your upbringing. Tell me a little bit about who you are, and what are you even doing here in technology?

I grew up in Jerusalem in the Haredi community. It is ultra-Orthodox, but I prefer to use the term Haredi. In fact, my great-grandfather was the founder of the ultra-Orthodox movement in Israel. What motivated him was that he believed his mission was to keep the Jewish religion and tradition when faced with the modern world, science, culture, and education. He believed that the education system should be pure religion. He didn't want the Haredi kids to study science, mathematics, or languages because he was afraid they would be exposed to outside influence. He built walls around the community, and he said, "We want to be inside the walls. We don't want anything outside the walls to get in."

And here you are, Moshe, helping entrepreneurs lead hundreds of software technology companies, running hackathons, and exposing thousands of youth that have those walls to information and to this world. How does that happen?

First of all, I don't think I'm fighting against my great-grandfather. I believe that the walls are a good thing. I'm trying to build a bridge between our community and the outside world. When they started, the Haredi community was a few hundred families in Jerusalem, and then a hundred years later, there are 1 million people. When you are looking at kids in Israel today, 27% of the kids in first grade are Haredi. When we are looking at the future in Israel, the near future, we should ask ourselves, if you have almost one third of the kids that are not studying computers and science, will Israel remain a startup nation or will we face a different Israel in the future?

Around 10 years ago, when I was 30 years old, on my way to become a big rabbi, maybe, one day, I bought a computer. I had published a few books and I needed a computer. The computer was connected to the internet, and all of a sudden, I realized a lot of very interesting stuff about the outside world. I had a wonderful childhood, wonderful youth with a lot of mission and purpose in life to become a big rabbi and big scholar. Everything was amazing. All of a sudden, when I got the computer and the internet, I realized I am living in Israel, which is a country of innovation, technology, and science. I said to myself, "I am just 10 minutes away from Tel Aviv, which is the hub for technology, innovation, startups, and companies," and I became very curious to learn more and to meet those people and understand what they are doing. I just took my car and drove to Tel Aviv. I started to participate in events, meetups, and lectures. I really felt like I fell in love with technology, with innovation, with the idea that we can change the world, we can build new products, new platforms, and create innovation, bring knowledge, and connect people. I became very enthusiastic about all this. I came one day to my younger brother and told him, "We are building a startup." He said, "What is a startup?" We had no education, no connections; we grew up with a lot of religious education, zero technology, no background in technology or business. We didn't even speak English. But we had so much passion. We started a company called Clipop that was video editing online. It was a good idea at the time, but we were apparently not the best entrepreneurs in town.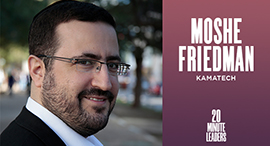 Moshe Friedman. Photo: Dani Vardi
Let's fast forward a little bit. What's happening today? If you had to estimate how many different Haredis you've been in contact with and how many people have gone through your different initiatives, what's the scale of your work today?
I think we touch, every year, a few thousand Haredis. We have various programs. We have an education program where we teach computer science and bring the graduates to the best companies like Apple, Google, Microsoft, and Facebook. We have 2,000 students every year.
I want to put things in perspective. A lot of people have these courses around the world for different communities, but here you are talking about a community that wouldn't get exposed to this if it weren't for you.
I went around with my video startup, and then one day I met Yossi Vardi, who is a very famous entrepreneur in Israel. I told him I have a startup. He said, "I never saw in my life a Haredi entrepreneur. A Haredi cannot build a startup; you don't have the education to build a startup; you don't have the culture." (After we talked longer,) he said, "But the idea that you should follow is you should build another startup to bring Haredi people into tech. If you will manage to take your community, which is the fastest growing community in Israel, and bring them into the new economy, this will be the biggest startup in Israel." So I did a pivot. I believe pivot is one of the key words in innovation and startups. You start in one direction and then you understand different things and you do a pivot, so I did a pivot. I left the video startup and started the social startup to bring the Haredi community into the tech industry. We started the education program. The second part is entrepreneurship. I'm a big believer in entrepreneurship. I believe that a few entrepreneurs really can change the world. If we will find the few Haredi entrepreneurs, they will change Haredi society. We started the KamaTech accelerator to give each entrepreneur $5,000, and we give them all the necessary network and connections they need to become successful. Since then, we've met 1,500 Haredi entrepreneurs—40% were women—who want to build companies. One of the most proud moments for me was two weeks ago that one of our companies, called Elemental, was nominated to be the second best startup in Israel in general. To imagine that Haredi entrepreneurs become maybe the second best entrepreneurs in the country just a few years later, it's unbelievable. I really feel that there is a lot of will from a lot of young people from our community. They want to be part of Israel, part of the future, part of innovation and technology. They still want to be religious, but they want to participate. We were maybe the right people at the right time to build those bridges between the Haredi community and the Israeli innovation ecosystem.
I need three words you would use to describe yourself.
I think curiosity, it's very important. I am a curious person. I want all the time to learn new things, meet new people, to understand different cultures, new technologies, new ideas. I think curiosity is the key to create a better future for all of us. Second, I believe in passion. You should really be passionate about what you do, and if you're not, find what is your passion and do it. Number three, I really believe in persistence. It's not easy to change the world, to create new things, to build companies, to be an entrepreneur. You face a lot of difficulties, a lot of challenges. You need to be very persistent to believe in what you do and keep going through all the difficulties. Most of the people who choose the path of entrepreneurship, they will be successful eventually. It may be that most of the ventures fail, but most of the people pursuing ventures, the entrepreneurs, they become successful.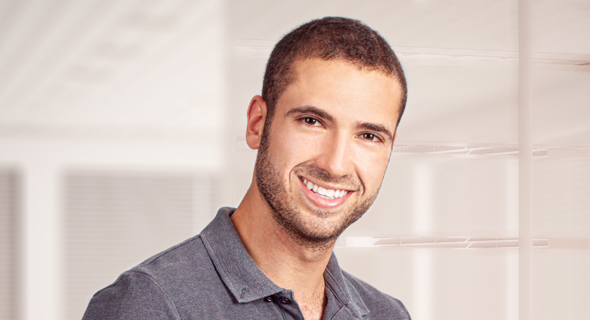 Michael Matias. Photo: Courtesy
Michael Matias, Forbes 30 Under 30, is the author of Age is Only an Int: Lessons I Learned as a Young Entrepreneur. He studies Artificial Intelligence at Stanford University, while working as a software engineer at Hippo Insurance and as a Senior Associate at J-Ventures. Matias previously served as an officer in the 8200 unit. 20MinuteLeaders is a tech entrepreneurship interview series featuring one-on-one interviews with fascinating founders, innovators and thought leaders sharing their journeys and experiences.
Contributing editors: Michael Matias, Amanda Katz